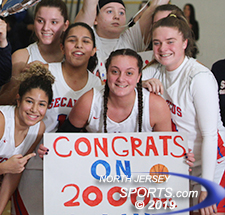 Amanda Ulrich became the 7th girl and the 12th player overall to reach 2,000 career points during Secaucus' 67-41 win over Lyndhurst on Tuesday.
SECAUCUS – It is math that is hard to even fathom. How many total players have played since girls basketball has been played on the varsity level in Hudson County. The best answer we can provide is: a lot. How many have scored 2,000 career points? That answer is easier. The equation is 6 +1.
With a first-quarter jumper from the wing on Tuesday evening against Lyndhurst, Secaucus senior Amanda Ulrich became the seventh female in the history of Hudson County girls basketball to score 2,000 career points and the first ever from Secaucus. Add in those that have done it on the boys side and the total number of 2,000-point scorers in Hudson County history now stands at 12. That is a pretty exclusive club.
"Honestly, I was so happy just to score 1,000 points. I can't thank my teammates enough because they are the ones that get me the ball, that get me my shots and I could not have done it without them," said Ulrich. "I also have to thank Coach [John Sterling] for pushing me every day. There is some yelling and some running in practice, but it is those things that have me the player I am now."
Ulrich had to earn the five points she needed to reach the milestone against Lyndhurst, which did not back down to its league rival. Ulrich got the first three points she needed on a three-pointer from the top of the key 2:18 into the game, but the next two were hard to come by. Ulrich was nearly wiped out by hard foul in the lane and only made one of two free throws to get to 1,999 career points. She missed her next two shots from the field with audible excitement coming from the stands every time the ball left her hands. Finally, with just over three minutes to go in the first quarter, Ulrich hit the mid-ranger jumper that gave her the historic achievement.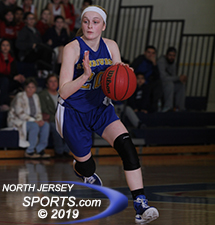 Sophomore Cailey Martin scored a team-high 13 points for Lyndhurst.
"I am so used to being thrown around that I like. I like the aggressiveness. It brings out the fire in me and it pushes me hard," said Ulrich, who has committed to play at St. Leo University in Florida for next season. "'[The 2,000 points] is nice, it is an honor, and I am really happy with the way things are going, but we all talk about how bad we want to win the state sectional and how bad we want to win the counties again, so that is really what we as a team are focused on now. We want those titles and we are coming for them."
Sterling is in his 12th season as the Secaucus head coach and in his 27th as a varsity girls basketball coach in North Jersey after a 13-year run at Bogota and a two-year stint at Wood-Ridge. Ulrich is one of eight players that Sterling has coached at Secaucus that have scored at least 1,000 points, including Amanda's older sister Christina. He also had five 1,000 point scorers Bogota, but Amanda Ulrich is the first to reach the 2,000-point mark.
"I have known her since she was a third-grader or maybe a second-grader. She would be around the gym when the older girls were here and I knew she was going to be something special. We set up a little shooting competition in the offseason for the high school kids and she came in as a third-grader and beat all the high schoolers," said Sterling. "She is a kid that I was looking forward to coaching and having in the program. I have tried to push her hard because she is an intense competitor. She is a pleasure to coach. This year she has been focused and calm and much more of a complete player. I get on the good players. In practice I get on them for every mistake they make, for any play they take off. You have to be mentally tough to be really good and she has the mental toughness to go with her physical abilities."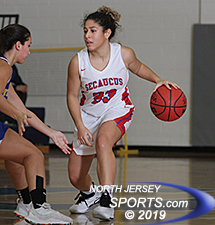 Junior Demaris Rodriguez finished with a game-high 22 points for Secaucus.
Secaucus is rolling. The Patriots have not lost since the Joe Poli Tournament back in December and they beat Lyndhurst on Tuesday, 67-41, to improve to 16-1 on the season. The Hudson County Tournament will be seeded on Wednesday with what promises to be a deep field of talented teams. Secaucus, Lincoln, Bayonne and Hudson Catholic all figure to be contenders.
Secaucus will go as far as its backcourt of Ulrich and junior Demaris Rodriguez, herself already a 1,000-point scorer, will take them.
"We are practicing very hard. We want to win that state sectional, we want to win that county title and the teams that we are competing with are tough," said Rodriguez, who surpassed the 1,000-point mark three weeks ago against Bergen Charter. "We don't face that tough competition in our league like we are going to see in the those tournaments, so we have to keep working hard and keep trying to improve so that we are ready when we get there."
FOR MORE PHOTOS FROM THIS EVENT PLEASE CLICK HERE. TO BUY A COLLECTOR'S PRINT OF THIS STORY PLEASE VISIT 4-FeetGrafix.com.