Henry Korsak scored a career-high 19 points for Elmwood Park, which held off Manchester for a 61-56 win that puts the Crusaders in the Bergen County Jamboree.
ELMWOOD PARK – Elmwood Park has been one of Bergen County's biggest surprises this season. After winning nine of their first twelve games the Crusaders needed just one more win over its final three games before the cutoff to earn an automatic berth into the Bergen County Jamboree. But after close losses to Hawthorne and Garfield, the margin of error had shrunk to zerop. Needing a win over Manchester Regional on Tuesday night, the Crusaders held a 15-point lead heading into the fourth quarter but the long-awaited celebration was delayed by furious comeback.
Manchester cut the lead down to four inside the final minute before Elmwood Park, led by a monster performance from junior forward Nick Williams, hit enough free-throws down the stretch to earn the automatic Jambo bid with a 61-56 victory at Elmwood Park High School.
Williams showed off all parts of his game on both ends of the floor to help spark the game's most crucial spurt. Both he and Henry Korsak scored seven points apiece in a 19-2 run that spanned the first and second quarters, resulting in a 31-18 halftime lead for the Crusaders.
"Our offense comes and goes but we make sure our defense is there every time," said Korsak. "We know what was at stake coming into this game, especially after the two losses we had last week. We just play at as hard as we can and do whatever it takes to try and get the win."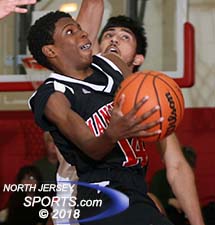 Asim Jones scored a team-high 19 points for Manchester.
A three-pointer by Asim Jones cut the lead to seven early in the third quarter but the Crusaders answered with a late 8-1 burst to bump the lead back up to 15 by the end of the third quarter, 44-29.
The Falcons struggled to find any offensive rhythm through the first three quarters, but they kept plugging away and hit their stride in the fourth quarter to make things interesting.
Consecutive steals by Jamal Deloach led to a three-pointer and a driving layup to slice the lead back down to single-digits. The Falcons whittled the lead down to four on a Jones layup and had two chances to make it a one-possession game but a pair of layups rimmed out. Paul Guarnieri hit five free-throws over the final 1:15 to help the Crusaders survive a scare and earn their place in the Jambo.
"It's a four-quarter game. The energy we showed in the second half was what we needed in the first half if we wanted to win this game," said Paul Palek. "We have a real young team and it's a learning experience. We have two freshmen in the backcourt and it's a big jump coming from eighth grade to varsity basketball. We're working hard and we're getting better. Now we have to learn from our mistakes and correct them to become a more consistent team."
Williams, a transfer from Indian Hills, finished with game-highs of 24 points, 14 rebounds, and five blocks for Elmwood Park (10-5). Korsak added a career-high 19 points.
Jones had 19 points to lead the way for Manchester Regional (8-6). Deloach and Jashir Rosa chipped in with 14 and 13 points, respectively.
In what was supposed to be a rebuilding year, the Crusaders move into this weekend's Jambo with nothing to lose and everything to gain.
"For a little school like us this is a big deal," said Williams. "It's a chance for us to prove ourselves against bigger schools. We're excited to see how we do."
FOR MORE PHOTOS FROM THIS EVENT PLEASE CLICK HERE. TO BUY A COLLECTOR'S PRINT OF THIS STORY PLEASE VISIT 4-FeetGrafix.com.