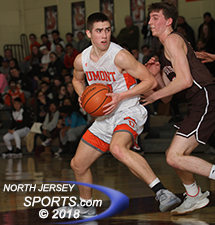 The flu denied Dumont's John Ahkao a shot at The Jambo last season, but now, as a senior, he has helped the Huskies win their way in for the first time since 2002. Dumont is now 9-3 after a 57-50 win over Pascack Hills on Tuesday night.
DUMONT – Last season was supposed to be the one that Dumont ended a long drought and finally reappeared in the Bergen County Jamboree. The Huskies won seven of their first nine games last year and needed just two more to get back in the Jambo for the first time since 2002. Then the flu hit and history would have to wait.
"Two of our best players, a 1,000-point scorer that we had last year and John Ahkao, we went through a `13-day span where we did not have both guys in the lineup. We went from 7-2 to 2-7 and there went our season. It was a struggle," said Dumont head coach Ken Martoral. "It certainly is nice to have everyone healthy right now."
With a healthy crew, a starting lineup that sports four seniors and one talented sophomore, the Huskies clinched their Jambo spot last week and on Tuesday night they altered the field once again. With a 57-50 victory of Pascack Hills, Dumont (9-3) added another quality win to its resume while keeping the Cowboys (9-6) from reaching the .650 winning percentage required for automatic entry. Pascack Hills can still apply for the Jambo and hope for an at-large berth, but the odds are against the Cowboys, who have now lost three in a row.
"These senior have been grinding since their sophomore year. They took some beatings, but now they are able to finish games and I am proud of their effort tonight," said Martoral. "That is a tough team we just beat."
It was a shootout early as Dumont, which used a nine-man rotation, pushed the pace with its full-court man-to-man pressure. That created offensive opportunities for both sides as Dumont was able to use its defense to create some easy baskets for itself, while Pascack Hills, when it broke the pressure, was able to pick out cutters and get to the hoop. The teams combined for 34 points in the first quarter with Pascack Hills holding a slim two-point lead, but the second period was a different story.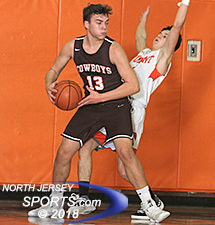 Jake Morales scored a game-high 18 points for Pascack Hills, which fell to 9-6.
Five different Huskies made at least one field goal in the second quarter while Pascack Hills made just two in total. Ahkao's three-pointer from the corner with 6:08 left in the first half gave Dumont the lead for good at 21-20 and a 9-2 run to close the half gave the Huskies their first double digit lead, 32-22, at the intermission.
"At the beginning of the game we were able to get them tired and then wear them out with our full court press," said Ahkao. "We got their legs tired and then got back into a zone and made them shoot from the outside. We wanted to make them miss and then rebound the basketball and go the other way."
Pascack Hills had a renewed sense of urgency in the second half and pulled close on many occasions. Jason Schulman's baseline drive got the Cowboys to within 37-34 with 2:16 to go in the third, but Dumont's Brandon Chin scored the final four points of the quarter to push the Huskies' lead back up to 43-36 heading into the fourth.
Pascack Hills scored the first four points of the final stanza to get within three points and got to within two midway through the fourth on four straight points by Jake Morales, who scored 12 of his game-high 18 points in the second half, and then a steal and a layup by Spencer Berson that pulled the Cowboys to within 50-48 with 2:51 left in the game. A 5-0 run the other way capped by Chin's free throw with 51 seconds left extended the spread back out to seven points and that is the way it would end.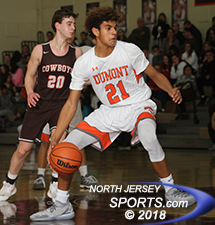 Sophomore Dominick Barlow has helped Dumont reach The Jambo for the first time since 2002.
Morales was the only double-digit scored for Pascack Hills. Caesar Silvestro had the hot hand early as he scored 7 points in first quarter and all of his 9 in the first half before fouling out in the fourth quarter. Schulman and Christian Kim added 6 points each, Chris Curcio made Pascack Hills' lone three-pointer and finished with 5 and Berson and Max Fihma split the other two field goals for the Cowboys.
Dumont got production from up and down its roster. Aidan Martinez, who made half of the Huskies' six three-pointers in the game, led the way with 13 points followed closely by Dominick Barlow, the sophomore center who gave Dumont the advantage in the post all game long. He established himself early with 10 of his 12 coming in the first half. Chin, who scored 8 of his 10 points in the second half, made it three Dumont scorers in double figures. Ahkao, Wendell Magusara and Josh Fernandez finished with 8, 7 and 4 points, respectively, and Andrew Moldez made a second quarter three-pointer to round out the scoring for the Huskies, who are heading into the Jambo with a full head of steam and plenty of confidence.
"When I first came in I was just trying to make an impact, you know, do the little things to help my team win, but then I realized that my coach believes in me and he allows me to do a lot of things on the court that I did not think were possible" said Barlow, who spent his freshman year at St. Joseph Regional before transferring back to his hometown school. "We all had a goal in the beginning of the season and that was to make the Jambo. We are going in now and the next goal is to win when we get there."
FOR MORE PHOTOS FROM THIS EVENT PLEASE CLICK HERE. TO BUY A COLLECTOR'S PRINT OF THIS STORY PLEASE VISIT 4-FeetGrafix.com.