Friday, March 3, 2017
By JC Baumuller
NJS.com Correspondent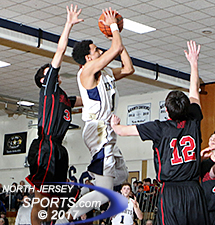 Justin Minaya scored 15 points for Old Tappan, which overcame some missed free throws and a stingy No. Highlands zone for a 47-35 win in the North 1, Group 3 state sectional quarterfinals.
OLD TAPPAN – Northern Valley/Old Tappan overcame 10 missed free throws and a plethora of turnovers to get past Northern Highlands, 47-35, in the quarterfinals of the North 1, Group 3 state playoffs Thursday night.
"I've been shooting good free throws but today I wasn't hitting them," said senior Justin Minaya. "We usually have success but today we were a little off. We'll get in the gym tomorrow shoot more free throws and get it right."
"We're not making it easy on ourselves," said Old Tappan coach Craig Ferraro. "I'm happy we got the win but we were not making foul shots, not doing stuff we usually do. They did a great job against us. We're lucky to get out of here with a win."
In this closely-contested game Old Tappan led by one heading into the second quarter and by three at halftime, but a 4-0 run to open the third quarter gave the Highlanders a 21-20 lead two minutes in. Knights senior Erik Slater connected on a pair of jumpers from the top of the key, however, to regain the lead for Old Tappan.
"He hit a couple of big shots," said Ferraro. "We wanted to push the ball coming out of the locker room and move the ball a little bit quicker. We were able to do that and steal some baskets."
"We came out in the third quarter with a couple of turnovers that led to baskets for them and they got up by a point," said Slater, who finished with 15 points. "I don't think it really changed our thought processes at all. It didn't change mine. I got a couple of passes from our guards into the middle and was able to hit some mid-range jump shots."
Ryan Starr helped Northern Highlands get as close as four points just before halftime.
Minaya, who also scored 15 points in the game, tallied a 3-point play to increase the lead to 27-21 and the Knights never trailed again in the game.
Old Tappan grabbed an eight-point lead with two and a half minutes to go in the third quarter on a basket from in close by Minaya. But a 3-pointer by Highlanders junior Ryan Starr and bucket by senior Spencer Crystal, sandwiched around a free throw by Knights senior Kevin Eifert, cut the lead to four.
"It was tough," Ferraro said. "We did some things and made some bad mistakes. And coupled by not making foul shots it made it tough to pull away against a good team."
"They were doing things we've seen before," said Slater. "When you have a player like Justin (Minaya) a lot of teams like to go into a box and one or a zone so he can't get into the gaps. They did a good job of speeding up the game but we were able to slow the game down with good defense and get enough points to win the game."
The defense might have been the difference in the game as the Knights outscored the Highlanders 27-18 in the second half.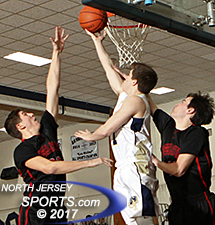 Brett Franklin and top-seeded Old Tappan will host No. 4 Teaneck in Saturday's semifinals.
"I think we're one of the few teams in this area that plays man-to-man defense every single game," said Slater. "We've seen a lot of zones through the year and we just take pride in our defense, playing good help defense, getting in the gaps and cutting people off. When you do that it creates some offense and it just frustrates them."
The Knights were finally able to get some separation from the Highlanders when Slater tallied a layup on a great pass from junior Sal DeBenedetto to put them up 41-30 with less than three minutes to go in the game.
"They were getting a little desperate so they got into man-to-man defense," Slater explained. "I came over and set the screen on Sal and my man tried to stay with him and double so I rolled to the basket. He's a great passer so he hit me with a good pass."
The Golden Knights move on to play Teaneck, the defending Group 3 champion that survived in overtime against Wayne Hills last night, on Saturday afternoon in Old Tappan. It will be the third meeting of the year for the two teams and is expected to be a good one.
"The first game we won and the second game we lost by two." Minaya said.
CLICK HERE FOR MORE PHOTOS FROM THIS GAME. TO BUY A COLLECTOR'S PRINT OF THIS STORY, PLEASE VISIT 4FeetGrafix.com.