Friday, February 24, 2012
By Cory K. Doviak
NJS.com Editorial Director
Neville Fincher used this dunk to put the exclamation point on Teaneck's 62-53 win over Don Bosco Prep in the Jambo final. The Highwaymen won their second straight Bergen County title and their third in the last four years.
MAHWAH – There was a long list of areas of concern for Don Bosco Prep as it looked to wrest the Bergen County boys basketball title from defending champion Teaneck. The Ironmen needed to continue their hot shooting and get off to a fast start. They did that. Bosco needed to slow Teaneck down and make it earn its points through halfcourt sets and, for the most part, the Ironmen were successful at that as well. They needed to push Teaneck into the fourth quarter to test its fitness and make the Highwaymen play in pressure-packed, late-game situations that they have pretty much avoided all season in winning their first 25 games. Bosco accomplished that, too.
So Don Bosco Prep played well and that just goes to show how good this Teaneck team is. Teaneck absorbed everything Bosco had to offer, kept its cool and its unbeaten string in tact by making all of the key plays down the stretch in a 62-53 win in the final of the Bergen County Jamboree on Thursday night in front of a sold out house at the Bill Bradley Sports and Recreation Center on the campus of Ramapo College.
Teaneck won its second straight Jambo title, its third in the last four years and improved to 26-0 on the season heading into the North 1, Group 3 state sectional playoffs where it is the top seed and also the defending champ. Entering the state tournament, the Highwaymen have won 54 of their last 55 games.
"One thing that our coaches tell us all the time is that we need to respect our opponent every time we step on the floor because we could lose on any given day. I think that helps us keep our focus," said Saddiq Patterson, Teaneck's senior forward. "No matter what game it is, regular season or a county final, we just try to stay humble, keep working and keep this winning streak going."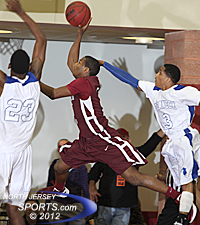 Bosco senior Jemal Mosely scored a game-high 24 points.
This matchup has been a year in the making and it could be seen coming as soon as the two teams walked off the floor after last year's final that was won by Teaneck in overtime. Teaneck had four starters back that played in that game, Bosco had three plus Leontee Carroo, who was the sixth man last year, and the teams were the No. 1 and No. 2 seeds in this year's tournament.
Bosco was the underdog, but it was certainly not intimidated as Paddy Quinn hit a three-pointer to score the first points of the game, Jemal Mosely made one to give the Ironmen their biggest lead of the game at 14-8 and they were ahead 16-13 at the end of the first quarter. And they showed that they could take a punch, too, as, after Teaneck ran off nine straight points capped by Chris Jones' smooth runner from the baseline to go up 28-22, Bosco scored six of the final eight points of the first half to head into the locker room trailing by just two points at 30-28.
"For the most part we did what we had to do. I proud of our kids because I thought we battled, we played hard and I can't take anything away from our effort today," said Don Bosco Prep head coach Kevin Diverio. "We said we had to compete, contest [shots] and make them be uncomfortable, which I thought we did. They answered the call."
But Teaneck had answers for just about everything and there were three specific occasions in the second half when the Highwaymen showed their mettle. When DaJon Todmann threw down a dunk to get his team to within 34-32 and get the Bosco fans on their feet midway through the third quarter, Jones went down the other end and calmly buried a three to push the Teaneck lead back to five points.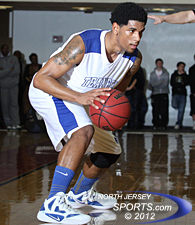 Teaneck junior Joel Hernandez scored a team-high 17 points and added 9 rebounds.
When Tom Sweeny made a layup off a crafty bounce pass from Paul Jorgensen to give Bosco a 41-39 lead with 1:44 to go in the third quarter, Joel Hernandez made a three from the wing on Teaneck's next possession to give his team the lead right back. Shaakir Lindsey's fastbreak layup that just beat the buzzer gave Teaneck a 44-42 lead heading into the fourth quarter, but Mosely used a screen to get free for a three-pointer that opened the scoring in the final period and gave Don Bosco Prep what turned out to be its final lead of the game at 45-44.
The next time down the floor, Devaunte Locadia, the only player that Teaneck used off its bench, nailed a three-pointer from the corner to put the Highwaymen back in front for good. Locadia's bucket was the first of a host of key plays that Teaneck made down the stretch to notch the 10th Jambo title in the history of the program and the second in a row under Jerome Smart, who is a perfect 8-0 in Jambo games in his two years as head coach.
"Sometimes you just have to tone it down and win the game, not try to show how good you are, but just win a basketball game. That is what we had to do tonight," said Smart. "We would rather run up and down, but we know that when it comes to tournament time that games are going to be played in the 50s and 60s and we are used to playing those games also."
And while Teaneck had the lead for the final 6:39 of the game, it did have to execute in the final moments to hold off Bosco (22-5). When Mosely hit a free throw to make it a one-possession game at 49-46, Lindsey hit a three-pointer off the dribble to stretch the lead back to five with 5:20 to play. Hernandez called for a clear-out in the right side and then took his man to the baseline before pulling up for short jumper that made it 54-47 and Lindsey maintained the seven-point edge at 56-49 when he made both ends of a one-and-one with 3:59 to go.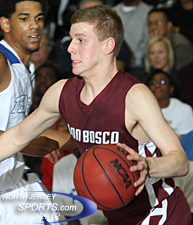 Paul Jorgensen scored 8 points for Bosco, which has made it at least as far as the Jambo semifinals in 15 of the past 17 years.
Four straight points by Mosely, the last two on a fastbreak layup, kept Bosco hanging around at 56-53 with 2:33 to play, but Lindsey took the ensuing inbounds pass and went to work. He dribbled under, around and through the Ironmen for the next 1:17 of game clock and when he finally decided to go to the hole, Chris Jones followed the missed shot to put Teaneck up five.
"I love that situation. I love to shoot free throws so that is my goal when we get to hold the ball and take some time of the clock, I love that," said Lindsey, the junior point guard who is already on the radar of many Division 1 programs. "This journey has been a crazy journey. We have been working together since fall ball, we've worked hard through every practice and it shows up in the game."
Patterson then made a steal and two free throws to thwart Bosco's next possession and Fincher finished off the festivities with an exclamation point dunk.
"I could of laid it up and I thought of doing something really crazy, but their man ran in front of me so I just finished it off with a dunk. That was good enough," said Fincher, Teaneck's 6-foot-8 junior center. "Our motto is 'Play to win' so this was expected, it is not really much of a surprise. We are going to celebrate tonight, but them we are going to move on and get it done in the states, too."
Chris Jones scored 14 points for Teaneck, which has won 54 of its last 55 games.
All four of the returning starters from last year's Jambo championship run scored in double figures to finish off this year's tournament. Hernandez (17 points, 9 rebounds) finished just one board shy of a double-double, Jones added 14 points and 5 rebounds, Fincher had 13 points and 3 blocked shots and Lindsey had 11 points to go with 7 assists. Patterson's 2 points came on his clutch fourth-quarter free throws and Locadia added 5 points, one more than the point production that came off the bench for Don Bosco, which was thought to be the deeper team coming into the game. Teaneck also shot well from the free throw line, going a combined 12 of 16 with Hernandez making 7 of his 8 attempts.
Bosco was led by Mosely's game-high 24 points, but no other Ironman reached double figures as Jorgensen and Carroo finished with 8 points apiece and Quinn (5 points) and Todmann combining for 9 points. Sweeny had 4 points off the bench for Bosco, which now enters the Non-Public Group North A state sectional tournament as the No. 3 seed. After a first round bye, the Ironmen will host No. 6 Paramus Catholic in the quarterfinals.
"Tonight was two good teams going at it and someone's got to win and someone's got to lose. They made some tough shots and hurt us in the boards a little bit, but my hat goes off to them," said Diverio. "Congratulations to Teaneck and we have to go get ready for the states now."
FOR MORE PHOTOS OF THIS EVENT OR TO BUY A COLLECTOR'S PRINT OF THIS GAME STORY, PLEASE VISIT 4FeetGrafix.com.