Luca Reyes after his three-run home in the sixth inning gave Bergen Catholic the lead in a 4-2 win over Old Tappan in the Bergen County Tournament semifinals.
DEMAREST – Luca Reyes was not happy with his previous at bat. That time, with his team being shut out by one of New Jersey's top pitchers through the first three-plus innings, the Bergen Catholic senior came to the plate with the bases loaded and two outs in the bottom of the fourth and proceeded to hit a pop up that did not even reach the pitcher's mound.
Baseball lineups are circular, however, and Reyes is not the type of player to get down on himself when it spun back to him two innings later.
"I had a really crappy at bat in the fourth with the bases loaded, but I did not let it get to me. I know I am a good player and I am good hitter and nothing fazes me," said Reyes. "I was ready to go."
He proved all of the above when, with one out and runners on the corners right after Old Tappan botched a tailor made double play ball, Reyes did not miss his second chance to turn the game around. He hit his second county tournament no-doubter in as many weeks, this time a laser beam that easily cleared the right field fence at Northern Valley/Demarest High School, a three-run shot that  in the bottom of the sixth inning and that gave top-seeded Bergen Catholic the lead for the first time and for good.
With a 4-2 victory over Northern Valley/Old Tappan, top-seeded Bergen Catholic dethroned last year's champion and advanced to Sunday's Bergen County Tournament championship game where it will play No. 2 seed Don Bosco Prep, a 4-3 winner over St. Joseph Regional. First pitch for the final with be at high noon, also at N/V Demarest.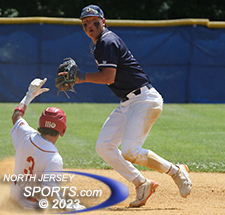 Eric Cha scored Old Tappan's first run and handled everything thrown his way at shortstop.
Bergen Catholic put itself in the unenviable position of trying to chase down Alex Kranzler (6 IP, 4 R, 3 ER, 7 H, 6K, 3 BB, 114 pitches), the Old Tappan senior who has dominated the Bergen County Tournament the last two seasons. The senior right-hander won all four of Old Tappan's games in last year's run to the championship, he was 2-0 this season and he had a 1-0 lead to work with before an out was even recorded.
Old Tappan shortstop Eric Cha led off the game with a ringing double, stole third and then scored on Alex Gioffre's clean single back through the box. The Golden Knights did little else offensively against BC starter Christian Charalambous, who struck out five of the next six hitters he faced after Gioffre's single with the only exception being a nice running catch in rightfield by Braden Connors, who robbed Elan Offeck of an extra base hit leading off the second inning.
Kranzler did give Old Tappan a 2-0 lead with a leadoff homer in the fourth, but Bergen Catholic was starting to make some en roads at the plate with the Vanderbilt commit's pitch count rising. Kranzler needed 71 pitches to get through four scoreless frames before Bergen Catholic got one run back in the fifth when Jamie Zee led off with a single and scored on Aidan Baglino's one-out double to make it 2-1.
"[Kranzler] throws a lot of strikes and our approach was to slow him down. He likes to work quick, so we stepped out, took some time. And if he leaves one in the zone you have to hit it," said Zee, BC's senior shortstop who was 2-for-4 on the day. "I am just trying to do my job. I doesn't matter who is on the mound, I have to just put the bat on the ball."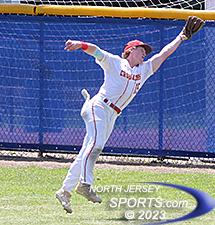 Braden Connors making a nice running catch to robn Old Tappan of extra bases leading off the second inning.
Ryan Marchina's drew the leadoff walk in the bottom of the sixth inning that set the table for the game-winning rally, but Kranzler probably should have been out of it. After getting the first out on a pop-up, the second and third were available on a ground ball, but the throw to second went into right field and instead of heading into the dugout with a 2-1 lead, Old Tappan faced a first and third situation with one out and Reyes then launched the tide-turner.
"It was a fastball kind of center cut," said Reyes reveled in the moment and took his time circling the bases. "[Kranzler] is a great pitcher. I have played with him before, I have played against him. He is a heckuva competitor and he threw a heckuva game out there. He competes his heart out, but so do we and those are the moments that you work hard for."
Charalambous (4 1/3 IP, 2 R, 2 ER, 4 H, 7 K, 0 BB), a senior left-hander, was relieved by Jack Duffy, a senior right-hander, with one out in the fifth and got a big out when the Crusaders snuffed out a suicide squeeze by getting the second out of the inning at the plate. BC turned a 6-4-3 double play to erase Old Tappan's final baserunner in the sixth and Duffy worked a 1-2-3 seventh to pick up the win and send the Crusaders into Sunday's final against Don Bosco Prep. The two non-public powerhouses split the regular season series at one game apiece.
"I am so proud of my guys. An error helped us out in that situation [in the sixth inning], obviously, then Luca comes up and sends that ball onto the track," said Bergen Catholic head coach Bob Muggeo. "Our pitching was exactly how we had hoped it would go; Charalambous to Duffy, who was able to get in and stop the bleeding when we needed to. That scripted out the way we had hoped, but offensively I don't know if my stomach can take much more of this craziness."
FOR MORE PHOTOS FROM THIS EVENT CLICK HERE. TO BUY A COLLECTOR'S PRINT OF THIS STORY PLEASE VISIT 4-FeetGrafix.com.