Sophomore Jamie Farrington was perfect through 3 1/3 innings before settling for a two-hitter and a win in NV/Old Tappan's 19-2 win over Midland Park on Saturday..
OLD TAPPAN – Northern Valley/Old Tappan's softball program has been perennially strong under long time head coach Melissa Landeck, but even its lofty standards have been raised in the last few seasons. The Golden Knights won the program's first ever Bergen County championship back in 2019, they were in the semifinals again last year and are seemingly always in the mix for the various trophies that they play for.
This year, however, NVOT was a bit of an unknown commodity. With just two returning starters and zero seniors on the roster, it was for the most part a talented, but unproven group that took the field on Opening Day two weeks ago.
So, how is it going?
With an impressive win over rival Ramapo on the road on Friday and then a 19-2 victory over Midland Park less than 24 hours later, Old Tappan is now 7-1 on the season and riding a six game-winning streak in which it has piled up double digits in runs in five of those six games.
"Honestly I don't know if any of us were really expecting that this was going to happen," said Liz Ognibene, the Knights' junior clean-up hitter. "Obviously we knew were going to have a pretty good team because this program is always good, but our mentality is that we are the underdogs and we want to stay low-key. Don't tell anybody."
The secret is getting hard to keep.
"We have a good group of juniors that have had to become the leaders a year earlier than usual, but they have been focused and have done a great job," said NV/OT head coach Melissa Landeck. "We have nine returning varsity players, but most of them were in lesser roles than the ones they are in now. That [Ramapo] win was a tough one. They battled us right down the their final swing like [head coach] Darren White's teams always do, so to win one like that on the road adds confidence."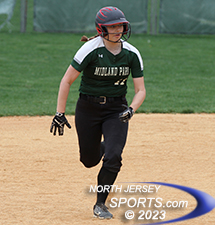 Ella Meyer drove in Midland Park's first run and scored its second.
Although their rosters are almost completely different now, it was Ramapo that knocked Old Tappan out of the county tournament in the Final 4 last year in a wild game. To win the latest iteration of the rivalry in Franklin Lakes with a quick turnaround to Saturday's matchup against Midland Park (1-5) might have presented a mental hurdle.
Not so as Old Tappan sent 11 hitters to the plate in the second inning, 17 more in the third inning and scored a combined 18 times in those two frames. Every spot in the Old Tappan lineup had at least one hit. Leadoff hitter Amelia Plescia (2-for-3, 3 R, 4 RBI), Mia Ferraro (2-for-4, 2 R, 2 RBI), the first baseman who bats out of the No. 3 spot, and freshman No. 9 hitter Giselle Conway (2-for-3, 3 R) all had multiple hits. Avery Galioto (1-for-2, 2 RBI, R), Ognibene (1-for-4, R, 2 SB), catcher Victoria Viganola (1-for-2) and her courtesy runner, Gabby Vega (2 R), Grayson Housley (1-for-2, 2 R, RBI), Ava Murphy (1-for-1, R, 2 BB) and Elle Apostle (2-for-3, 3 R, SAC) all chipped in on a big day at the plate.
There are four juniors – Galioto, Murphy, Ognibene and Housley -- on the Old Tappan roster, all of them are starters and they are filling the leadership roles held last year by the Chugranis twins, Isabella and Tina, Olivia Cataldo and four-year starting pitcher Raegan Germano, amongst others.
"I looked up to a lot of the seniors on last year's team and I feel like they kind of handed that role down to me," said Galioto. "We just have to really step up even though we are not that much older than the younger players on our team. They looking for us to take charge and we have to make sure we set the example."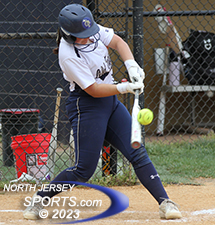 Avery Galioto scored a run and drove in two for Old Tappan, which is now 7-1 on the season..
While Old Tappan's bats put the game away early, sophomore right-hander Jamie Farrington was flirting with perfection. She retired the first 11 hitters she faced, struck out seven of them and gave up nothing until Midland Park's Olivia Schaefer drew a two-out walk in the top of the fourth. An error and a walk to Sophia Southey loaded the bases for the Panthers, but Farrington got a strike out to leave the bases loaded. Her no-hitter was intact until Andrea Cruz's one-out bloop single in the top of the fifth.
Cruz went to second on a passed ball and broke up the shutout when Ella Meyer roped a two-out, RBI single to right and she scored Midland Park's second run on a throwing error.
Farrington (5 IP, 2 R, 1 ER, 2 H, 9 K, 2 BB, W) got a ground ball for the final out of her second victory in as many days.
"It's a really good win and I am just happy to have these girls behind me. They are into it, they got to every ground ball and everyone did a great job hitting," said Farrington, a sophomore who has taken well to the position of starting pitcher in her first varsity season. "It was nerve-wracking at first because this is my first varsity experience pitching, but I just try to zone in on throwing strikes and not think about anything else. It's been fun."
FOR MORE PHOTOS FROM THIS EVENT CLICK HERE. TO BUY A COLLECTOR'S PRINT OF THIS STORY PLEASE VISIT 4-FeetGrafix.com.