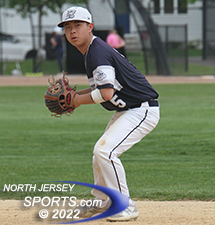 Alex Hui led a solid defensive effort for 12th-seeded Rutherford, which hled off No. 21 Emerson, 7-5, in the opening round of the Bergen County Tournament..
RUTHERFORD – Now that Rutherford is past the midway point of the season, its strengths as a baseball team are well established. As highlighted by a current four-game winning streak in which they scored at least 10 runs in each of those victories, the Bulldogs can mash up and down the lineup. However, to win games in the Bergen County Tournament a team cannot rely solely on hitting. Clutch pitching with solid, fundamental defense behind those arms is always beneficial to a team's success. Facing a tough first-round matchup against Emerson, the Rutherford pulled out all the stops and put forth its best defensive effort of the season to hold off a late rally.
Second baseman Alex Hui made several fantastic plays early in the game as the Bulldogs built a six-run lead. Emerson never quit and had a huge chance to tie the game in the sixth inning. That opportunity was thwarted by the biggest defensive play of the game. Centerfielder Danny Espinal tracked down a long fly ball in deep left-center field that prevented the tying run from scoring as 12th seeded Rutherford held on to advance to the Bergen County Tournament's Round of 16 with a 7-5 first-round win over No. 21 seed Emerson on Wednesday afternoon at Memorial Field.
Emerson put together good at-bats early and had a runner on third base in each of the first three innings. The Cavos' only issue was that with every time that had a chance to score they hit the ball in Hui's direction. He made a full extension dive up the middle then flipped the ball with the glove to get a force out at second base in the first inning. Then in the second inning he showed his range to his left by fielding a chopper and a quick release on his throw to first to prevent another run scoring. The sure-handed senior followed that up by recording all three outs in the third inning. Hui recorded six assists without an error in the first three innings alone.
"Every out in this county tournament is an important one," said Hui. "We strive to make those plays in big situations. Any time the ball was hit my way I had to be ready."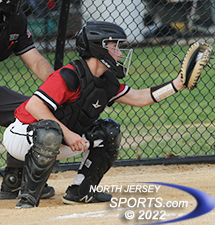 Patrick Walsh drove in two runs with a 6th inning double that got Emerson to within 7-5.
"(Hui) came up huge for us today, he must have saved four or five runs," said Rutherford head coach Carmen Spina. "If he doesn't make those plays early, this could be a totally different game. Our defense played fantastic all game. Between Alex Hui's plays up the middle and the huge catch by Danny (Espinal) we really set a tone with our defense, which is something we haven't really done a lot this season."
Alex Acosta opened the scoring in the bottom half of the first with an RBI double. Sophomore catcher Luke Cerulli had big shoes to fill with Alex Gomez out of the lineup. He was up to the task both calling a game and with his bat. He laced a double that plated two runs in the third inning to give the Bulldogs a 3-0 lead.
In the fourth inning, the Bulldogs opened up their lead with Luke Cerulli again at the center of the action. On a solid pitch from Emerson starter Jake Falotico that was off the outer edge of the plate, Cerulli's flare off the end of the bat blooped the ball into right field. That allowed his brother, Pat, and Hui to score for a 7-1 lead.
Thomas Maciera came on in relief for Emerson and settled things down while the lineup finally caught some breaks in the sixth inning. A pair of infield singles to open the frame put the wheels in motion for a comeback bid. Anthony Sterm drove in a run with a single. Two batters later, Patrick Walsh doubled to drive in two more. Before the Bulldogs knew what hit them, their once comfortable lead was whittled down to 7-5 with the tying run standing on second base.
This brought Connor Praschil, who already had two hits on the day, to the plate. He got a hold of one and drove a pitch deep into the left-center field gap. On another high school field, it may have been a go-ahead HR. But with no fence at Memorial Field, Espinal was able to track it down to end the inning and preserve the lead in one fell swoop.
"It's something we practice on every day, so I was prepared," said Espinal. "You have to want the ball hit to you when the game is on the line. I just turned my shoulders and got to the ball as fast as I can."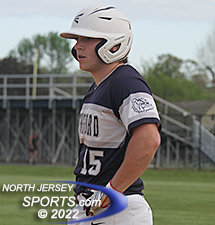 Luke Cerulli had a career-high 3 hits for Rutherford, which will play No. 5 Ridgewood in the Round of 16.
Rutherford right-hander Gabe Francisco came on in relief to start the third inning and was cruising along until a rough sixth inning. Despite his frustration, the senior knew his team needed him to refocus and close out the game. He saved his best stuff for last with a 1-2-3 seventh, striking out the final two batters of the game to send the Bulldogs into the Round of 16.
"I trust my family behind me and they made great plays all game," said Francisco. "I felt confident going into the seventh inning. That last inning I felt more comfortable spotting my curveball. That helped me keep their hitters off-balance and go right after them."
Luke Cerulli had career-highs of three hits and four RBIs for Rutherford (12-7). Pat Cerulli had a pair of hits, two runs scored, and an RBI. Francisco walked one and struckout seven to pick up the win.
Maciera kept Emerson (11-7) in the game with a strong pitching performance. He gave up just two hits and did not allow a run or walk a batter while striking out four in 2 2/3 innings of work.
Rutherford will take on No. 5 seed Ridgewood in the Round of 16 matchup on Saturday with a scheduled first pitch at noon at the Lyndhurst Recreation Field. It will be a rematch of the season-opener where Ridgewood breezed past the Bulldogs in a 19-2 romp. But the weather conditions plus the teams themselves will be much different the second time around. With all the pressure off them, the Bulldogs plan to let it all hang out and see if they can pull off a shocking upset.
"Ridgewood is a great team and they really took it to us the first time around," said Spina. "But it was also the first game of the season and 30 degrees out. I think we're a much better team than we were a month ago. We're going to go in loose and we have nothing to lose. Today we got to play in front of fans for the first time all year. It was a great feeling for these kids to play a great game in front of people. Hopefully, we can pack the house on Saturday and we'll be ready to compete."
FOR MORE PHOTOS FROM THIS EVENT PLEASE CLICK HERE. TO BUY A COLLECTOR'S PRINT OF THIS STORY PLEASE VISIT 4-FeetGrafix.com
---