Friday, May 13, 2011
By Cory K. Doviak
NJS.com Editorial Director
Batting out of the No. 9 spot, Chris Thompson was a perfect 4-for-4 in Ramapo's circular lineup that pounded out 15 hits in a 17-7, five-inning win over Bergen Catholic on Thursday afternoon.
FRANKLIN LAKES – Mickey Hunt has had plenty of good teams in his tenure as Ramapo's head baseball coach and, in addition to the obvious factors like solid pitching and defense, there is a less notable characteristic of his most successful clubs.
"It seems like whenever I have had real good teams, I always have a good guy hitting in the No. 9 hole," said Hunt, whose team improved to 15-4 on the season with a 17-7, five-inning win over Bergen Catholic in Franklin Lakes on Thursday. "And Chris Thompson is good. He's been doing it all year for us in that nine spot and that really is an advantage for an offense."
Thompson was indeed good against Bergen Catholic. He was a perfect 4-for-4 with two runs scored as part of a 15-hit attack in which Ramapo sent 10 hitters two the plate in two of the five innings.
"I kind of approach it like I am a leadoff hitter. I am always looking for the hit that could start something or just to keep an inning going and turning the lineup over," said Thompson, a left-handed hitter who had a bunt single among his four knocks. "I can lay [a bunt] down and that is a threat I can use to draw the infield in and then slap it by them."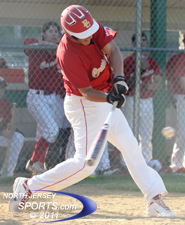 Eric Flanagan about to hit his third inning, three-run homer for Bergen Catholic.
That Thompson got four at bats in the No. 9 slot is a tribute to the rest of the Ramapo offense, which got going right out of the gate. Nick Madormo reached on an error leading off, Justin Gartner followed with a double and John Gandolfo then walked to load the bases for Ryan Dougherty, who drove in the game's first run with a sacrifice fly. TJ Hunt then hit a two-run double to right field and set up Chris Liquori, who was also a perfect 4-for-4 on the day with power.
Liquori hit a two-run homer to centerfield to give Ramapo a 5-0 lead after its first six batters and the Green Raiders had an 8-0 lead after the first inning. Madormo (1-for-3, HR, 2 RBI, 2R), batting for the second time in the opening frame, also hit a two-run shot to finish off the rally.
Liquori's blast was his third of the season and he finished the day with four hits in as many at bats with 5 RBI and three runs scored.
"We wanted to get as many runs as we could early in the game because we know Bergen Catholic is a good team. They have played everybody tough and it is a good statement game for us going into the [Bergen County Tournament]," said Liquori. "In my first at bat there were a couple of guys on base and I wanted to get them in any way I could. It was the first pitch, he put it right there and at first I thought it was a grounds-rule double, but then they said it went over [the fence]."
Liquori had an RBI single and Joe Scaglione followed with an RBI double to give the Green Raiders a 10-1 lead after two innings. Eric Flanagan hit a three-run homer for Bergen Catholic in the top of the third to get the Crusaders somewhat back in the game at 10-4.before Liquori made it 11-4 four with his third hit of the game, an RBi double that plated TJ Hunt in the bottom of the fourth.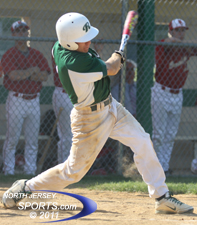 Nick Madormo had a home run, 2 RBI and two runs scored as Ramapo's leadoff hitter.
Bergen Catholic looked like it had avoided the threat of an early stoppage with a three-run fifth highlighted by A john Maitta RBI single followed by a two-run shot to straight away centerfield by Ryan Kelly, but the Ramapo bats came alive again in the home half of the fifth as the Raiders sent 10 hitters to the plate for the second time in the game.
Thompson and Gartner (2-for-4, 2 R) each had singles, Gandolfo (0-2, 2 BB, 2 R) reached on an error and Dougherty (2-for-3, 2 RBI, 2 R) then singled in two. Liquori finished his day with an RBI single and Thompson then finished off the game with a single that made it a 10-run lead and invoked the mercy rule. Southpaw Ari Kaufman picked up the win for Ramapo, throwing all five innings and finishing with eights hits allowed and five strikeouts against just one walk.
In its final game before the cutoff for the state tournament, Ramapo picked up its 15th win, which should be good enough for at least two home games in the states and it will enter the county tournament fray on Saturday as the No. 7 seed against 10th-seeded Ridgewood in Saturday.
"Ridgewood is a real good young team and [head coach] Kurt Hommen does a great job. We haven't seen them this year so that kind of hurts us a little bit. It's going to be a tough game, but every game in the county tournament is," said Mickey Hunt. "I was glad to see the bats wake up today, we have been struggling with that a little bit in the last couple of games, and hopefully we can carry that type of offense into Saturday."
FOR MORE PHOTOS OF THIS EVENT OR TO BUY A COLLECTOR'S PRINT OF THIS GAME STORY, PLEASE VISIT 4FeetGrafix.com.