Saturday, October 29, 2016
By Cory K. Doviak
NJS.com Editorial Director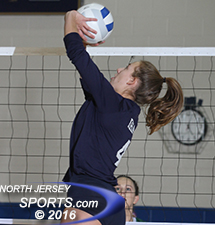 From the setter's spot, Julia Morris piloted No. 3 IHA to a 25-20, 27-25 victory over No. 2 Ramapo in the semifinals of the Bergen County Tournament.
OLD TAPPAN – A new feature this year at the Bergen County Volleyball Tournament is the fancy new programs available at the ticket table. On the front are all of the particulars like the name, date and round of this year's tournament and on the back is a reminder of just how good Immaculate Heart Academy has been on a county-wide level recently. The Blue Eagles have won two of the last three county championships and they were denied a 3-peat only by an Old Tappan team that went on to have a historic season in last year's county final.
But this year is a little different. IHA was not the team to beat this time around. The Blue Eagles are the No. 3 seed and, as that seed suggests, were not expected to get past Ramapo, the No. 2 and the opponent in Friday night's county semifinal round. The two teams met in a weekend tournament earlier this season with Ramapo winning in a one-set, winner-take-all set up.
"Coming in we were kind of the underdogs and we like that role because we liked not having all of that pressure on us. We can just go play," said IHA setter Julia Morris, a junior on a team that has zero seniors on its roster. "It's not like we didn't think we could do it, we were still confident and it showed tonight because we are going to the county finals."
IHA is heading to Sunday's final where it will play No. 4 River Dell after the Blue Eagles eliminated Ramapo in straight sets, 25-20 and 27-25.
Ramapo took a 6-4 lead in the opening set, but IHA came back to tie it and then went in front for good at 7-6 on a whack off the block by sophomore Sydney Taylor and never gave it back. It was on the serve of junior defensive specialist Kaela Wong that the Eagles took the lead and also on her knuckling jump-serve delivery that they all but clinched the first set. It was 6-6 when she started her first service run that produced four straight points and 21-17 when Wong added three straight points to put the game out of reach.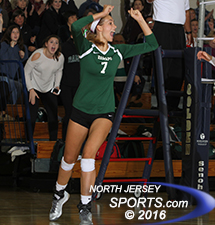 Junior Gretchen Kincade played a solid all-around match for Ramapo with 13 kills and 4 digs.
"I just try to block everything out like my coaches have taught me. I knew I just had to get my serves in because they are such an important part of the game," said Wong, who came into the IHA program as a hitter, but has adjusted well to do a job the current team needs. "It's been different. I was a hitter when I got here and then I became a DS when I got here, but everybody has really helped me transition into my new role. I just want to help do whatever my team needs to win."
Her serves were key in that opening set, the one that established the flow of the match as IHA pretty much played from in front all night long. They led by as many as seven in the opening game, never trailed by more than three points in the match and that was at 5-2 early in the first and 4-1 early in the second. Ramapo was playing catch-up most of the way and that only adds to the pressure of playing in what is by far the state's most competitive county tournament.
"IHA played really well. I don't know how many mistakes they made it the first set, but it was probably no more than three. That is the best I have seen them play and we did not play our A game today," said Ramapo head coach Dave Van Hook. "I am honest with the kids and I am not going to sugar coat it. We always talk about three things: Energy, communication and facing adversity and it just seemed like we came in nervous, we didn't talk enough out of the court and there you go."
The second set was tighter throughout as there were ties at every point from 1-7 and Ramapo had a 16-14 lead when Gretchen Kincade pounded one through the block. IHA got to 20 first however at 20-18 and was up 22-20 when Colette Petric got a tip to fall untouched. Taylor's kill from the outside put IHA on the brink at 24-22, but a service error kept the Green Raiders alive and Kincade then won a scramble at the net to force the tiebreaker.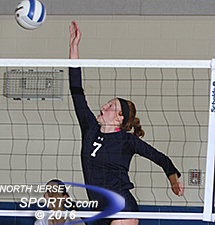 Catherine Fazio and IHA will play River Dell for the county championship on Sunday at NV/Old Tappan High School.
IHA struck first on a Catherine Fazio kill before Kincade tied it up again for the final time. Four hits on the Ramapo side of the net gave IHA its third match point and then miscommunication on the Ramapo side again ended it.
Kincade was outstanding for the Green Raiders as she led the offense with 13 kills and tied with Caroline Smolenski with a team-high 4 digs. Elena Montgomery had 2 kills and 12 digs and Smolenski handed out 23 assists for Ramapo.
Fazio led the way for IHA with 11 kills to go along with 5 digs, Julia Morris had 25 assists, 4 digs and a block, Taylor had 8 kills and 5 digs and Petric finished with 5 kills and 2 blocks for IHA, which is now just one win away from its third county championship in the last four years.
"This group has just been working hard, working together as a team and they don't care who gets the recognition," said IHA head coach Maria Nolan. "They are playing for each other, they are playing for IHA volleyball and they are playing for IHA. That is what they talk about."
CLICK HERE FOR MORE PHOTOS FROM THIS GAME. TO BUY A COLLECTOR'S PRINT OF THIS STORY, PLEASE VISIT 4FeetGrafix.com.