Thursday, October 27, 2016
By Cory K. Doviak
NJS.com Editorial Director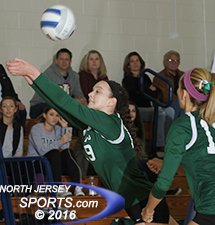 Elena Montgomery finished with a match-high 14 kills as No. 3 Ramapo beat Ridgewood in two games on Wednesday in the quarterfinals of the Bergen County Tournament.
OLD TAPPAN – It was not an easy spot for Ramapo to be in. Yes, the Green Raiders are the No. 2 seed in the Bergen County Tournament and were the favorites to advance past the quarterfinal round, but they were up against an opponent that has seen it all before. As a league rival Ridgewood has already seen Ramapo twice during the regular season and even though they came out on the short end both times, the Maroons had the benefit of playing with nothing to lose and everything to gain in the win-or-go-home tournament setting on against No. 10 Ridgewood on Wednesday night at Northern Valley/Old Tappan High School.
"Oh, it is tough. They know us so well, they have seen everything we have and Ridgewood is a very good team, so we knew this was not going to be easy," said Ramapo head coach Dave Van Hook. "They have seen all year long, they have seen us as tournaments and every time it gets harder and harder to beat them, especially a talented team like Ridgewood."
What kind of night it was going to be became apparent right from the get-go as Ridgewood sophomore Jasmine Rogers scored the match's first point by knocking one off the block with a full swing from the outside. The Maroons planted themselves in the match early and stayed there with the first set tied at 8, 9, 10, 13 and 14 and the second set tied at 9, 10 and 12, but Ramapo eventually edged in front in both games on the way to a 25-22, 25-18 sweep. Next up is third-seeded IHA in Friday night's Final 4, also in Old Tappan.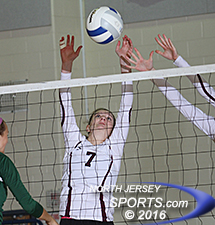 Caroline Elliot and Ridgewood hung in their deep into both sets.
"I think we just came out a little slow and then I think, halfway through, we got everything together and started talking a lot more," said Elena Montgomery, Ramapo's junior outside hitter. "We've played Ridgewood a lot and they were obviously prepared for us. They got a lot of our hits us because they know where we hit and they know where we tip. That made it a little harder, but we did a good job of moving it around."
Ramapo (17-1) got a little bit of luck to take the lead for good in the opening set when a free ball sent over from the Green Raiders' side landed untouched to make it 15-14, but it was a three-point run on the serve of Corinne Dougherty that opened things up. Montgomery had kills on consecutive points, Dougherty forced an error in the Ridgewood serve/receive and the Raiders took a 20-15 lead.
Ridgewood (11-8) fought back to within 23-20 and then fought off two set points. Amy Mullen stuffed an overpass to get the Maroons to within 24-22, but the game ended in anticlimactic fashion with Ridgewood being called for a carry on the last point.
Ramapo got off to a better start in Game 2 as it won six of the first eight points, but Ridgewood rallied back and got it tied at 9 on Shea Darienzo's service winner. Mullen's kill from the outside retied the game at 10 and there was one more tie at 12, but Montgomery's kill from the middle of the floor gave Ramapo the lead for good and the Raiders cruised home from there.
Montgomery led the way with 14 kills, Gretchen Kincade had 6 kills to go along with her team-high 11 digs and Caroline Smolenski handed out 19 assists. Dougherty and Ana DiPrizito both served at over a 90-percent clip and all of those above named players are still just juniors. Ramapo will no doubt be a player in next year's county tournament, but as one of only four teams left this year, they have a pretty good shot in the present as well.
"We are really excited and we have been talking about it all year. Counties are really important to us, so we really want to do well," said Montgomery. "It's a great opportunity that we have now and we are going to prepare and do everything we can to make the most of it."
CLICK HERE FOR MORE PHOTOS FROM THIS GAME. TO BUY A COLLECTOR'S PRINT OF THIS STORY, PLEASE VISIT 4FeetGrafix.com.