Friday, September 23, 2016
By Cory K. Doviak
NJS.com Editorial Director
Julia Passante had 16 kills and 7 blocks for NV/Old Tappan, which ran its overall winning streak to 36 and moved to 5-0 this year with a three-set win over previously unbeaten Ramapo.
OLD TAPPAN – On the walk into the gym at Northern Valley/Old Tappan, there are plenty of reminders of just how good the Golden Knights volleyball team was last year. The trophy case is stuffed with memorabilia commemorating the Tournament of Champions title that came at the end of an undefeated season that also included league, county, state sectional and state championships. But those items are now for display purposes only.
"It is unfair to make comparisons. Last year was a very special year with a very special group of seniors. Some kids on this year's team made contributions and were a big part of that as well, but there is a whole new mix on the court this year," said Old Tappan head coach Melissa Landeck. "We have kids that are brand new to the varsity court, so you really can't make those comparisons, but I am very proud of the fact that they are working hard to become the best 2016 team they can be and make their own mark."

This was the week to make a mark and the current version of Old Tappan volleyball has used it to again stamp itself as the team to beat for all of those championships it won in 2015. The Knights swept the last two sets in a comeback victory over perennial rival NV/Demarest on Tuesday then held off a new challenger, previously undefeated Ramapo, in three sets (25-19, 11-25, 25-20) on Thursday afternoon.
Julia Passante was a key player for the Knights last season, but she is more than that now. A 6-foot-4 junior, Passante was the difference maker against a formidable Ramapo front line. She got her hands on Ramapo's first attack of the match to set the tone and was tough to go over, around or through all day long. Positioned right in the middle of the floor, Passante changes angles and gives Old Tappan's other defenders a chance to dig balls up and it was the Knights defense that spurred the surge that led allowed them to pull away in the first set.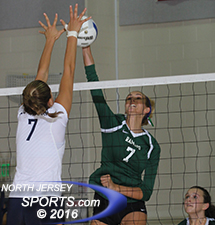 Junior Gretchen Kincade had 11 kils and 10 blocks to lead Ramapo.
Through the first 26 points of the first game neither team had more than a two-point lead and it was tied at 13. Becky Chu and Kelly Chu dug up two balls that could easily have hit the floor and given Ramapo the lead. Instead, they kept alive a long rally that eventually led to a Ramapo attack error and kicked off a 10-1 run that gave Old Tappan control. Passante then slammed one off a dig to give Old Tappan its first set point at 24-15 and, after Ramapo (4-1) scored four straight points to push to the brink of interesting, Alexandra Trouilloud used a middle kill to close out the game and give NV/OT a 1-0 lead.
"Ramapo is a great team, so hats off to them. They were our best competition so far and it really made us raise our level of play because they are a great team and really raised the speed of the game," said Passante. "Some of the girls on that team are my best friends so to go to the net and see those hands, I am used to that because that how it is in [club] practice, too, and I knew we were going to have to play our best."
Ramapo played its best in the second set as it took control early. Passante does not serve and she does not play in the back row, so when the rotation was right, the Green Raiders built a lead and rolled with it. Gretchen Kincade middle kill gave Ramapo the lead for good at 3-2 and it was 10-4 after Old Tappan was called for a carry. Kincade served two straight aces followed by another service winner to put Ramapo up 16-7. Corrine Daugherty had a kill from the middle to make it 20-9, Emily Calabrese knocked one off a dig too make it 21-10 and Giegerich crushed one from the middle to finish it off. That set up a scramble to 25 in a match that will probably go a long way toward deciding the No. 1 seed in the Bergen County Tournament.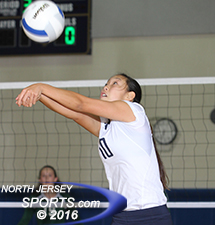 Becky Chu had 16 assists and 6 digs for Old Tappan, which beat rival Demarest in three sets on Tuesday.
Game 3 looked a lot like the first as the teams split the first 14 points before a four-point run gave Old Tappan some early breathing room. Chu's quick kill off a short set gave the Knights an 11-7 lead and they were still up by four, 14-10, when Passante tipped one over the block. This time, however, Ramapo reeled the Knights in and Victoria Zmuda's ace tied the game at 17 before a contentious call pushed Old Tappan back in front for good. Ramapo looked like it had a block on the outside and started celebrating having taken the lead, but the official call was that of a carry on the contact at the net and the point was awarded to Old Tappan instead.
The Knights snatched the lead and never gave it back and Passante led the way to the finish. She put down a kill from the middle to provide a crucial point after Ramapo had gotten to within 21-20; she made an emphatic block to 23-20 and provided the match-winning point with another kill from the middle to finish off a dominant match. Passante finished with 16 kills and 7 blocks, the legitimate kind where the ball goes directly from her hand to the floor.
"She is blocking really well and I thought my defense did a good job of being, as we say, outside the shadow of the block. The block is going to take away a certain funnel and the defense skirts behind with an idea of where the ball might go," said Landeck. "I thought my kids like Maya [Illovsky] and Kelly [Chen] did a great job of digging up enough balls. Ramapo is a talented team and they are going to have 10 or 15, or whatever the number is, of 'Wow' kills that we can't do anything about, but if we can touch a bunch of the others and if we can dig a couple we are going to be in the game."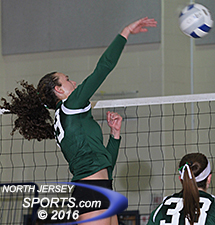 Elena Montgomery had 7 kills for Ramapo, which is now 4-1 on the season.
Should these two teams meet again down the road for bigger stakes, it will be interesting. Ramapo is just earning its way back into the upper echelon in Bergen County led by a solid junior class and a little more big game experience, like what it picked up on Thursday, can only help. Kincade finished with 11 kills and 10 digs, Elena Montgomery had 7 kills, Caroline Smolenski handed out 17 assists and Zmuda finished with 14 digs from her libero spot.
"We came in amped up; our girls were fired up and playing against girls that they know. We knew it would be a great match for us to test ourselves and there was a little craziness there at the end of the third game. But we competed well," said Ramapo head coach Dave Van Hook. "The bar has been set right here [in Old Tappan] and my girls know it. If there is a rematch it will come in the county [tournament] and we are excited about the challenge and we know we have to improve."
Old Tappan, which has now won 36 straight matches as a program and five in a row to start this season, got contributions from everyone it ran out there. Illovsky finished with 9 kills and 11 digs, Chen had a team-high 15 digs and Lizzie Chu added eight digs for the Knights organized defense. Becky Chu (16 assists, 6 digs) and Madelyn Pulver (12 assists, 4 digs) spilt the setting chores and were both effective in distribution.
So while the personnel might differ from last year's team that won it all, the goals are the same for the Golden Knights and there is nothing yet to suggest that any of them are unattainable.
"I feel like we are looking to play just the match that is in front of us. We don't want to look at the past and we don't want to look too far into the future," said Illovsky. "We are just looking to play every game to the best of our ability and see how far that can take us."
CLICK HERE FOR MORE PHOTOS FROM THIS GAME. TO BUY A COLLECTOR'S PRINT OF THIS STORY, PLEASE VISIT 4FeetGrafix.com.