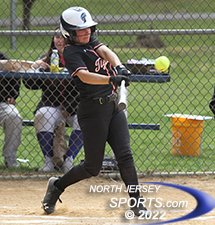 Senior Gig Linde had two hits and scored twice in Tenafly's 6-3 win over Dumont on Saturday in Demarest.
DEMAREST – Tenafly has three players that cover a lot of bases, literally and figuratively, for a softball team that had won seven of its first nine games entering Saturday's matchup against Dumont in the Breast Cancer Awareness Tournament in Demarest. Senior twins Gigi and Gaby Linde make up the double play combination in the middle of the diamond and occupy the No. 1 and No. 3 spots in the batting order. Senior Clair Guittman bats between the twins and is also one of Bergen County's top pitchers.
Tenafly knows what it is going to get out of those three, and when others chip in, like Abby Liebowitz did at the plate against Dumont, the Tigers are all that much more formidable.
While Guittman and the Lindes accounted for all three runs in the decisive fifth inning, Liebowitz's 2-for-3 day with 2 RBI was a big part of the math in Tenafly's 6-3 win.
"Our seniors are really competitive, they can play really well and the rest of us need to match their level of intensity," said Liebowitz, Tenafly's junior first baseman. "We need to keep our energy up, play good defense and help out at the plate as much as we can."
Guittman struck out 12 and did not allow an earned run, but that does not mean that Tenafly was never in trouble as it was Dumont that struck first by running the bases hard. In the top of the first inning Gina Keefe drew a one-out walk, Daniella Veluzzi walked with two outs and both moved up a base on the same wild pitch. When Aleina Garcia's groundball was thrown away, both runners scored and the Huskies had the early 2-0 lead.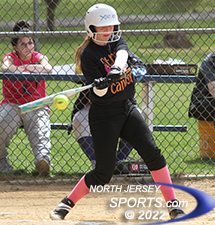 Gina Keefe scored Dumont's first run in the top of the first inning
Tenafly quickly responded with two unearned runs of its own in the bottom of the first as Gigi Linde led off with a single and scored all the way from first on a throwing error off a ball hit by Gaby Linde, who then scored on a bunt single by Liebowitz. Tenafly took a 3-2 lead in the bottom of the third on Liebowitz's clutch two out single that scored Gaby Linde, who had walked with one out and stole second.
Meanwhile, Guittman had settled in. She gave up just one hit, an infield single by Emily Reilly (1-for-3, 2 SB, R), in innings two through six and got some defensive help along the way. Centerfielder Macy Salmon picked off a Kelsey Boyhen liner with two outs and Reilly on second in the top of the third inning and Gaby Linde handled a hot one-hopper at second base to keep Garcia from reaching as the leadoff hitter in the top of the fourth.
Dumont did scratch out a run to get back even in the top of the fifth as Reilly drew a one-out walk and stole second and she scored on an error on Boyhen's two-out ground ball to make it 3-3.
It was a precarious position, however, as Tenafly had the top of its order lined up in the bottom of the fifth and Gigi Linde (2-for-3, 2 R) got it started with a ringing double into the left centerfield gap. Guittman (1-for-3, HR, 2 RBI) followed by crushing one over the centerfield fence and Gaby Linde (1-for 2, 3 R, RBI, SB, BB) made it back-to-back jacks with her blast, a no-doubter over the left field fence.
Guittman (7 IP, 3 R, 0 ER, 2 H, 12 K, 3 BB) faced just one batter over the minimum over the final two innings to close out the Tigers' eighth win of the season against just two losses. Guittman, who will play at Tufts University next year, is her own toughest critic.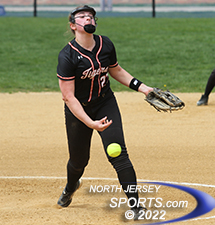 Senior Claire Guittman struck out 12, did not allow an earned run and also hit a home run in Tenafly's 6-3 win over Dumont on Saturday in Demarest.
"I didn't even realize that [all of the runs scored against me were unearned]. I just assumed that they were all my responsibility and I should have done better," said Guittman. "The hardest thing for me this year is competing against myself. I just need to keep playing to the best of my abilities. Today was not my best outing."
Contrast that with what her coach had to say about his senior hurler who, again, did not allow an earned run and struck out 12.
"She is one of the best pitchers in the state. She struck out 12 today so we had to find a way to get nine outs. Today might not have been her best game so she needed to battle and she did battle," said Tenafly head coach Jeff Koehler. "She is so hard on herself, but she has really matured this season. From her freshman year until now, she is completely different. She is a team player, she got the game ball the other day and she gave it to one of our other players. She does the right thing and she has been a pleasure to coach."
Dumont fell to 4-4 with the loss, but the young Huskies side put a scare into a good team with a lot of experience and are heading in the right direction under head coach Kendal George.
"Our kids played hard. That is a good team that we played against today and we were in the game until the end against one of Bergen County's best pitchers," said George. "We will take our lessons from this game and continue to build from here."
FOR MORE PHOTOS FROM THIS EVENT PLEASE CLICK HERE. TO BUY A COLLECTOR'S PRINT OF THIS STORY PLEASE VISIT 4-FeetGrafix.com.