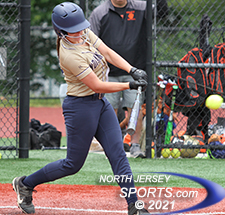 Kaitlin Herrick doubled leading off the bottom of the fourth inning and came around to score the go-ahead run in Indian Hills' 5-2 win over Tenafly in the quarterfinals of the Bergen County Tournament on Monday.
DEMAREST – After Indian Hills dropped a tough one on the road to rival Ramapo last week in a highly-anticipated and hotly-contested game there was no panic and, even more importantly, nothing really lost. The Braves still earned a share of a league title, they were still alive in the Bergen County Tournament and still one of the favorites in the North 1, Group 3 state sectional tournament where they are the top seed.
"That is exactly what I told them after we lost to Ramapo. We still won a league title and we still have the other two goals right in front of us," said Joe Leicht, Indian Hills' longtime head coach. "I told them we still have everything to play for, so let's pick it up and let's go. That is exactly what they have done."

Indian Hills bounced back at the first time of asking on Monday with a 5-2 victory over pesky Tenafly in the quarterfinals of the Bergen County Tournament played on the campus of the Holy Angels Academy. The Indian Hills used all of the tools available to pull away as they stole five bases, turned two defensive miscues into two unearned runs and finished it off with two insurance runs in the bottom of the fifth inning.
"This team has a great bond. Everybody cheers each other on and supports each and I feel like that is so important, especially in these kind of games," said Meg Sears, Indian Hills' senior centerfielder and leadoff hitter. "This team has a lot of girls that have been playing together since third grade. We grew up together and to get to experience this at this level of competition is just such a great experience for us."
Tenafly junior Claire Guitmann struck out nine in six innings.
While Indian Hills is a stalwart in the late stages of county and state tournaments just about every year, Tenafly was making it first foray this deep into the postseason in quite a while. The last time the Tigers were this far in county tournament play was 2005, but they not overwhelmed by the setting, even after Sears led off the bottom of the first inning with a single, then stole second and scored on Alayna Hoffman's fielder's choice that Tenafly in the early hole.
In fact, Tenafly forged right back in front on a Kendal Gordon home run in the top of the second inning that gave the underdog a 2-1 lead.
"I am proud of the girls for the way they came out. They wanted it, they had a great attitude and we did some hitting early," said Tenafly head coach Jeff Koehler. "There is no doubt that Indian Hills is one of the best teams in the county and for us to come out the way we did was a tribute to our team. We just made a few mental mistakes that hurt us a little bit."
Indian Hills pulled back even in the bottom of the second when Julia Roessler drew a walk, stole second and scored on an error. That was one of two unearned runs scored against Tenafly junior Claire Guitmann (6 IP, 5 H, 5 R, 3 ER, 9 K, 3 BB) in the top handful of the hardest throwers in Bergen County. The right-hander struck out nine in six innings against an experienced Indian Hills lineup that is adept at putting the ball in play.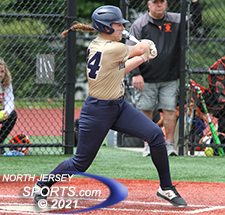 Alayna Hoffman had 2 hits, 2 RBI and 2 runs scored for Indian Hills.
The Braves never let an opposing defense rest, however, and they stole the go-ahead run in the bottom of the fourth set up by Kaitlin Herrick's lead-off, grounds-rule double that scooted under the fence in straightaway centerfield. Herrick went to third on a wild pitch but was still there with two outs until Gabby Paravati drew a walk and just kept on going. Paravati got herself into a rundown between first and second base long enough for Herrick to hustle home to make it 3-2.
Alayna Hoffman (2-for-3, 2 RBI, R, 2 SB) added an RBI single and Ashley Saab (1-for-3, RBI) an RBI double in the bottom of the fifth to make up the winning margin for Indian Hills (21-3). Roessler (7 IP, 2 R, 2 ER, 4 H, 9 K, 0 BB) settled in inside the circle after that second inning as she retired 15 of the final 17 Tenafly hitters she faced and the Braves' defense played error-free behind her.
"We are a team that is very dependent on our defense and Jules [Roessler] is the kind of pitcher that hits spots and when she is doing that, like she was today, the other team is not going to hit the ball hard consistently," said Leicht. "Offensively we have a number of bats in the lineup and it is just a matter of time before somebody is going to connect. Today we were fortunate because we were able to steal some bases, put some runners in scoring position and take advantage of our baserunning."
Indian Hills will open its state playoff run on Tuesday afternoon as the top seed in North 1, Group 3 and will play No. 2 Mahwah in the county semifinals on Saturday at Pascack Hills.
Tenafly's solid county tournament run is now over, so the Tigers are now in full state tournament mode also in North 1, Group 3 where they, as the No. 6 seed, will host No. 11 Paramus in the opening round on Tuesday afternoon.
FOR MORE PHOTOS FROM THIS EVENT PLEASE CLICK HERE. TO BUY A COLLECTOR'S PRINT OF THIS STORY PLEASE VISIT 4-FeetGrafix.com.