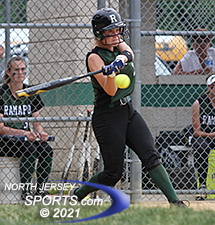 Senior Eva Purvin had three hits, including a key two-out, two-run double in the bottom of the sixth, as Ramapo topped Indian Hills for the first time since 2013, 9-5, on Wednesday in Franklin Lakes.
FRANKLIN LAKES – It's been eight years in the making so there is no way it was going to be smooth, even as Ramapo owned a four-run lead heading into the final two innings. The Green Raiders had not beaten their in-district rival Indian Hills since April 10, 2013, and the Braves were not just going to let that streak end with a couple of weak swings and a well-we-gave-it-good-shot attitude.
The Braves hung a three-spot in the top of the sixth inning to draw within a single run, which ratcheted up the pressure on the home team once again. The Green Raiders knew exactly what was at stake.
"This was the most important game I have ever played in. We have not won against Indian Hills in my time here and I know it goes back way further than that," said Ramapo senior Eva Purvin, who came up with two outs, two on and a chance to restore some separation in the bottom of the sixth inning. "I honestly just wanted to come through for my team. We have worked so hard and we have looked forward to this game for so long and I just wanted to have a little safety. At the beginning of the inning I said we need some runs to make it easier in the seventh inning and when I got up with two outs I was like, 'Oh, I have to be the one to do this."
Purvin (3-for-4, 2B, 2 RBI, R), a clutch hitter for Ramapo all season, did it again. Her third hit of the game split the right field gap, a double that scored both McKenna Lont and Macy Eglington-Manner for a three-run lead. That cushion came in handy when Indian Hills put two runners on with one out in its final turn at bat, but a strike out and a flyball that landed in the glove of centerfielder Mikhyla Shepard clinched a 9-5 Ramapo victory, a split of the season series against its rival and a Big North Conference—Freedom Division title that it will share with the Braves.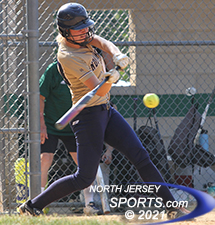 Indian Hills senior Meg Sears drove in four runs, three of them on a bomb of a home run in the top of the sixth.
"There is a total respect and admiration for what [Indian Hills] has accomplished. This morning when I looked at the state rankings they were No. 4 in the state and we were No. 7. It's a real credit to this district that we have two teams of this caliber," said Ramapo head coach Darren White. "Since we stubbed our toe against Mahwah and then lost to IHA the next day, we have won 10 in a row now, we have a 20-win season, the first for Ramapo, I think, since 2010, and we split a league title with a win in this game against a great team and program in Indian Hills."
It felt like a big game. Spectators ringed the outfield fence, the noise coming from both dugouts was at full throat and the action on the field lived up to the hype, starting with Kaitlin Herrick's home run right down the leftfield line in the top of the second inning that gave Indian Hills the early 1-0 lead. Ramapo struck back hard in the bottom of the frame on just two swings in consecutive at bats. Savannah Ring (2-for-4, 3B, R, 2 RBI) smoked a triple to right center to score Angela Delano, the courtesy runner for catcher Victoria Cunningham, and Amy Psota, who both reached base by getting hit by pitched balls. Savannah Nowak (2-for-3, HR, 2 RBI, R, SB) followed with an inside-the-park home run to make it a 4-1 game.
Indian Hills (19-3) got a single run back in the fourth on a two-out, bases loaded walk drawn by Meg Sears, but Ramapo looked like it might have landed the knockout in the bottom of the fifth. Three straight singles by Sydney Samuel (1-for-3, R), Eglington-Manner (1-for-4, 2 R) and Purvin loaded the bases for the spot in the lineup previously occupied by Cunningham, the starting catcher who was forced to leave the game in the top of the third after beating the play at first base but rolling an ankle in the process. In her stead was Brennan Tosney, who negotiated a walk at the end of a lengthy at bat to force in a run and Jenna DeLuccia added an RBI single to make it 6-2.
Savannah Nowak had an inside-the-park homer as a part of Ramapo's four-run second inning.
"It was unexpected, but I was ready. I was hoping to get into the game and I was glad I did because it was obviously a big moment for me and a big game for our team," said Tosney, a left-handed swinging senior. "The energy here today was amazing and when I got up to the plate I took a deep breath and went for it. I am so glad I got to be a part of that."
Sears was not done yet, however, and the Braves' leadoff hitter returned to do real damage in the top of the sixth when she came up with two on and one out. Sears (1-for-3, HR, 4 RBI, R) KAY-rushed a three-run bomb well over the fence in straight away centerfield to draw the Braves back to within 6-5, but Purvin's clutch two-out, two-run double and another run that scored when Tosney put the ball in play with a runner in scoring position pushed the lead back up to four in the bottom of the sixth.
Ring, Nowak, Lont (2-for-4, R) and Purvin all had multi-hit games for Ramapo (20-4) while every spot in the Raiders' lineup reached base safely at least once. Psota, the freshman leftfielder, had some connection to the last time Ramapo beat Indian Hills as her sister, Melanie, was the winning pitcher in that game back in 2013.
Alayna Hoffman (2-for-4), Herrick (3-for-4, HR, RBI, R) and Gabby Paravati (2-for-3, R) each had multiple hits for Indian Hills. Deirdre Campbell walked twice, singled and scored a run and Julia Roessler went 1-for-3 with a run scored and a stolen base for Indian Hills, which may have lost this round of the rivalry but is by no means out of anything.
The Braves have their share of a league title, they are the No. 2 seed in the Bergen County Tournament where they will host Tenafly in this weekend's quarterfinal round and they are the top seed in the North 1, Group 3 state sectional tournament. They could see Ramapo in the final of each.
The Raiders are No. 4 in the county tournament with a home game against No. 5 Old Tappan on Saturday and are the No. 3 seed in North 1, Group 3.
"We are really excited. We want to go as far as we can and just stick together as the family that we have become," said Purvin. "Nobody can break our bond and I think that is what is going to carry us in the counties and states."
FOR MORE PHOTOS FROM THIS EVENT PLEASE CLICK HERE. TO BUY A COLLECTOR'S PRINT OF THIS STORY PLEASE VISIT 4-FeetGrafix.com.