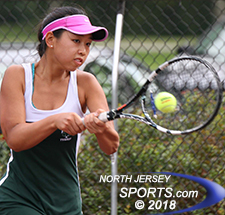 Camille Shen swept two sets at love in first singles to get Ridge rolling in a 5-0 win over Bayonne in the first round of the North 2, Group 4 state sectional playoffs.
BASKING RIDGE – Replacing most of the starters of a successful, experienced lineup is never easy in high school tennis. It is something both Ridge and Bayonne have gone through this season after combining to win 34 of their 39 matches last fall. While both teams have had ups and downs to this season, each of them had a chance to hit the reset button when they met in the first round of the North 2, Group 4 state sectional tournament.
Bayonne has been an emerging force in Hudson County, but it was not enough against perennial state power. Ridge, the No. 7 seed, won three matches without dropping a game en route to a 5-0 sweep over 10th seed Bayonne on Thursday afternoon in a state tournament opener at the Pleasant Valley Courts in Basking Ridge.
Camille Shen, who played second doubles on Ridge's Group 4 state championship team in 2016 and second singles last year, moved up to the top of the ladder this season. She was on her game right from the outset by having a good first-serve percentage and keeping the ball deep to make quick work in 6-0, 6-0 win.
"We had a few rough patches during the season but we played a lot of close matches. That helped us going into today," said Shen. "We didn't change our approach and just played today like we would in any other match."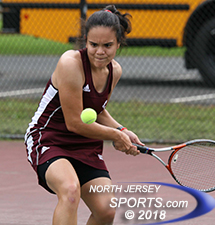 Sabrina Nezaj put up a good fight at third singles for Bayonne.
Tira Alvarez followed suit at second singles with a masterful performance. After a pair of close games to start the first set, Alvarez adjusted her game by taking some pace off of her groundstrokes and playing more for the corners. It turned the tide as Alvarez hit her stride and quickly followed Shen off the court with a 6-0, 6-0 triumph.
Caroline Schmitt and Carys Law controlled the net throughout their second doubles match to score the clinching point for Ridge (6-5). The Red Devils also got wins from the first doubles tandem of Kate Vinges and Priya Gupta and Sammy Schuchman at third singles.
Bayonne (7-2-1) had its best effort from Sabrina Nezaj at third singles. She battled through a close first set before falling to Schuchman. The Bees will turn their attention towards the upcoming Hudson County Tournament, where they look to unseat rival Kearny for the county title.
"Going up against a team like (Ridge) will definitely make us better for the county tournament," said Bayonne head coach. "This team has a lot of team spirit and we just have to work at playing confident all the time. I have a lot of confidence in what we can do in the county tournament and we're going in there with a real chance to win it."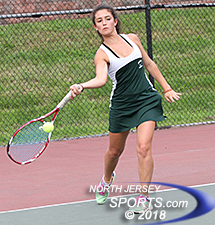 Tira Alvarez and Ridge will take on J.P. Stevens in the quarterfinals.
Ridge will face a familiar foe in second-seeded J.P. Stevens in the North 2 Group 4 quarterfinals. They have met in each of the last two state tournaments, including a Ridge winning a 3-2 thriller in the section semifinals last year. This time the roles will be reversed as J.P. Stevens comes into the match undefeated with an experienced group while Ridge can finally play with no pressure. The Red Devils relish the role of being the underdog and hope to play their best at the right time.
"We're playing them coming from a totally perspective than we did last year, but we have nothing to lose because we're the lower seed," said Alvarez. "We've played a lot of big schools and it was a rude awakening for us early in the season but we're getting better every match. It's a big match but we'll play it like it's just another match. We have to go in with clear heads and play our match."

FOR MORE PHOTOS FROM THIS EVENT PLEASE CLICK HERE. TO BUY A COLLECTOR'S PRINT OF THIS STORY PLEASE VISIT 4-FeetGrafix.com.