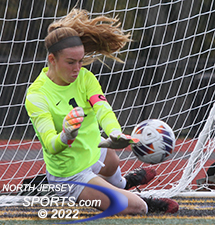 Mackenzie Ward making one of three saves in the penalty kick shootout that ended in NV/Old Tappan's first ever state sectional title in girls soccer. The Golden Knights advanced past River Dell 0-0 (3-2 PKs) in the North 1, Group 2 final.
ORADELL – There is a folk song written in the 1970s called "You Don't Mess Around With Jim." The chorus says, "You don't tug on Superman's cape, you don't spit into the wind, you don't pull the mask of the ol' Lone Ranger…"
If Jim Croce were around to update his song to reflect today's high school girls soccer landscape the next line might be "…and you don't want to go into a penalty kick shootout against Northern Valley/Old Tappan's Mackenzie Ward."
For the third straight state playoff game Old Tappan and its opponent played 80 minutes of regulation and 20 minutes worth of overtime periods without scoring a goal and for the third straight state playoff game Ward came up huge in PKs. After making four saves on five shots in the semifinal upset of top-seeded Ramsey, Ward save the first two in Saturday's final against River Dell and one more in the fifth and final round to make program history.
Without allowing a goal in any of its four tournament games the last three of them on the road, fifth-seeded Old Tappan won the first state sectional title in the history of its girls soccer program with a 0-0 (3-2 PKs) victory over second-seeded River Dell on Saturday morning in Oradell.
"I was a little nervous going into this [shootout]. It is the third time and you never know if it is going to keep going your way or if my luck would change, but I guess it didn't," said Ward, who saved 7 of 10 PKs in the last two rounds. "I do realize how special that is, but I don't let it go to my head. Every shot is a new shot and I pretend like I haven't saved any. It's a new chance to get a save every time."
River Dell's sophomore keeper Kasey Ziegler made two saves in the PK shootout, including this one.
It's an uncanny ability when Ward snuffed out the first two shooters and Natalie Carril and Nina Canuedo converted two straight for NVOT, it looked like the outcome was done and dusted. River Dell's Kasey Ziegler had other ideas.
The sophomore goalkeeper made consecutive saves in rounds three and four, diving right to turn away the first and to her left for the second, while Mia Killmurray, a late addition to the lineup, and Ana Vadic each converted for River Dell to tie it at 2-2 with one round left. When Ward made the save against River Dell's final shooter it left it up to Old Tappan senior defender Alexa Tripodi to either end it or send the shootout into sudden death rounds.
"I walked up there and I was like, 'Right or left; right or left? I was trying to decide because I do practice both sides just in case. Left side is my comfortable side. I made it the last time I made it in, so that is what I went for again," said Tripodi, who hit her spot and the deciding PK. "It was just a surreal feeling turning around and seeing my team running towards me. A dog pile is a little scary sometimes, but it was just a crazy feeling."
Before she was the offensive hero, Tripodi was a stalwart member of the Old Tappan back line that has been unscored upon in four state tournament games. Senior Marin DeGennaro and junior Olivia Connell make a bubble around Ward did not have much work to do through the 100 minutes of open play. Depending how tough the official scorer, Ward either made one save or none in regulation plus the overtimes with most of the action taking place in the middle third of the field.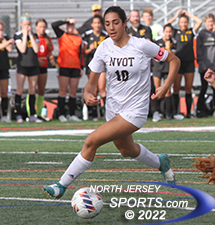 Aleza Tripodi made the decisive PK for Old Tappan, which will host West Morris in the Group 2 semifinals on Tuesday
"We were really confident. We knew keeping them out was going to take hard work, but we have been working hard all season and we knew that would carry over," said Connell. "This is the most special moment of my high school career so far and it's hard to describe in words what this means."
There were maybe two half-chances in the first half as Natalie Carril got a step on the last defender in the ninth minute, but Ziegler saw it early and was quick off of her line to keep it from getting really dangerous. In the 32nd minute a Connell corner kick bounced around in front of the RD net, but no one could get a final touch.
River Dell's defense was up to the task as well it limited the Old Tappan attack to long range efforts or rushed passes under duress. The one time in the game that it looked like either side might break through came with less than three minutes left in regulation
Old Tappan's best combination play of the day started with Joliana Morrissey, who played the ball to Bella Zingarelli, who sent in Sienna Drullinsky, who had an open look. Ziegler made a bang-bang reaction save to keep the game scoreless and force the extra sessions.
Old Tappan has not scored since a 2-0 win over Westwood in the opening round, but the Knights have found a winning formula that leans heavily on their defense and particularly on their senior shot-stopper.

"It's amazing. It's one for the books. Three straight PKs to get us here and we can definitely say that defense wins games," said Old Tappan head coach Laela Henriquez, whose team will host West Morris in the Group 2 semifinals on Tuesday. "We have been in this position before and even last year we went to PKs twice. I have a group that is mature with a lot of seniors, a lot of experience and they don't crack under pressure,"
FOR MORE PHOTOS FROM THIS EVENT PLEASE CLICK HERE. TO BUY A COLLECTOR'S PRINT OF THIS STORY PLEASE VISIT 4-FeetGrafix.com.