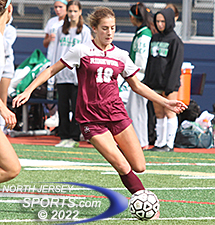 Isabella Winn scored half of Ridgewood's goals in a 6-2 win over Pascack Valley in the quarterfinals of the Bergen County Tournament on Saturday in Oakland.
OAKLAND – Ridgewood is the reigning Bergen County champion, it is undefeated, the top seed in this year's tournament and after just eight minutes it was trailing No. 9 Pascack Valley in the quarterfinals on Saturday morning at Indian Hills High School. The PV goal served the same purpose as a strong cup of coffee.
"We played against a very gritty team. We gave away an early free kick and it made us respond," said Ridgewood head coach Pete Kay. "Going behind early makes you respond positively and that is what we did."
Pascack Valley had already won twice in the tournament, including last week's penalty kick shootout win over Mahwah in the Round of 16, and took advantage of its first chance. Tara Stewart played the restart that was nodded in by Julia Conjour to give the Panthers the early 1-0 lead.
There was no panic on the Ridgewood side, instead there was only patience. The Maroons are a possession based side that involves all 11 players in the build-up. The ball moves along the carpet until it finds the feet of one of its capable attackers in dangerous positions. The four feet that are particularly dangerous belong to senior Kat Slott and junior Isabella Winn, who each netted hat tricks to make up all of the tallies in Ridgewood's come-from-behind 6-2 victory on Saturday morning at Indian Hills High School.
Ridgewood will play No. 4 Ramsey, a 2-1 winner over Northern Highlands, in next weekend's semifinal round. The other side of the bracket also followed the seeds as No. 2 Ramapo blanked Paramus 2-0 and No. 3 IHA posted a 1-0 win over River Dell, which made a solid tournament run from the No. 11 seed.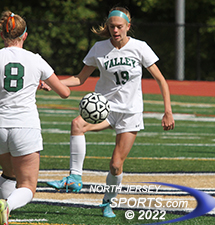 Amanda Polyniak assisted on Pascack Valley second goal, which came right after halftime.
Slott's first goal got Ridgewood even at 1 and then Winn followed with the one that put the Maroons in front for good midway through the opening half.
"We wanted to come out strong. We were here early, we were ready to play and I think we need to keep that energy moving forward, focus in practice as we keep going," said Winn. "The competition is only going to get better, so we need to play every game like it could be our last."
Pascack Valley showed that kind of urgency and hung around. The Panthers were just over three minutes away from getting to halftime trailing by just a single goal or even better than that when it won a corner kick in the 35th minute, but instead of leading to a goal scoring chance at the near end, the ball ended up in the opposite net. Winn covered the final 40 yards or so of the ensuing Ridgewood counter attack and won the race to the left post from where she made it 3-1.
Still undaunted, PV (8-4-1) responded with the opening goal of the second half. After a traffic jam at the near post of Ridgewood keeper Katie Bisgrove, Amanda Polyniak snuck a roller through the pile up and it fell to her sister, Allie, who was stationed in front of the now open goal. Allie Polyniak deposited the Panthers' goal that got them back to within 3-2 four minutes into the second half.
Problem with trying to keep up with Ridgewood is all of the running that is required. The Maroons keep possession so well, they have no weak link on the ball and they force defenses to chase, which leads to fatigue and exploitable space in even the most well-constructed defenses. Ridgewood can attack from wide positions with crosses and endline runs and can also use Slott's ability to hold the ball up in the middle of the field to create passing lanes.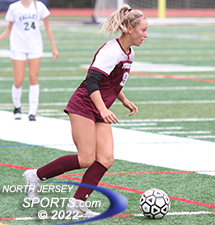 Lindsey Devir is one of Ridgewood's defenders who gets involved in the Maroons possession based approach.
Slott's second goal of the day came off a nice feed from Karen Gessman and just 30 seconds after PV had pulled back to with one goal. Winn walked one in the 54th minute to finish off her hat trick and Slott got hers finished with 16:33 to go in the game when she swept in a pass from Winn to finish the scoring.
"It's my senior year. I want to leave the school having made an impact and I want to feel good with what I did on the field and do everything justice," said Slott, whose hat trick was the first of her varsity career. "Obviously, I scored the goals, but the team played awesome today. Everyone was so special, so it was exciting."
Rather than trying to kick the same ball in trying to pile up individual stats, Slott and Winn have formed a complimentary partnership that have the Maroons unbeaten through 11 games of the season and now two wins away from a second straight Bergen County championship.
"We have played with each other since we were 7 or 8 and we understand that we are not competing against each other. We are competing with each other and we are here to win," said the aptly named Winn, whose team is now 11-0 on the season. "We work well together; we try to work those give-and-gos. You can't mark both of us at the same time and we want to keep the ball moving and show off all the good players we have on the team. That is when I feel like we are at our best."
FOR MORE PHOTOS FROM THIS EVENT PLEASE CLICK HERE. TO BUY A COLLECTOR'S PRINT OF THIS STORY PLEASE VISIT 4-FeetGrafix.com.