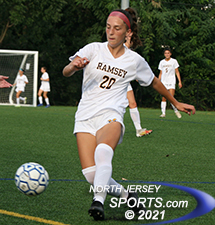 Maggie Haskell scored one of two second half goals for Ramsey, which topped Lyndhurst, 3-1, in a rematch of last season's state sectional final.
LYNDHURST – In a rematch of last year's section final between his team and Lyndhurst, Ramsey head coach Drew Strohmeyer loved what he was seeing except for a lack of aggressiveness in the attacking third of the field. Normally he would wait until halftime to talk to his team and make any changes, but, with a water break given by the officiating crew at the midway point of the first half, Strohmeyer had an opportunity to make the one lineup adjustment he felt was necessary. He moved all-state sweeper Helene Tyburczy into an attacking center midfield role knowing that she could kickstart the attack. She needed less than two minutes to prove Strohmeyer right.
Tyburczy made an immediate impact by finding the back of the net on her first shot. That set the tone with teammates Alexis Barrow and Maddie Haskell adding second-half goals as Ramsey picked up a 3-1 road win on Wednesday afternoon in Lyndhurst.
"On the back of our practice jerseys it says 'Family," and that's really what we are," said Barrow. "We're so close and have such great chemistry that it's all coming together. We pick each other up and we're really connecting on and off the field."
The Rams won balls in the midfield, played through the back, and switched fields effectively right from the opening whistle. In was in the offensive third of the field where Lyndhurst held its ground and refused to let the Rams get any quality looks over the first 20 minutes. When the officials stopped play for a water break Strohmeyer moved his pieces.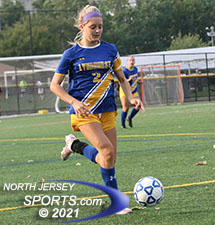 Madison Weaver and Lyndhurst are off to a 1-1 start on the season.
"Helene can play anywhere and affect the outcome of a game. It's a nice tool to have in the bag," said Strohmeyer. "I thought we were knocking the ball around very well early on. We just weren't playing to feet or looking to get good shots off in their end of the field. Helene gives us another dimension when she's up in the attack and she came up clutch for us again."
After receiving a center pass from Haskell at the top of the box, Tyburczy took one touch to settle the second touch to slide a shot through traffic and past a diving Mackenzie Sibello into the lower right-hand corner to put the Rams ahead, 1-0.
"We have four returning starters and two of them are injured, so it's just me and (Barrow) who are back in the lineup from last year," said Tyburczy, who is committed to play at Auburn University next fall. "I think we're all getting used to playing together. Pretty much everyone on our team plays club but we're still figuring out for this team how to play together."
Just seconds later Ramsey nearly squandered the lead on a misplay in the back, which allowed freshman speedster Skylar Montilo to break through and get off a hard shot from 15 yards out. But it was right at Ramsey keeper Lily Dinning, who made the save.
After not being aggressive in the Golden Bears' defensive third of the field in the first half the Rams did nothing but attack early in the second. Both Barrow and Tyburczy hit the post before Barrow broke through give Ramsey (3-1) some breathing room. Haskell then pounced on a loose ball and tucked it away in the 68th minute to make it 3-0.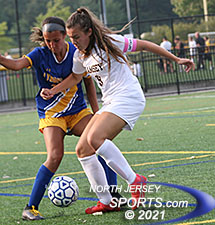 Alexis Barrow and Ramsey improved to 3-1 on the season.
"One thing I really like is that whenever we notice something we're not doing we correct quickly," said Barrow. "We confront whatever issue it is head on. We were playing a little too tight and we used the width of the field much better in the second half."
Lyndhurst (1-1) played tough the whole way and averted the shutout with three minutes to play. Lexi Augustyniak bent a corner kick towards the back post with defender Kayla Carrino right there to volley it in for the final margin.
Although the Rams lost a few key players to graduation and have a pair of injured starters out the youthful infusion of five sophomores and three freshmen have given them quite a bit of depth as they hope to win a fourth straight section title later this season. With showdowns against Big North rivals Mahwah and Westwood on the horizon for next week the Rams know they need to finish earlier in games if they want a similar result to the one they had against Lyndhurst.
"After losing to River Dell we talked a lot about team chemistry and getting better every day," added Tyburczy. "So towards the end of the season when we're more comfortable playing together is when we want to peak."
FOR MORE PICTURES OF THIS EVENT PLEASE CLICK HERE. TO BUY A COLLECTOR'S PRINT OF THIS STORY PLEASE VISIT 4-FeetGrafix.com.