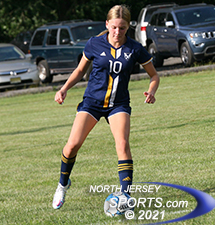 Freshman Kirsten Braunius netted a hat trick in her first ever varsity game for Eastern Christian, which opened the season with a 5-2 win over Wood-Ridge.
NORTH HALEDON – Stepping into a varsity game for the first time as a freshman can be a terrifying ordeal. The natural reaction for such a young player is to experience some in-game jitters and focus on merely not messing things up. Eastern Christian's Kirsten Braunius felt all of that in the opening minutes during the season-opener against Wood-Ridge, but once she settled in it became apparent what a difference maker she can be for an Eagles squad that lacked offensive firepower last fall.
Braunius scored her first varsity goal in the first half before tacking on two more early in the second to complete the hat trick as Eastern Christian pulled away for a 5-2 victory over Wood-Ridge on Wednesday in the opening game of the season for both teams.
"It's pretty exciting as a freshman to help my team and start a season this way," said Braunius. "I was trying to make the perfect play and the perfect goal early in the game, but I just had some jitters. Sometimes it's more about just one-touching and two-touching passes and aim for those lower corners."
Wood-Ridge had its best stretch of play in the opening 15 minutes. The Blue Devils used their offside trap effectively and moved the ball into the attacking third with purpose. However, it would be the Eagles who would strike first. Sam Garcia carried the ball up the right flank before sending a low cross across the six-yard box. Braunius made a nice diagonal run to get into space and touched it home to put Eastern Christian in front, 1-0.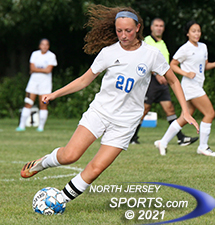 Senior Victoria Drotos scored both goals for Wood-Ridge.
The Blue Devils then used a counterattack to knot the score late in the opening stanza. Wood-Ridge goalie Ava Rizos picked off a cross and then used a long throw to get the ball ahead to Monica Lamichhane. She then sent a through ball up to Victoria Drotos. The striker got around a defender then carried all the way into the top corner of the box before sending a shot inside the far post to make it 1-1.
That momentum did not last for long as the Eagles finally figured out how to beat the Wood-Ridge offside trap. They had four breakaway scoring chances in the final 10 minutes of the half. Three of them were off-target and the other was saved by Rizos. The Eagles were frustrated by not taking the lead before halftime, but that frustration would be short-lived.
The blueprint to success had been laid out and was executed early and often in the second half. Brooke Talsma scored on a looping shot into the upper left-hand corner less than a minute into the half. In the next six minutes, Braunius' size, speed, on-the-ball skills and her hard shot were all on display as she netted two goals to give EC a 4-1 lead.
"We have to do all our part and it starts with communication and working together," said Eastern Christian goalie Gabbi Angelucci. "I always try to be a big voice and get my defense up. When we push up and get the ball forward then we're in position to attack."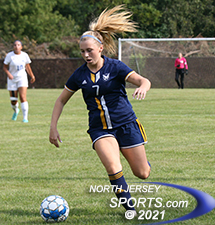 Brooke Talsma scored twice for Eastern Christian.
Angelucci made five saves to pick up the win in net for Eastern Christian (1-0). Talsma capped the scoring in the waning seconds on a gorgeous shot from distance that bent into the side netting with Sydney Heinold getting the assist.
Drotos scored both goals for Wood-Ridge (0-1). Kiara Campo assisted on the second goal and Rizos finished with 10 saves.
"I was very happy with the way we played in the first half," said Wood-Ridge head coach Jerry Cala. "I'm proud of how we competed and we had some girls really step up today. Sophomore Allison Gardella got the start today because of an injury and played all 80 minutes. Ava Rizos held her own under a lot of pressure and contributed to our first goal and Victoria Dotros always is dangerous up front. We know this is not going to be easy for us this year. This is a learning experience for us and we'll continue to move forward."
After scoring just five goals over their final six games last season, the Eagles needed just 80 minutes on Wednesday to match that total. They are brimming with confidence after a strong performance. That will only benefit them as they face their toughest tests of the season over the next five days. Eastern Christian will face off against the co-favorites in the NJIC-Division 1, Hawthorne and Glen Rock. A positive result there puts them right in the thick of the race for a league title. With the young players from last year now a year older and wiser along with Braunius being a bonafide scoring threat in the attacking third, the Eagles feel they can make some noise.
"We have great team chemistry and we work so well together," said Talsma. "We won this game because we worked through a rough start by giving it our best effort. Then we began to win those 50-50 balls and things started going our way. There are a lot of challenging games against a lot of really tough teams coming up. We might not have the best skill in the world but we're always going to give it 100%. If our effort is there then we'll always have a chance."
FOR MORE PICTURES OF THIS EVENT PLEASE CLICK HERE. TO BUY A COLLECTOR'S PRINT OF THIS STORY PLEASE VISIT 4-FeetGrafix.com.