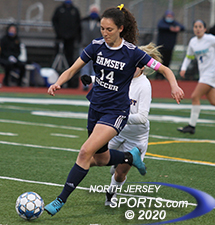 Junior Helene Tyburczy scored the game's first goal and also anchored Ramsey's smothering defense in 3-0 win over Lyndhurst that gave the Rams their third straight state sectinoal championship.
RAMSEY – When COVID issues forced the program into isolation at the start of the season, Ramsey adjusted. When one game got rescheduled five different times, the Rams adjusted. When two starters went down with injuries in the first half of Sunday's state North East C state sectional final, they filled in. In a season full of issues and obstacles, Ramsey never wavered and claimed its third straight state sectional championship with a 3-0 victory over visiting Lyndhurst.
"We were shut down for two weeks and they were the ones who organized practice because we could have not contact. They were on top of everything. When we got to come back and be all together, we told them that that is what winners do," said Drew Strohmeyer, who now won two state sectional titles in as many years as the Ramsey head coach. "I am so happy for the girls. At the end of every practice and at the end of every game this season we were thankful that we were able to get it in and we just hoped to be back tomorrow. A week ago, with all of the schools shutting down, I don't know if I thought we would make it here, but we did and I guess it was meant to be."
COVID wrought havoc on the bracket as each team only had to play one game to reach the final, but Lyndhurst, the No. 3 seed built some momentum with an upset of No. 2 Pascack Hills on Friday and is still in search of its first-ever state sectional title. The Golden Bears have become a perennial contender under head coach Kim Hykey, but they ran into a stout defense led by Helene Tyburczy, the Ramsey junior who runs the came from the deepest position on the field.
Tyburczy sees the angles, steps smartly and then does not panic in possession, a true old-school sweeper who gives Ramsey an obvious advantage in that she can end opponents' forays forward, hold up play long enough to allow transition and then pick out players going forward to facilitate the attack.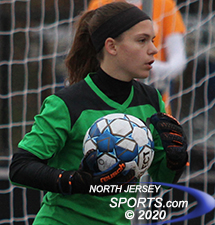 Freshman Mackenzie Sabello made a few quality saves for Lyndhurst, which finished its season with a 10-2-2 record,
"She is the real deal. She is so vocal, she is calm on the ball and she is calm off the ball, too. She is a leader on the field and is like having another coach out there," said Strohmeyer. "We build from the back and I think Helene is the best in the state at that position. I see a lot of soccer and she is it."
Tyburczy is the fulcrum upon which the Rams pivot and then she came up from the back and headed home Alexis Barrow's corner kick just past the midway point of the opening half to give Ramsey the lead for good.
"Lexi played the perfect ball in. I focused on the ball and knew to head it down because there was a bunch of times in practice where I would head it over the crossbar," said Tyburczy. "We are really lucky to have amazing coaches, amazing staff and overall a great team to be able to play for. I feel like the level never really drops and we are able to stay consistent throughout practices and games."
Ramsey stayed consistent throughout this game even after losing to talented starters. About 10 minutes in sophomore Sara Capuano, an All-County caliber center mid, made a winding run through the middle of the field and ate up space, but took a bad step at the end of it in an attempt to retain possession. She was carted off with a knee injury and did not return. In the 28th minute, left back Sydney Klepper went down with an ankle injury and also did not return.
Freshman Nina Davis stepped on and into the fray in the midfield, Gia Giannantonio took over on the back line and the Rams did not miss a beat as they maintained their 1-0 lead into the halftime break.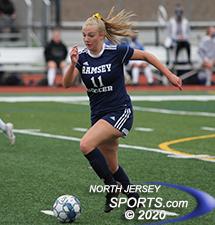 Senior Lizzi Jenson scored the second goal for Ramsey, which finished with a 9-1 record.
Lyndhurst (10-2-2) had it best chance to get even 10 minutes into the second half when it was awarded free kick on the right side of the field. Joelle Montillo delivered a dangerous restart that took a bounce near the six and onto the chest of Julia Tozduman. In the time it took Tozduman to transfer the ball from her body to her foot in front of the open net, senior defender Katelyn Bergen barreled in to get a piece of the ball and so did Tyburczy before Emily Peters, the senior keeper, could get re-involved. She risked her well-being with a dive into the tangle of feet and the Golden Bears were thwarted.
Another pair of restarts on the same sequence inside the final 15 minutes turned out to be Lyndhurst's last gasp. Montillo's free kick from the center of the park cleared the scrum near the 18, but hit off a Ramsey defender's back before skidding past the post to barely avert an own goal. Julia McCann's header off the ensuing corner kick floated over the bar.
Three minutes later, Ramsey (9-1) slammed the door. Barrow, the sophomore with a consistent feel for and mindset to set up her teammates, fed Lizzi Jenson in the top corner of the area. With a defender locked in place on her back, Jenson turned and fired into the lower right hand corner to make it 2-0.
Jenson, a senior playing in a program that has won three straight state sectional titles, was actually a rookie in high school championship games and was grateful for the opportunity.
"This is my first time playing high school [soccer] because I played academy. I am a senior so it was my first and last time because if club, but things loosened up," said Jenson, who has not yet publicly committed to a college although she acknowledged that a decision is coming soon. "Honestly, I wish I played it every year. This is the most fun I have had in soccer in a really long time."
Jenson's goal will 11:17 to go put the game to bed and Briana McEntee then cemented the legacy of the Class of 2021. A three-year starter, a lynchpin of the program and a heckuva defender, McEntee was called up from the back to take a penalty kick awarded inside the final minute of regulation.
Lyndhurst's freshman keeper Mackenzie Sibello, who made a handful of quality saves, including one the robbed Kim Creegan of the opening goal in the 12th minute, got her gloves on McEntee's PK, but not enough to keep it out. It was a metaphor for the Rams' season in which nothing could stop them from reaching their goals.
"The fact that they chose me to take [the PK] after being on the team for three years, it just meant a lot that they wanted me to step up there and that everyone was rooting for me to make it. It made me tear up walking to the spot," said McEntee. "It all started with [now athletic director Kevin] Sabella. He was our coach my sophomore year and the expectations have just been raised every single year. Every time we come to practice or to play there is no fooling around. We all love each other, we have a good chemistry, nobody yells at each other on the field and we play for each not for ourselves."
McEntee, so eloquent in all of her responses leading up to the final question of the interview, then bailed at the last moment.
The question? Who is the better coach, Drew Strohmeyer or Kevin Sabella, also known as The Maeven in his role as the co-host of It's Hockey Night! right here on northjerseysports.com?
"Nope," said McEntee. "Not gonna answer that one."
FOR MORE PHOTOS FROM THIS EVENT PLEASE CLICK HERE. TO BUY A COLLECTOR'S PRINT OF THIS STORY PLEASE VISIT 4-FeetGrafix.com.