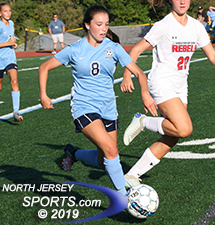 Jaya Giovanelli opened the scoring for Waldwick, which handed Saddle River Day its first loss of the season, 3-0, on Thursday afternoon.
WALDWICK – Having senior leadership and experience on the field is something any coach would love to have at their disposal and Waldwick head coach Tommy Schultz has seen first-hand what a luxury that can be. With a big game on tap against Saddle River Day, not a whole lot needed to be said in the pre-game speech. His seniors know this is their last shot at being a championship team.
Jaya Giovanelli netted a first-half goal and seniors Hanao Nakamoto and Bianca DiPasquale added goals in the final 10 minutes as Waldwick stayed undefeated by putting on a tactical masterpiece performance in a 3-0 triumph over previously unbeaten Saddle River Day on Thursday afternoon at Waldwick High School.
"Stepping to every ball and winning it is what we thrive on and it opens the field which is crucial when you're trying to attack," said DiPasquale. "Coach (Schultz) trains us to really knock the ball around and use our speed. We work really well together and it shows when we're on the same page."
In a matchup with high intensity at the start of the game, both teams knocked the ball around with pace. As Waldwick started to win 50-50 balls consistently in the midfield, the momentum shifted towards the Warriors.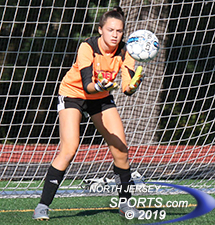 Saddle River Day keeper Livia Davidson made 7 seven, a few of them of the standout variety.
Tara Lambert reeked havoc up the left flank all game long and used some nifty on-the-ball skills to set up the first goal. She used a pullback to elude two defenders and create space before sending a cross towards the back post. Giovanelli was in position and hit a first-time volley inside the left post in the 18th minute to put Waldwick ahead, 1-0.
The two best saves of the game came less than two minutes apart. Saddle River Day (4-1) standout Livia Davidson (seven saves) made a one-handed save on a shot by Emer Brophy from close-range. Then the Rebels had a chance to tie the game on a dangerous corner kick across the goalmouth that Emma Timochko (three saves) was able to pounce on at the goal line.
Waldwick (6-0) used the wide field and two-touched its way to controlling the possession game. After knocking on the door the entire second half the Warriors would break through in the final ten minutes to put the game away.
Hanao Nakamoto took a cross from Giovanelli and ripped a shot from the top of the box into the lower left-hand corner to make it 2-0. Bianca DiPasquale capped the scoring with a beating two Rebel defenders to a service by Julianna Aligo before chipping it past Davidson for the final three-goal margin.
Hanao Nakamoto scored for Waldwick, which improved to 6-0 on the season.
"Our goal every game is to make the other team stop playing their game against us," said Lambert. "We want to wear other teams down not just physically but mentally as well."
Barring a major upset, Waldwick will head into the Bergen County Tournament with an unblemished record. What seed they receive will be an interesting topic of debate but it no concern for the Warriors. They are excited for the opportunity to not only make a run in the counties but also to win the NJIC-Patriot Division and the North 1, Group 1 section title.
"Everyone is involved and everyone is working towards achieving our goals," added DiPasquale. "We have speed, we're physical, and we've been patient with what we want to do with the ball. We just have to keep working hard and getting better every day."
FOR MORE PHOTOS FROM THIS EVENT PLEASE CLICK HERE. TO BUY A COLLECTOR'S PRINT OF THIS STORY PLEASE VISIT 4-FeetGrafix.com.