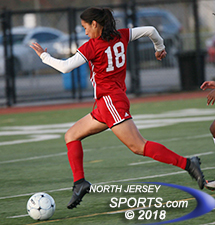 Allison Canales made up for a missed PK with a headed goal off a corner kick to get Kearny rolling in a 5-0 win over Bayonne in the Hudson County Tournament final.
JERSEY CITY – Stepping up to take a penalty kick in county final is about as nerve-wracking of a situation as a high school striker can have. The emotion of the moment was not lost on Kearny's Allison Canales. Locked in a scoreless game with Bayonne, Canales knew where she wanted to go and hit the ball to that spot with pace. But she was not in a celebratory mood after striking the ball as Bayonne keeper Madison Arroyo made a diving save. Canales could have put her head down, but instead chose to focus her energy on making sure she worked even harder to find the back of the net.
Canales did not have to wait long for another opportunity. On the ensuing corner kick following the missed PK, Canales outleaped two defenders to score on a header. Krysti Alejandro added another goal minutes later as top-seeded Kearny won its 10th straight Hudson County Tournament title with a 5-0 blanking of second-seeded Bayonne on Thursday night at Caven Point in Jersey City.
"We didn't knew what to expect the first time we played Bayonne (a 2-2 tie), but after playing them twice we had an idea of what they wanted to do," said Alejandro. "Kearny has had a tradition of winning county titles and we want to keep that going. That gives us a lot of momentum going into states."
Bayonne had a specific gameplan coming into the showdown and it was effective early on. The Bees man-marked Kearny's leading scorer Skyler Matusz (21 goals) with Christina Hanna. Hanna followed her all over the field and forced the Kardinals to go elsewhere to find an attack.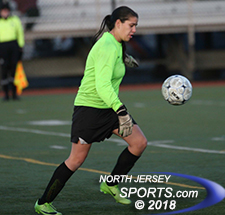 Madison Arroyo had a busy day between the pipes for Bayonne.
They struggled to find a rhythm until Canales broke free to track down a through ball near the top of the box. After carrying the ball into the box she was taken down and awarded a penalty kick. Canales cracked a shot towards the lower left-hand corner but Arroyo guessed correctly and pushed it wide of the post. Just 30 seconds later Canales made up for it. Off of a corner kick from Alejandro, the ball was flicked high up in the air. Two Bayonne defenders went up for it as did Arroyo to punch it out, but Canales beat them all to it. She got just enough of her head on the ball to pop it over the outstretched arms of Arroyo and watched as it bounced into the net for a 1-0 lead in the 16th minute.
"I was really confident with the penalty kick but it didn't go my way, I had to make up for it," said Canales. "I had to keep going 100 percent and create another opportunity to score. Before I knew it the ball popped in the air right in front of me so I had to get there first."
Less than four minutes later the Kardinals once again found the back of the net. Julia Vicuso's cross skipped through traffic along the top of the box and bounced right in front of Alejandro on an overlapping run. In stride she cracked a perfect strike that knuckled into the upper left-hand corner to make it a 2-0 lead that Kearny took into the second half.
Bayonne (10-4-3) tried to push numbers forward to start the second half. The Kardinals did not sit back on a two-goal lead and put the game away. Just over five minutes in, Kristina Yaya one-timed home a low-lining corner kick from Caitlyn Natosi. Natosi then scored on a header five minutes later before Canales capped the scoring late.
Krystl Alejandro helped Kearny with its 10th straight Hudson County title.
Goaltender Catherine Canaley needed to make just two saves to earn the shutout for Kearny (13-5-1). In the 10-year history of the Hudson County Tournament, the Kardinals have won all 10 titles, but their domination of in-county competition has gone on much longer. They have not lost to a county competitor since losing to Bayonne in 1990, going 140-0-2 since.
With another county title in hand, the Kardinals want to back that up with an elusive state sectional title. The last time Kearny won one of those was in 2004, when now head coach Stefanee (Pace) Kivlehan was a senior. Although the section is among the toughest in the state top to bottom, the Kardinals are peaking at the right time of the season and will have plenty of confidence for their first-round match in North 1, Group 4 against Clifton on Tuesday.
"I thought we came out really composed today and everybody contributed to this win," said Kivlehan. "We've really had an awesome October. Our entire team has stepped up and there's a lot of positive stuff going on here that we hope can carry over into making a run at winning our section."
FOR MORE PHOTOS FROM THIS EVENT PLEASE CLICK HERE. TO BUY A COLLECTOR'S PRINT OF THIS STORY PLEASE VISIT 4-FeetGrafix.com.