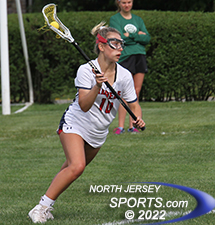 Freshman Bella Pedone scored a career-high 7 goals for Saddle RIver Day, which opened its state tournament run with a 22-5 win over DePaul on Monday.
SADDLE RIVER – As much a coach may go over offensive plays or defensive schemes in practice it is the draw control that is equally as important to team success. It is an aspect of her game that Saddle River Day senior Leanna Tsahalis prides herself on. With the Rebels starting to hit their stride heading into state tournament play, Tsahalis has shifted her role from leading scorer to draw control specialist and a facilitator for standout underclassmen, sophomore Nia Carrera and freshman Bella Pedone. All three have grown into those roles and it has transformed the Rebels into a dangerous team at the right time.
Tsahalis won nine straight draw controls in the first half. Eight of those led to goals with Carrera and Pedone each finishing with a career-high seven goals piece as second-seeded Saddle River Day picked up a first-round win, 22-5, over No. 15 seed DePaul in the Non-Public B state tournament on Monday afternoon in Saddle River.
Seizing the momentum early was the first goal for the Rebels and that was achieved in short order. Off of three draw controls by Tsahalis, Carrera scored twice and Pedone also found the back the net to give Saddle River Day a 3-0 lead just 2:03 into the game.
"Draw controls can change the whole momentum of the game," said Tsahalis. "It allows you to gain possession and keep the defense on their heels. We worked the ball around a lot, and we communicated as well as we have all season. We got off to a great start and I'm really proud of how we played today."
Ava Bower got DePaul on the scoreboard with a nice move to slice between two defenders and score, trimming the lead to 3-1. It was only a brief respite as Tsahalis kept winning draw controls and the Rebels' diverse attack was relentless throughout the first half. The Georgetown-bound Tsahalis and Grace Magna both scored on whistlers into the upper left-hand corner while Carrera and Pedone continued to show off their speed and shiftiness in tight spaces as Saddle River Day scored eight of the next nine goals to put the game away by halftime with a 16-4 lead.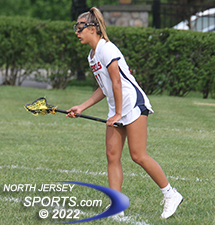 Freshman Brooke Braen and SRD will face Mt. St. Dominic in the quarterfinals on Wednesday.
"We went in with a gameplan and we executed that very well, especially in the first half," said Saddle River Day head coach Carly Cappello. "This team is figuring things out and we're finally healthy at the perfect time. We all support one another, and the girls are reading each other so well. I'm hoping the girls are turning the corner and I'm excited to see how far we can go with the way we've been playing lately."
Tsahalis stuffed the stat sheet for Saddle River Day (8-9). She finished with a career-high 15 draw controls to go with four goals, four assists, and two caused turnovers. Pedone and Carrera each put up a seven-spot and now have 48 and 47 goals, respectively, on the season. Magna scored on both of her shots. Brooke Braen and Mirai Arthur also scored for the Rebels.
The Rebels will have another home state tournament game on Wednesday in the Non-Public B quarterfinals against No. 7 seed Mount St. Dominic. After starting the season 1-7 that included three one-goal losses, the Rebels have worked through the growing pains and now are poised to make a run at a state title.
"It was a really long process for this team, but I'm happy that it happened," said Tsahalis. "Those losses made us work harder, and we've bonded more as a team. If we keep putting in the effort and play like we have the past few weeks, we feel we can win the whole thing."
FOR MORE PHOTOS FROM THIS EVENT PLEASE CLICK HERE. TO BUY A COLLECTOR'S PRINT OF THIS STORY PLEASE VISIT 4-FeetGrafix.com
---