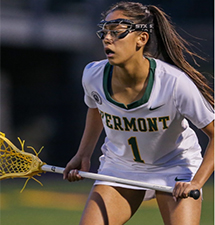 Carolyn Carrera has helped lead the University of Vermont to the best women's lacrosse season in the history of the program.
BURLINGTON, VT – After a successful scholastic career at Saddle River Day, Carolyn Carrera had set her sights on playing basketball in college. When the offers she was hoping for did not come her way, the three-sport star turned her attention to the lacrosse field. While not a conventional player, Carrera needed just one coach to believe she was good enough to contribute at the Division 1 level. When she finally received an offer late in her senior year from the University of Vermont, the 5-foot-3 ball of energy jumped at the chance to prove she belonged.
Carrera has not only met her own expectations but has far exceeded them this season. The senior captain is the only player in the country to be in the top 3 in two statistical categories (caused turnovers per game and ground balls per game). She has also earned 1st-team All-America East, 1st team All-Northeast Region, and was also named to the All-Tournament Team by leading the Catamounts to the America East Tournament title and an NCAA Tournament berth, the first in school history for both.
"I wanted nothing more than to play Division 1. I said to myself 'Why not me?' I felt all I needed was an opportunity to prove myself," said Carrera. "I never took no for an answer and refused to stop working until I got just one door to open for me. Vermont gave me a chance and I ran with it as far as I could go. They have never made it to the NCAA Tournament, so to do it with this group is something special. We've been in all types of games and situations this season, so we were ready for the moment. You lean on the people around you and I'm so happy to be part of this success."
Carrera was best known as the defensive stopper on Saddle River Day's legendary hoops team that advanced to the Tournament of Champions final. That selflessness and athleticism translated well onto the lacrosse field, where she emerged as one of the top on-the-ball defenders in Bergen County despite picking up the sport much later than most of her peers.
"I was basically just a basketball player with a stick in my hand," added Carrera. "I just tried to be the best teammate I could be and help us win any way I could. Having to work as hard as I did to get on the floor in basketball definitely gave me an advantage heading into lacrosse season in high school. Playing defense doesn't get the headlines or provide a great storyline, but no matter where you are on the field you can make an impact. It's the mindset I have every time we play."
No. 3 seed Vermont (14-4) has taken on the never-give-up attitude of their senior captain and that showed in the America East Tournament with a pair of one-goal victories. In the final against top-seeded Albany, Vermont rallied from a three-goal deficit to win, 12-11, to earn the program's first-ever NCAA berth. They had lost to both teams during the regular season.

Once again the Catamounts were an underdog in the first-round of the NCAA Tournament when they took on Denver University (17-2) at Boston College in a game streamed live on ESPN+. For a captain and a program to be counted out and to rise above is the sign of what exemplifies a true champion. The Vermont players are ecstatic at the chance to prove wrong the doubters. It is something that Carrera knows all too well.
"Vermont has always been an underdog and I know that feeling going back to high school," said Carrera. "We've always been an underdog ever since I've been here. Now we're finally thriving off of those pressure situations. I wanted to be part of building a winning program and now we're here in NCAA's. It's been an amazing ride and we want to stay on it as long as we can. As we say to each other now, 'Why not us?'"
TO BUY A COLLECTOR'S PRINT OF THIS STORY PLEASE VISIT 4-FeetGrafix.com
---