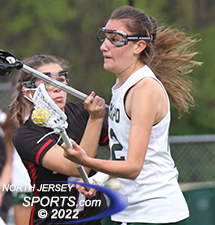 Senior Lexi Wolfe scored a hat trick for Ramapo, which held off Glen Rock, 8-7, to advance to the semifinals of the Bergen County Tournament.
FRANKLIN LAKES – After a heartbreaking double-overtime loss to rival Northern Highlands earlier this season, the Ramapo players were elated to see that the teams were on a collision course to meet again in the Bergen County Tournament semifinals as the Nos. 2 and 3 seeds.
However, there was one obstacle left before that potential clash. A meeting with upstart Glen Rock proved to be quite the challenge as the Green Raiders found themselves trailing well into the second half. Despite the deficit, Ramapo's experienced group stayed calm and banded together to claw their way to victory.
Senior Caroline Murray netted the game-winner with just over four minutes to play, and third-seeded Ramapo was able to run the final 1:55 off the clock to hold on and earn its rematch with Northern Highlands with an 8-7 triumph over sixth-seeded Glen Rock on Tuesday afternoon at Ramapo High School.
"We knew this was going to be a very competitive game," said Ramapo head coach Maddie Gibbs. "We scrimmaged them earlier in the year and it was a two-goal game. The important thing was to work through our offense, run some different plays and maximize our opportunities. They have an excellent goalie, so we had to be patient and wait for the right shot. Ultimately, we wanted to keep it simple by possessing the ball as much as we could and not give them as many chances to score."
Ramapo took control early in the game with one of North Jersey's top attackers, Lexi Wolfe, leading the way. She scored a minute into the game and added another goal minutes later. Alex Bachardy and Sophia Cordisco added first-half goals as Ramapo built a 5-1 lead and looked on its way to an easy win.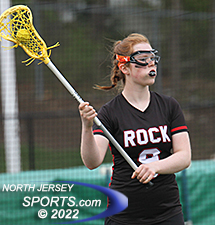 Kasey Schwarzbek scored to get Glen Rock to within two goals, at halftime.
Glen Rock showed signs of life late in the first half. Ryan Doyle and Kasey Schawrzbek scored in the final minutes and the Panthers got three big point-blank saves from impressive sophomore goalie Abby Zamparelli to trim the lead to 5-3 and stay within reach heading into the second half.
That momentum carried over as the Panthers earned draw controls and had the better of play to start the second half. Then with just under ten minutes to play in regulation, Paige Manning got loose in front of the net and scored to give Glen Rock its first lead, 7-6.
It could have been a crisis moment for the Green Raiders, and it could have been another close loss for a team that has already suffered three one-goal losses and another by two goals this season. Instead, it was business as usual for a senior-laden squad that was determined to not let this game slip away. The Green Raiders won the ensuing draw and scored less than a minute later to tie the game. After a clutch save by Mariana Kelly, Vasi Bachardy drove right and lofted a pass for Murray at the back post. Murray made the tough catch and scored to make it 8-7.
"No matter what we're a team that's going to keep pushing through the hard times," said Murray. "The important thing was not really looking at the scoreboard when we got down. We focused on was being there for each other and playing our game. Our team has been working for this the entire season, so we were prepared for this. We still had time, we just had to make one play at a time and work together."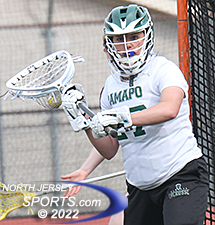 Mariana Kelly made 9 saves for Ramapo, which will play rival Northern Highlands in the semifinals on Thursday.
Glen Rock had two chances to tie the game. One ended with a turnover and the other on a Kelly save. With 1:55 to play Ramapo head coach Maddie Gibbs called timeout and then went to a 'keep away' strategy. The Green Raiders effectively moved the ball around before Wolfe ran out the final 30 seconds to hold on for the win.
"It's a tough loss but we showed the character this team has," said Glen Rock head coach Kyle McCourt. "This senior class has come such a long way. We feel this is a group that other teams are going to have to watch out for. This game will only make us better and I'm so proud of our effort. I'm very excited for where the rest of the schedule is going to take us and hopefully we can roll this momentum over into states."
Wolfe had a hat trick for Ramapo (5-8). Alex Bachardy and Murray each added a pair of goals and Kelly finished with nine saves. Cordisco led all players with career-highs of nine draw controls and four forced turnovers.
Zamparelli was solid both in net and being aggressive to create turnovers for Glen Rock (8-4), finishing with 10 saves. Manning had three goals and Schwarzbek had two. Kaylee Doyle led all players with three assists while Julia Corry chipped in with a goal and two assists.
Ramapo now gets its highly anticipated rematch with Northern Highlands, a 10-5 quarterfinal winner over Westwood in the Bergen County Tournament semifinals on Thursday. While they are happy to pull out the tough win over Glen Rock, this team knows a more consistent effort will be needed to get past the Highlanders.
"Highlands is our rival and losing to them the way we did definitely has us motivated to play them again," said Wolfe. "Against a team like Highlands, we can't have a letdown. Every play in the game matters. We know we'll have to give it our all if we're going to come out with a win."
FOR MORE PHOTOS FROM THIS EVENT PLEASE CLICK HERE. TO BUY A COLLECTOR'S PRINT OF THIS STORY PLEASE VISIT 4-FeetGrafix.com
---