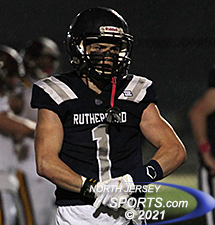 Doug Russell made a catch for the ages on Rutherford's final drive, which led to the game winning TD in a 27-20 victory over Park RIdge in the NJIC championship game.
RUTHERFORD – From the time Doug Russell first watched and then played in a football game as a child he knew he wanted to be a wide receiver. When he realized he wanted to play that position a continuing dream kept playing over in his head for years. Playing in a big game in front of a big home crowd and making the best catch of his life with the game on the line. It naturally just seemed like a pipe dream that would never materialize. That was until Friday night in the NJIC Championship game.
With a minute to play his quarterback, Van Weber, stepped up in the pocket and looked Russell's way. As the senior ran his pattern and saw the ball floating into space in his direction his entire football life flashed through his mind. Every sprint, every rep in the weight room, every bit of camaraderie with his teammates was meant for this one moment. Regardless of the outcome, Russell was going to give it everything he had inside of him to make the catch.
Russell's dream was becoming a reality and he made the most of his opportunity. Laying out full extension his body was parallel to the ground and he made one of the best high school catches in a pressure situation that anyone in attendance will ever see. One play later Pat Cerulli ran it in from eight yards out with 49 seconds remaining to give Rutherford the NJIC title with an exhilarating 27-20 triumph over Park Ridge at Tryon Field in Rutherford.
"I trust my guys and they trust me, I just had to go make a play and I wasn't letting anything stopping me from making that catch," said Russell. "We were fired up but we knew we had to stay calm. The whole game I was thinking about my brother (Kris) who got to this game and lost to Hasbrouck Heights in 2018. I knew how much that hurt him and I wanted to make that catch and win this game for him as much as I did for me and my teammates."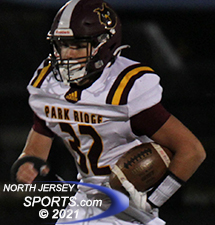 Matthew Manning scored all three TDs for Park Ridge..
Playing on its home field, Rutherford has made a habit of punching its opponents in the mouth early to set the tone. The Bulldogs were on the other end of it this time around as on Park Ridge's first drive Matthew Manning busted loose for a 70-yard touchdown run to put Park Ridge in front, 7-0.
Special teams played a factor as Rutherford got stopped on two straight possessions. But a pooch punt by Weber and another bomb off the foot of Ryan Ward helped the Bulldogs flip the field until final cashing in when Cerulli bulldozed his way in from two yards out to knot the score at 7.
The Bulldogs kept the momentum going when they feasted on a short punt and Cerulli found the end zone again as Rutherford grabbed a 13-7 halftime lead.
Any momentum that was in the Bulldogs' favor evaporated quickly to start the second half. Andre Baskapan broke through the line and got his fingertip on a punt to set the Owls up with the ball at midfield. They took advantage of it with Manning plunging in from a yard out. But the PAT was missed and the game was tied at 13.
The connection between Weber and senior wideout Alex DiMaulo has been dangerous all year. While the DiMaulo was largely held in check for most of the night his QB knew he had to find a way to get the ball to him downfield eventually. That opportunity came early in the fourth quarter when Weber once again evaded a potential sack then threw a long strike to hit DiMaulo in stride. DiMaulo did the rest stiff-arming a defender off of him and racing for an career-best 81-yard touchdown with freshman Drew Carney tacking on the PAT for a 20-13 lead with 8:29 to play.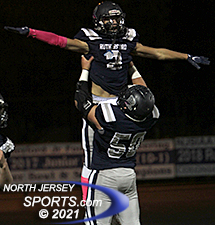 Alex DeMaulo had a TD catch for Rutherford, which won the NJIC title for the second time in program history.
Needing someone to make play the Owls looked to Manning and he delivered with another long TD run that pulled Park Ridge into a tie at 20.
The Owls would get the ball back and looked to have a three-and-out but the drive stayed alive on a roughing the punter call. Led by sophomore Matt Schiebe and senior Luke Marron, the Bulldogs would get a stop.
A decision that happened before the game even started ended playing a huge factor in the final outcome. Rutherford won the  coin toss. Most teams elect to defer getting the ball until the second half. The Bulldogs chose to take the ball to open the first half. This allowed them to choose having the wind at their back for the fourth quarter. The Owls' second punt of the drive did not go so well, giving Rutherford quality field position to make one last push to pull out the win.
"We were so pumped up but also so focused, we knew what we had to do," said Weber, a junior. "I knew our O-line would block well and our receivers would get open. I just had to do my part and get them the ball."
A mixture of runs and passes got the Bulldogs' inside the Park Ridge 20-yard line. But faced with a third-and-four from the 17 in a swirling wind and a steady rain making a play in the pass game was not going to come easy. The Bulldogs' offensive line gave Weber enough time in the pocket to allow his receivers to get some separation. As he saw Russell break open on an out route to his right he led him into space but seemingly led him too far. Russell was not going to let anything stop him. He soared through the air and secured his hands around the pigskin, holding onto it as he came crashing to the turf for the catch that kept the drive going and sent his teammates and the crowd into a frenzy. Even in real time, everyone at Tryon Field including Russell knew it was a once-in-a-lifetime play.
"Our kids have a special belief in one another and we never feel we're out of a game," said Rutherford head coach Steve Dunn. "We had to shuffle some guys around for tonight's game but everyone stepped up. Every year we have three goals. Winning the league, winning the NJIC title, then winning a section title. We're two-thirds of the way there. Hats off to the NJIC as a conference. They really do it right. This was an awesome atmosphere to be a part of against a great team in Park Ridge. I couldn't be more proud of our effort and how many kids made huge plays for us over the course of the game."
Cerulli then punched it in from eight yards out with 49 seconds remaining to put Rutherford ahead, 27-20. Having to go 80 yards for the tying score with the wind in their face the Owls' chances were slim at best. But they showed their resolve and got a lucky break when a sure fire interception on a double reverse pass somehow tipped off of two Rutherford defenders and into the hands of the original quarterback to start the play, Cole Hughes, for a completion at midfield with 23 seconds left. The Owls never got any closer though with an interception ending the game as the Bulldogs handed Park Ridge its first loss of the season and also locked up Rutherford's first NJIC title since 2017.
Both teams will look towards making a run at a section title, but for now it is Rutherford that will bask in the glory of not only being a championship team but also being part of a game and a play that will link them together forever.
"To play this game out in my mind and then have it play out this way is surreal," said Russell. "Rutherford is a small town but they really rally around their football team and that's a special feeling. We're a small community but we have big dreams and big hopes. Before the game we talked about finishing the job. Once you have it they can never take it away from you. We'll have this game to look back on for the rest of our lives and I'm so proud to be part of this team."
FOR MORE PICTURES OF THIS EVENT PLEASE CLICK HERE. TO BUY A COLLECTOR'S PRINT OF THIS STORY PLEASE VISIT 4-FeetGrafix.com.