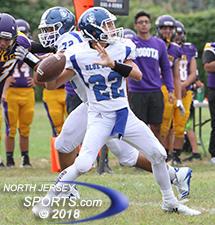 Freshman Nino Iacovino threw for two scores and ran for another for Wood-Ridge, which got back to .500 for the season with a 34-12 win at Bogota on Saturday.
BOGOTA – In the two games it lost out of the three it played to start the season, Wood-Ridge was close. The Blue Devils turned the ball over too many times in the season opener, but still managed to stay in the ballgame against Park Ridge and fell by just a single touchdown against Emerson. Those two teams are a combined 7-0 this year and both are in the hunt for spots in the NJIC playoffs.
So, heading into Saturday's game against Bogota on the road, a couple of tweaks might have been all Wood-Ridge head coach Charlie Trentacosti needed to nudge his team back in the right direction.
Instead, Trentacosti opted for a couple of sticks of dynamite and one of those big detonators most often associated with a Bugs Bunny cartoon.
In the eight days between last Friday night's 13-7 loss to Emerson and Saturday's afternoon game on the natural grass of Fiegel Field, Trentacosti blew up his old two-back offense, installed a wide-open spread attack complete with its myriad skill players on the edges and entrusted the whole remodel to a new quarterback named Nino Iacovino, who is a…freshman.
What's up, Chuck?
"We had a quarterback competition this week and [Iacovino] won it, so we had no choice but to change everything. We tried to do things are certain way in past games and it just was not there for us," said Trentacosti, who is in his sixth season as Wood-Ridge's head coach. "This [offense] is who we are now; this is what suits us the best. We ran more plays today than we have in any other game this year and we won with it."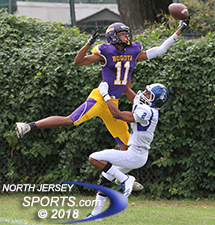 Ashanti Caviness (11) scored Bogota's first TD on a 41-yard Pick 6.
The Blue Devils did win with it, a 34-12 victory over Bogota that sets them up for solid midseason run now as the schedule tilts in its favor. After a bye next week, Wood-Ridge will play at St. Mary and then host Wallington before the NJIC announces its crossover games that fill the final two weeks of the regular season. Between now and then, Wood-Ridge, led by a thick class of 18 seniors, has a chance to build up a nice little state tournament resume.
"We are going to use this bye week to get our bodies healthy, to get better at what we do and it is going to be hard to stop us, especially if we play the way we did today in the rest our games," said Eric Drotos, Wood-Ridge's senior tight end, who caught a two-point conversion pass and had a 12-yard reception on a fake punt that kept a scoring drive alive. "The offense was great today and the defense has been good all year. We've only allowed about [10] points per game and you can win games with that in high school football."
Wood-Ridge made a bunch of big plays on both sides of the ball on Saturday, but one that cannot be overlooked was one that was made at the end of a bad offensive possession the first time it had the ball. The Devils went backwards on the first offensive series of the game and faced a fourth-and-15 from their own 14-yard line. Senior Jake Colon went from being the lone running back in the backfield to being the punter, and he uncorked a 70-yard boot that cleared the return man and just kept rolling. That changed field position and everything fell into place for the Devils after that.
"Punting, kicking off…I'll do whatever I can do to help this team win. All I am trying to do with a punt is to get the ball on the other side of the field and five the other team the worst field position we could give them" said Colon. "We want to pin them and then our defense can come out and do what we do."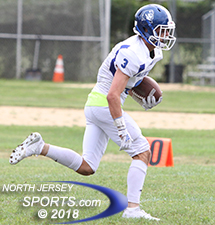 Drew Packen picked off two passes and caught two TDs for Wood-Ridge, which heads into its bye week at 2-2.
Wood-Ridge's defense held Bogota to minus-five yards on its first two possessions, the second of which ended when Drew Tomat forced a fumble that was recovered by Eric Drotos. Three plays later, Colon stuck the ball into the endzone from five yards out to give Wood-Ridge the lead for good with 5:36 left in the opening quarter.
Bogota's best drive of the first half got the Bucs to the Wood-Ridge 12, but Dylan Pachon went airborne to intercept a middle screen and a Johnoi Martin interception set up the Devils' second score, an 8-yard strike from Iacovino to Drew Packen with 5:55 left in the first half. A penalty after the scoring play made a point-after attempt unviable, so Iacovino hit Drotos for a 19-yard two-point conversion that put Wood-Ridge up 14-0. Iacovino finished off a productive first half with a 47-yard TD by keeping the ball with a run-pass option. David Flores added the extra point to give Wood-Ridge a 21-0 lead at the half.
"I just worked hard all week to get ready for this. I think the best thing I can do is be dedicated to the team and keep working hard to keep the starting position," said Iacovino, the rare freshmen to start at quarterback for a varsity team with postseason aspirations. "It's humbling and all I can do is play my game and try to do the best I can."
Wood-Ridge's first team defense did not allow a single point and forced five turnovers. Packen picked off a pass cut Bogota's first drive of the second half short and Colin scored from five yards out just over two minutes into the second half to make it 27-0.
Bogota (0-4) got its first score when Ashanti Caviness capitalized on one of Iacovino's few mistakes. Caviness crashed the backfield, picked off a screen pass and went 41 yards for a Pick 6 that got the Bucs on the board. Iacovino got those points back by hitting Packen for a 17-yard score on a fourth-and-8 with 11:12 to play before Dayval Chimillo got a consolation TD for the Bucs, a 4-yard scored against the second team D.
Back even on the season now at 2-2, Wood-Ridge is hoping to carry the momentum through the rest of the season.
"We have 18 seniors, so hopefully this is the year," said Colon. "We started the season 1-2 with tough losses against two good teams, but the goal from here is to win out and that is very possible"
FOR MORE PHOTOS FROM THIS EVENT PLEASE CLICK HERE. TO BUY A COLLECTOR'S PRINT OF THIS STORY PLEASE VISIT 4-FeetGrafix.com.