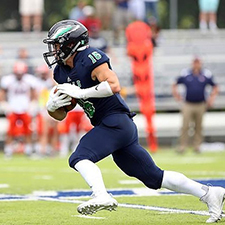 Former NV/OT running back Zach DeNike is entering his sophomore year at Endicott College in Massachusetts.
OLD TAPPAN - While most college sophomores were enjoying their summers, catching up with friends and taking road trips, former NV/Old Tappan football star Zach DeNike was hard at work.
DeNike, who is a music production major at Endicott College in Massachusetts, landed a paid internship with Premier Studios in Mahattan, where he got the chance to work with the likes of Steve Aoki, Nick Cannon and DJ Khaled.
"I was in the studio with all of the (artists)," DeNike said. "It was really awesome."
But in addition to getting a jump on some valuable experience for his future career, DeNike has also been working relentlessly to get ready for his upcoming college football season, training 5-6 days a week with three different coaches.
"I've been lifting with Ron Hackaspker, who works with a lot of NFL guys, and doing some speed work with him," DeNike said. "I have a wide receivers coach from Bergen Catholic, Anthony Gallela, who has worked with me on my pass routes and punt returns.
"I've also been doing my conditioning with my track coach from high school (Brandon Gregory)."
During his senior year at Old Tappan the speedy DeNike was an all-purpose back who, along with All-American Jordan Fuller and a roster full of future college football players, helped lead NV/OT to its first state title since 1985 when the Golden Knights beat archrival Wayne Hills 17-0 at MetLife Stadium in 2015.
"It was definitely a dream come true," DeNike said of winning the state title. "Just being on the field and looking up in the crowd, seeing all my friends that I grew up with cheering me on...it was crazy. And being out there with my (team) that I worked so hard with my whole life playing football."
He recieved a lot of interest from colleges including several D-I programs with scholarship offers from Wagner, Sacred Heart and Maristalong with serious interest from some Division II schools. But in the end DeNikedecided on Division III Endicott.
"Something just kept brining me back to Endicott," DeNike said of his decision. ""It just felt like home right away. It was the best place I could see myself for four years."
DeNike arrived at camp and immediately started getting heavy reps at running back. All through camp and preseason he was either one or two on the depth chart and was expecting to get a significant amount of playing time at the position along with returning punts and kicks. But shortly before the season started,his coach came to him with a change of plans.
"Two days before my first game, my coach told me that he wanted to switch me to slot receiver," DeNike said. "I had to learn all the plays (for the slot).
"There was a senior starting over me but every single (offensive) play we'd switch. I would run a play in then I would run a play."
In his first game DeNike finished with four receptions and 94 yards of total offense including punt returns and kick returns. DeNike, who's only pass receptions as a senior came out of the backfield, started every game at the slot for the rest of the season.
At the end of the season DeNike had amassed 978 all-purpose yards with two touchdowns. He also received all-conference honors as a punt returner.
With camp already under way and a ton of hard work put in over the summer, DeNike is ready to improve on last year's campaign both individually and as a team.
"I'm so excited for the start of the season." DeNike said. "I've been chomping at the bit all summer.
"I only see good things happening this year."
Endicott opens its season on September 2 at home against Farmington State.