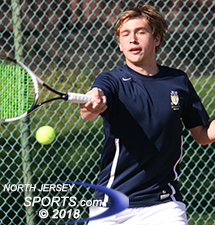 Brandon Grill rallied from a break down in the first set to win 10 of the final 11 games at first singles to secure Dwight-Englewood's 3-2 win over previously undefeated Glen Rock.
ENGLEWOOD – Losing the top player in a singles lineup is often devastating to a tennis team that has championship aspirations and that loss is magnified when that player is one of the best in the New Jersey. But that also allows a coach a chance to tinker with the lineup to get younger players some seasoning and gives others a chance to thrive and grow against better competition.
That is the scenario Dwight-Englewood is navigating after Daniel Nuzhny went down with a back injury in April. Despite playing one of the state's toughest schedules, the Bulldogs have adopted the 'next man up' mentality and it has served them well.
Cameron Janssens and Tejas Akula snapped a tie with a straight-set win at first doubles and Nuzhny's temporary replacement, Brandon Grill, rallied from a break down in the first set to win 10 of the final 11 games at first singles to secure a 3-2 win over previously undefeated Glen Rock on Monday at Dwight-Englewood School.
It is not just at the top of the lineup where Dwight-Englewood is still mixing and matching to find its optimum lineup. The doubles pairings are still works in progress, but the Bulldogs found success early at second doubles with Rick Sivrinak and Neelan Kumar finding their groove early and rolling to a straight-set win.
Glen Rock evened the score with a win at second singles by junior Matt Shulkin. He showed his ability to win big points both from the baseline and at the net in a 6-3, 6-4 win over Ben Levin.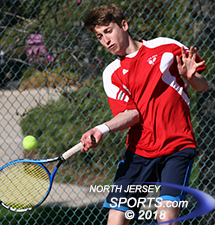 Junior Matt Shulkin got Glen Rock's first point with a win at second singles.
With Grill in a dogfight at first singles and third singles having just taken the court, the first doubles tandem of Janssens and Akula knew the outcome would likely come down to their match. They were aggressive throughout and dictated the tempo early in both sets in a 6-3, 6-2 victory over Nathan Kapiloff and Andrew Birembaum to put the Bulldogs in front 2-1.
"We were trying to get to net and take over points as quickly as possible to put them on the defensive," said Janssens. "It's important to keep our intensity up every day and stay consistent as a whole. I think the charisma this team has definitely helps us, even without a great player like Dan in the lineup."
Joe Shulkin fought through a back injury by keeping the ball deep on Grill through most of the first set and broke his serve to take a 4-2 lead. Down a break and knowing the importance of his match, Grill turned up the pace. He made a concerted effort to move Shulkin around more and get to the net. It was a successful strategy as Grill won four straight games to steal the first set and eventually score the clinching point for the Bulldogs.
"Once he broke me to make it 4-2 in the first set, I realized that I had to keep rallies going longer and be more patient," said Grill. "I just wanted to keep grinding just as any of my teammates would. That's pretty much what our team has been about with (Nuzhny) out for the last few weeks. We need to play at our best when our lineup is not our strongest. That's just going to make us better once we come back and have our full lineup."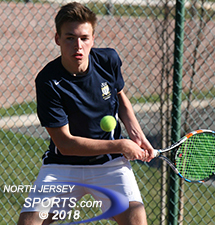 Camerson Janssens helped the Bulldogs get a point with a straight sets victory at first doubles.
Filip Domlija netted the other point at third singles for Glen Rock (8-1). While the Panthers suffered their first loss of the season they are still in line for a top seed in the North 1, Group 1 state sectional tournament coming up in May.
Dwight-Englewood has already faced the best the state has to offer, but the meat of the season is still to come. With the Bergen County Tournament, the Newark Academy Invitational, and the Non-Public B North state tournament (where the Bulldogs will almost certainly get a shot at Newark Academy) on deck, the Bulldogs feel this has the capability to be the best season in school history.
"I think our team has shown what depth we have and the character we've shown when we don't have our full lineup," said Akula. "I think it shows what type of team we are when we're at full strength. There's always room for improvement and we're not yet where we want to be. Our eyes are in the prize. We've very deep, very motivated, and determined to get to where we want to be."
TO BUY A COLLECTOR'S PRINT OF THIS STORY PLEASE VISIT 4-FeetGrafix.com. FOR MORE PHOTOS FROM THIS GAME PLEASE CLICK HERE