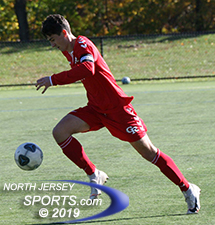 Drew Hiner scored the only goal of the game as top-seeded survived a scare from Hoboken in a 1-0 win in the North 2, Group 1 state sectional quarterfinals.
BLOOMFIELD – Hoboken headed into Friday's the North 2, Group 1 quarterfinal match with nothing to lose as it paid a visit to top-seeded Glen Ridge. After giving up an early goal and getting dominated for the first 20 minutes it looked the disparity between seeds was accurate. Hoboken, however, refused to fold and fought every step of the way. The end result came down to composure as the Ridgers stayed under control down the stretch while Hoboken lost its cool.
Thanks to some big plays from goaltender Logan Kotronis in the second half, No. 1 seed Glen Ridge held on for a 1-0 triumph over ninth-seeded Hoboken at Watsessing Park in Bloomfield.
"We really wanted to control the tone against a team that we knew would be aggressive," said Glen Ridge midfielder Lucas Costa. "The game can be so frantic in the states that it's important to make our runs and find space to see the field."
Glen Ridge came out firing from the opening minute and quickly grabbed a lead. In the seventh minute, Will Livingstone and Costa worked a textbook give-and-go with Costa sending a through ball towards the corner flag. Livingstone ran it down on the left flank and sent a cross towards the back post. Drew Hiner rose up above two defenders and headed it past Hoboken goalie Jacob Jarret to give the Ridgers a 1-0 lead.
Kevin Carino nearly got Hoboken even on a couple of different restarts.
"It was big for us to score first and settle into our gameplan," said Hiner. "It's about playing our hardest and sticking together for a full 80 minutes. We knew they were going to challenge us hard but at this time of the season we have to be ready for anything."
Hoboken struggled to find any offense early on but nearly scored on its first attack in the 25th minute when Daniel Henson's header off of a short direct kick hit the crossbar. Glen Ridge had another chance late in the half but Jarret made a diving save to keep the Red Wings within striking distance at the half.
Glen Ridge regained control of the possession game in the second half but was unable to find quality shots on net. Fernando Alvernaga and Joey Sabalov were solid in the back and Jarret made two more diving saves.
Needing a goal to force overtime, the Red Wings were more direct in the final 15 minutes with all of their scoring chances coming off of corner kicks Kevin Carino. Two of his corner kicks nearly went directly into the net, only to be kept by leaping saves from Kotronis. In the final  six minutes, Hoboken fell apart with three red cards as Glen Ridge advanced to the North 2 Group 1 semifinals.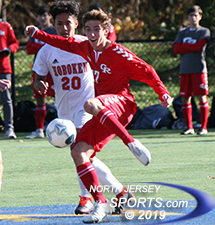 Will Livingstone and Glen Ridge will host Dayton Regional in the semifinals.
Kotronis made all five of his saves in the second half for Glen Ridge (9-7-1). The lone goal of the match was Hiner's fifth of the season.
Jarret finished with seven saves for Hoboken (10-8-1).
Glen Ridge will play at home once again in the section semifinals against Dayton Regional. After the program was a consistent winner under longtime head coach Steve Reitberger, first-year head coach Austin Alvarado has picked up right where Reitberger left off with the Ridgers in the hint for a section title.
"We got a good test today and I think it will serve us well for our next game," said Alvarado. "There are some things we need to get cleaned up and we will. Our guys kept our composure in a time where it was easy to get caught up in the excitement of playing in a state tournament game. We don't need to reinvent the wheel or anything, we just have to play hard and execute our gameplan."
FOR MORE PHOTOS FROM THIS EVENT PLEASE CLICK HERE. TO BUY A COLLECTOR'S PRINT OF THIS STORY PLEASE VISIT 4-FeetGrafix.com.