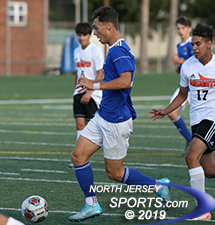 Nicholas Zielonka scored a career-high four goals for Wallington, which is now 7-0 after an impressive 8-1 win over Hasbrouck Heights on Tuesday..
WALLINGTON – Winning a league title is always the first step towards greater heights. So while that is goal No. 1 for the moment for Wallington, there is much more on the agenda in terms of trophies. The Panthers were not challenged in their first six games of the season but figured to face a test against fellow unbeaten Hasbrouck Heights with first place in the NJIC-Meadowlands Division on the line.
With a chance to make a statement before the Bergen County Tournament seeding meeting the Panthers did that and then some with a masterful performance.
Already holding a two-goal lead at halftime, Nicholas Zielonka and Damian Zurawski did not need long after the break to double the advantage. They both scored in the first 2:24 of the second half as the Panthers' attack kept coming in waves and never stopped. Zielonka had a career-high four goals and Zurawski added a pair as Wallington put it all together in 8-1 win over Hasbrouck Heights on Tuesday at Wallington High School.
Wallington methodically moved forward right from the opening whistle and the pressure on the Aviator defense paid early dividends. Off of a corner kick, a loose ball popped out to the top of the box. There waiting was Joseph Tabaka, who cracked a one-time volley through traffic and into the lower right-hand corner to put the Panthers ahead just 5:33 into the match.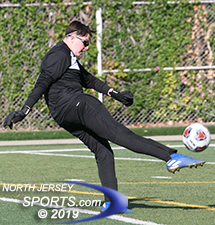 Hasbrouck Heights keeper Logan Kennedy made some tough saves against heavy pressure.
"The ball just bounced my way and I wanted to get a hard shot on target," said Tabaka. "On a corner kick I'm always at the top of the box looking for the rebound. My job is usually to just control the pace of the game but I have to take chances to shoot when its there. Our whole team works well together and we're always looking to attack."
Hasbrouck Heights had a chance to tie near the midway point of the first half. Victor Barris struck a direct kick underneath a jumping player in the Panthers' wall but Wallington netminder Amr Mahmoud made a diving save. Although the Panthers controlled the possession game it seemed like Heights might escape the first half down by just a goal. With less than four minutes remaining, Hasbrouck Heights' goaltender Logan Kennedy saved a penalty kick but it was ruled that he came off of his line and a re-kick was awarded. Zielonka made the most of a second chance and buried it to make it 2-0 at the half.
That momentum spilled over into the second half where the Panthers wasted no time in putting the game away. Zurawski scored just over a minute in and then found Zielonka at the back post for another goal. Before the Aviators knew what hit them the Panthers doubled their lead. Wallington added two more goals over the next 11 minutes and the rout was on.
"Wallington soccer is keeping possession, knocking the ball around, and taking chances to attack when we have the opportunity," said Wallington head coach Alessandro Barchi. "I thought we played good soccer today and that starts with winning 50-50 balls and building an attack from the back. When you play good soccer for long stretches you're likely to see good results."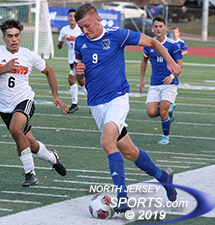 Damian Zurawski had a pair of goals for high-flying Wallington.
Christian Nowak also scored for Wallington (7-0). Ryan Garden had the lone goal for Hasbrouck Heights (7-1).
Wallington is flying high going into a tough stretch of the season. With games against an always stingy Garfield squad along with a game against St. Peter's Prep on tap, the Panthers will find out a little more about themselves.
"The games we have coming will not be easy and we have to be ready for whoever we play," added Tabaka. "Our team is really playing well right now and we feel we have a chance against anyone with Damian and Nick up top. We work extremely hard but we haven't won anything yet. We have bigger aspirations for this season and every game is a chance for us to play better."
FOR MORE PHOTOS FROM THIS EVENT PLEASE CLICK HERE. TO BUY A COLLECTOR'S PRINT OF THIS STORY PLEASE VISIT 4-FeetGrafix.com.