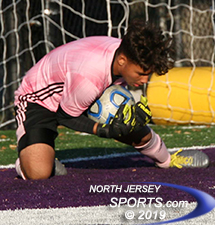 Daniel Gonzalez made six saves for Garfield, which improved to 5-1 on the season with a 1-0 victory of Glen Rock.
GARFIELD – For the past few years, Glen Rock has been a thorn in the side of Garfield as the Panthers' completed their rapid ascent from an above-average NJIC team to Bergen County champion and Group 2 state finalist. But it was not that long ago when Garfield won a Group 2 state title of its own and still has a proud tradition.
After an uncharacteristic 5-0 loss to Pompton Lakes on Monday, the Boilermakers needed to regain the belief that they can contend for a league title and make deep runs in county and state tournament play. To do that they had to find a way to beat their nemesis.
Garfield got off to a good start with a brilliant direct kick from James Barrera giving it the lead in the 4th minute. Goaltender Daniel Gonzalez came up huge down the stretch as the lone goal stood up for Garfield, which beat Glen Rock for the first time in four years with a 1-0 win on Wednesday at Century Field.
"We showed flashes of good play and making good decisions but we weren't consistent enough to win today," said Glen Rock head coach Casey Schick. "Consistency is key. We have spells where we can knock the ball around with any team in the county and other spells where we don't even know where we're supposed to be on the field."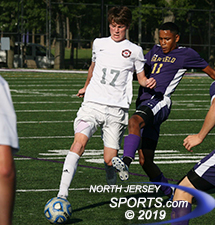 Oscar Horowitz helped generate some of the best chances for Glen Rock, which fell to 3-1 on the season.
In the opening minutes, the Panthers had a couple of silly fouls in their end that resulted in direct kicks. After not getting a shot on net with the first one, Barrera stepped to take the next one with a clear objective in mind. With the blinding sun adding a degree of difficult for Glen Rock goalie Dylan Vila, Barrera, a marking back, got a rare chance to show off his strong leg and took advantage of it by putting a massive bend on the kick. His shot bent over the wall, off of Vila's fingertips and into the upper left-hand corner to put Garfield ahead, 1-0.
"I wanted to get the shot onto target, especially with sun in the goalie's eyes," said Barrera. "If you get a good shot the ball has a good chance to go in or it is tough for the goalie to save and you can score on the rebound."
Glen Rock moved the ball effectively in the midfield but struggled with their first touch in the attacking third. Garfield center backs Kamil Stolarz and Sebastian Netik were there throughout the game to clean up any loose balls out of harm's way.
The Panthers steadily built an attack before going into desperation mode in the final 10 minutes. On four different occasions they nearly netted the equalizer but it was not to be. Two shots by Conor Daly trickled inches wide. Gonzalez did his part in between the pipes with a leaping save on a shot from Alex Bruno and a diving save on a blast from Oscar Horowitz as the Boilermakers held on for a big win both in league play and in terms of seeding for the upcoming Bergen County Tournament.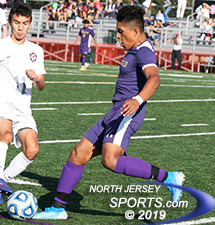 Garfield's James Barrera scored the game's lone goal on a first half free kick.
"The fire we showed over the last ten minutes we needed to show over the first 70 minutes," added Schick. "It's about coming out hard and starting fast. Garfield did that today and by the time we came around it was too late."
Gonzalez made six saves to earn the shutout for Garfield (5-1). Gonzalez's counterpart, Vila, had eight saves for Glen Rock (3-1).
Garfield now moves into a four-way tie atop the NJIC-Colonial Division along with Glen Rock, Pompton Lakes, and Rutherford. With several big games still ahead before the cutoff for the Bergen County Tournament the Boilermakers are ready to build off of this win and make some noise this season.
"We had a really tough loss against Pompton where we fell apart, but now we see what we can do when we play as one unit," said Gonzalez. "I thought we played really hard, we were focused, and we were really vocal. We have to bring our best effort 100% every game. We have a very good team but not good enough to underestimate any of our opponents. When we support each other and play for each other like we did today that we can go really far."
FOR MORE PHOTOS FROM THIS EVENT PLEASE CLICK HERE. TO BUY A COLLECTOR'S PRINT OF THIS STORY PLEASE VISIT 4-FeetGrafix.com.