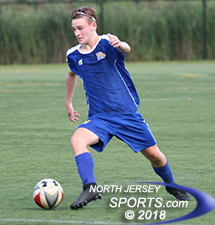 Thomas Zurkowski helped Lyndhurst picked up its level of play in the second half and the result was 3-2 victory over Bergen Charter on Wednesday afternoon.
LYNDHURST – Part of the worldwide appeal of soccer is that it is a continuous game. There are no timeouts, no plays diagrammed in the flow of play. When something unfortunate happens a player and a team must roll with it and play through it. That lesson is something Lyndhurst's Bryan Cosman picked up on in short order during a deadlocked game against a vastly improved Bergen Charter team. After a potential go-ahead goal on a header late in the second half was kept out of the net by a point-blank save, Cosman could have put his head down. Instead, he just kept working and was rewarded just seconds later.
On Cosman's next touch, the sophomore striker ripped a shot into the side netting with eight minutes to play. That proved to be the game-winner as Lyndhurst climbed back to .500 and handed Bergen Charter its first loss of the season in one fell swoop with a thrilling 3-2 triumph in Lyndhurst on Wednesday afternoon.
"I was pretty upset that their goalie saved that header but I had to keep my head up and keep working," said Cosman. "Next thing I know I had the ball again in a position to shoot. I saw a little gap to the one side so I took a chance and it went in."
Bergen Charter has been North Jersey's biggest surprise to date, reeling off seven straight wins to start the season and matching its win total already from last year. The Yellow Jackets grabbed an early lead off of a corner kick. Ken Aguilar took the kick and Christopher Garcia was there in front to knock home the loose ball and make it 1-0.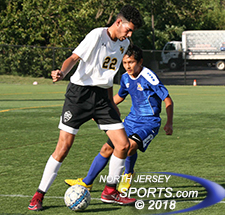 Christopher Garcia and Bergen Charter opened the season with seven straight wins and have already qualified for the Bergen County Tournament.
Lyndhurst struggled to mount much offense in the first half but cashed in on one of those few opportunities. Cosman broke free up the left side and pulled the Golden Bears level. That was just a blip as Bergen Charter kept up its aggressive approach to move back in front. It looked like Lyndhurst goalie Tyler Liuzzi was about to corral a bouncing ball in the box off of another corner kick, but Casper Pastula was able to get to the ball first and toe-poked a shot that trickled over the goal line to give the Yellow Jackets a 2-1 lead that they took into halftime.
"We were lucky to be only down 2-1 at halftime. Coming out sluggish has been a problem for us all season," said Lyndhurst striker RJ Alvarez. "Once we saw what their strength and weaknesses were we realized that we could win this game if we did our job and won 50-50 balls. We had to set the tone right from the start in the second half."
The Golden Bears knew something had to change over the next 40 minutes or they would be staring at a loss. They came out with a sense of urgency and saw results less than two minutes into the second half. Enrique Mustoli took advantage of a miscommunication on the Yellow Jackets' back line and scored on a breakaway to square the match at 2.
The tying goal swung momentum in the direction of Lyndhurst but it did not translate into shots on frame. Bergen Charter struggled to gain the possession edge it had throughout the first half but did have a pair of scoring chances from close range. After a tough first half, Liuzzi made amends by making a pair of clutch saves to keep the game tied and set up Cosman's heroics.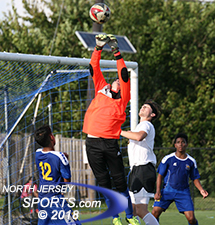 Tyler Liuzzi made some big second half saves to help facilitate Lyndhurst's comeback.
Alvarez chased down a loose ball in the corner and sent a textbook cross just outside the six-yard box towards the far post. Cosman went to head it in but Bergen Charter keeper Vincent Lin made a diving save to knock it away. The ball was cleared out for a Lyndhurst throw-in, which Cosman took. He immediately received the ball back before ripping a shot from the top corner of the box and into the side netting with eight minutes remaining to put Lyndhurst ahead, 3-2. The Golden Bears buckled down on defense and did not allow another shot to hold on for their biggest win of the season thus far.
"We knew what we needed to do and it started with raising our energy level," said Lyndhurst midfielder Thomas Zurkowkski. "We came out flat and it took us a whole half to get going. Once we got that second goal we got our confidence back and that carried us all the way to the end of the game."
Despite being handed loss No. 1, the season so far has been a rousing success for Bergen Charter, which has already qualified for the Bergen County Tournament for the first time in school history in any sport.
"We're disappointed with the loss but that's how competitive our league is that anybody can beat anybody on any given day," said Bergen Charter head coach Travis Powers. "We've been building a program for the past few years now and our kids have worked really hard to get to this point. We have Harrison next so we have to put this loss behind us and move forward. Soccer is that type of game where one or two mistakes can decide the game. All the credit goes to Lyndhurst for the win today, but I feel confident that we'll bounce back."
The win lifts Lyndhurst back to .500 on the season (3-3). With such a young team, the Golden Bears hope that this win will be the turning point towards a solid season.
"That is a really good team that we beat today," said Cosman. "They were well-organized, they played hard and they played well together. That's a first-place team that we beat today so it lets us know that we can get there too if we work hard and keep playing as a team."
FOR MORE PHOTOS FROM THIS EVENT PLEASE CLICK HERE. TO BUY A COLLECTOR'S PRINT OF THIS STORY PLEASE VISIT 4-FeetGrafix.com.