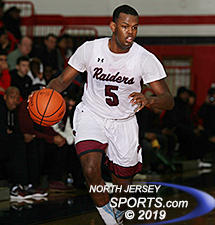 Owen Roberts, Bergen County's leading scorer, match is average output with 25 points as Dwight -Morrow breezed past Elmwood Park, 78-47, in the opening Round of the Bergen County Jamboree.
BERGENFIELD – As a senior captain in a relatively inexperienced lineup, Dwight Morrow's Owen Roberts is well aware that he will face all types of defenses designed to stop him. Against Elmwood Park in the first round of the Bergen County Jamboree, Roberts faced a box-and-one while being face guarded the entire game. The goal was to frustrate Roberts into a bad shooting night. However, it only seemed to motivate him as he put together another masterful performance.
Bergen County's leading scorer matched his scoring average for the season with a 25-point effort as 13th seeded Dwight Morrow took control midway through the first quarter and never looked back en route to a 78-47 victory over No. 20 seed Elmwood Park to earn a berth in the Jambo's Round of 16.
"We felt like the 1-3-1 could work well if we stayed patient," said Roberts. "When we work the ball around I get open shots, my teammates get open shots, and everything flows well."
Elmwood Park won its final game before the cutoff over Manchester Regional to earn an automatic bid into the Jambo. The adrenaline was flowing early with Nick Williams' spinning layup tying the game at 4. From there it was all the Maroon Raiders' game. Their 1-3-1 half-court pressure suffocated the Crusaders. Roberts and Andres Fulgencio both hit threes in the midst of a 17-3 run to close out the quarter for a commanding 21-7 lead.
"We stressed all week running through our offense and let our offense dictate what kind of shot we're going to take," said Dwight Morrow head coach Leo Jones. "Nobody tried to take the weight of the world on their shoulders and it showed with how well we played together both offensively and defensively."
The lead was 15 at the half before Roberts single-handedly ballooned the advantage with a pair of threes. The Crusaders did everything to try to slow Roberts down but he kept finding ways to put the ball in the basket. Elmwood Park had no answers for him and by the time the fourth quarter rolled around the outcome was already decided with the Maroon Raiders holding a 29-point lead.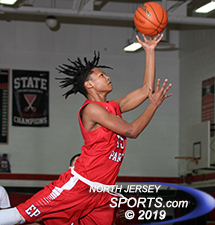 Nick Williams finished with a double-double (29 pts./11 rebs.) for Elmwood Park.
Roberts scored at least 25 points for the eighth time this season and added 10 rebounds for Dwight Morrow (10-4). Roberts was not a one-man show though as the Maroon Raiders had four scorers in double-figures. Christopher Dark, Fulgencio, and Jihad Edmond added 15, 12, and 10 points, respectively. Nick Williams led all players with 29 points and 11 rebounds for Elmwood Park (10-6).
In last year's Bergen County Jamboree quarterfinals, the Maroon Raiders did not put their best foot forward against eventual Jambo champion Don Bosco Prep. They have a chance to make up for that effort against another Non-Public school when facing fourth-seeded St. Joe's (Montvale) in the Round of 16 next Saturday.
"We know it's going to be a war against St. Joe's," added Roberts. "We have to fight for everything. I've got faith in my team, I've got faith in myself, and I've got faith in my coaches. We're going to be ready to come in, compete, and try to get a 'W'."
FOR MORE PHOTOS FROM THIS EVENT PLEASE CLICK HERE. TO BUY A COLLECTOR'S PRINT OF THIS STORY PLEASE VISIT 4-FeetGrafix.com.