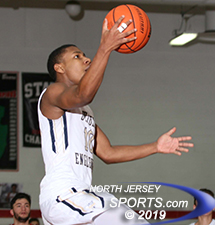 Judah McIntyre did a little bit of everything for 14th-seeded Dwight-Englewood, which won a game in the Jambo for the third straight year with a 42-26 victoty over No. 19 Glen Rock on Saturday in Bergenfield.
BERGENFIELD – Dwight-Englewood has become one of the most successful small school teams in Bergen County by employing a run-and-gun style that turns the game into a track meet that eventually wears opponents out, but against tougher competition the Bulldogs have shown recently that they can break teams down in other ways. After allowing just 25 points against Secaucus on Thursday to grab sole possession of first place in the NJIC-Liberty Division, the Bulldogs followed that up with another stellar defensive effort against Glen Rock in the first round of the Bergen County Jamboree.
The 14th-seeded Bulldogs struggled mightily from the field but made up for it by allowing just 18 points over the final 27 minutes of play that netted a 42-26 win over No. 19 seed Glen Rock at Bergenfield High School to advance to the Jambo's Round of 16.
"All week we knew they could slow the tempo and we had to stick to our gameplan," said Dwight-Englewood's Jordan McKoy, the senior who will play at Merrimack College next year as that program makes its transition from Division 2 to Division 1.
Glen Rock was able to slow the pace early by running a patient offense and getting good shots. Zach Golin's layup just past the midway point of the first put the Panthers ahead, 8-5, but the switch was flipped late in the first quarter as a pair of turnovers followed by some poor shot selection opened the door enough for the Bulldogs to seize control of the game.
Freshman David Mager continued his torrid play of late by hitting a pair of baskets inside and McKoy added a pair of baseline jumpers as Dwight-Englewood used a 16-2 run to grab a 23-15 lead at the half.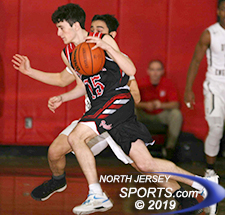 Zach Golin's layup just past the midway point of the first quarter put Glen Rock, but Dwight-Englewood stormed back.
"We talk about shot selection all the time and we didn't deal well with the adversity we faced today," said Glen Rock head coach Jason Mittleman. "I thought we got off to a good start but we shot ourselves in the foot with the shots we took. We like to take high-percentage shots and we didn't do that, especially in the second half. We played really well defensively but didn't do enough offensively to stay in the game."
Halftime provided no reprieve for the Panthers as they were smothered by a staunch defensive effort led by Bulldogs' senior guard Judah McIntyre. The Bulldogs gave up just four points in the third quarter to double their lead to 16. Glen Rock (12-3) had one last run in them when Colin McDevitt banked in a three to cut the lead down to nine with 4:40 to play. That would be the last point the Panthers scored as Dwight-Englewood won a game in the Jambo for the third straight year.
McKoy finished game-highs of 14 points and 15 rebounds for Dwight-Englewood (11-3). Mager also had 14 points, his fifth consecutive game scoring in double-figures.
The Bulldogs are embracing the underdog role they will have next Saturday when they take on No. 3 seed Ramapo.
"Little mistakes we made today can't happen next week against Ramapo, who is a very good team," said McIntyre. "We can't afford to not box out or get in the passing lanes. We know we have to do and we'll be ready."
FOR MORE PHOTOS FROM THIS EVENT PLEASE CLICK HERE. TO BUY A COLLECTOR'S PRINT OF THIS STORY PLEASE VISIT 4-FeetGrafix.com.