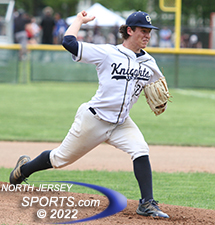 Junior Alex Kranzler threw a 3-hit shutout and struck out 13 in NV/Old Tappan's 8-0 win over Wood-Ridge in the Bergen County Tournament's Round of 16.
OLD TAPPAN – Mike Petruccelli, the longtime assistant baseball coach at Wood-Ridge, has some family connections in the horse racing industry and his analogy of Saturday's Bergen County Tournament Round of 16 game against Northern Valley/Old Tappan was spot on.
"A lot of people will bet on a horse that has not won a lot because they look in the program and say, 'Wow, you see how fast that horse ran the mile?' The truth is that horse ran so fast because he was chasing the other horses all the way around the track," said Petruccelli. "You want to see how fast a horse really is? Put him in the lead and see what he does."
Wood-Ridge, the No. 14 seed coming off an opening round win over Lyndhurst, did its best to hang with the pack, but the clear lead horse was Old Tappan junior Alex Krenzler (7 IP, 0 R, 0 ER, 3 H, 13 K, 1 BB) and there was no catching him. Throwing 93 in the first inning and still in the low 90s well after the early adrenalin rush wore off, Kranzler spun his fourth straight shutout, this time a three-hit gem in which he struck out 13 and walked just one in an 8-0 victory that puts the Golden Knights into next Saturday's quarterfinal round.
"We came and wanted to put it on them from the start and this was, arguably, one of the best games we have played this year," said Kranzler, who improved his personal record to 8-0 on the season. "There was an excitement right from the minute that everybody got here today and we carried it right into the first inning. We remember what happened in the counties last season (an opening round upset loss to Glen Rock). We wanted to make up for that and show something a little different this year.
Kranzler, throwing smoke but also showcasing a filthy slider and a tightly wrapped curveball, struck out the side in 1-2-3 fashion in the top of the first inning and then took part in the game-deciding rally in the bottom of the frame. Aided by a Wood-Ridge error, but propelled by four hits, Old Tappan sent nine hitters to the plate put up a five-spot as it pulled away comfortably in the front stretch.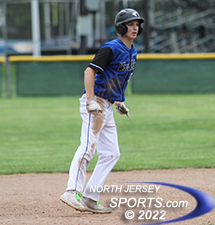 Trey Packen had two of Wood-Ridge's three hits, including a fifth inning double.
Faybel Ventura drive in the game's first run with a sacrifice fly turned into a de facto double when it was mishandled in the outfield, before Max Nasjletti, Kranzler and Lou Mosca strung three straight hits together to break the game open. Mosca's was a two-run single that made it 4-0 and Logan Yhu added a one-out single to make it a five-run spread.
"Once we scored five there things changed a little bit. The kids relax because they know with Kranzler out there we weren't going to give up many," said Old Tappan head coach Tim Byron. "Wood-Ridge battled and we knew they would, but the biggest thing I can say about this team is that there is never any panic and it is not just one kid. They all love to compete."
The inauspicious start doomed Wood-Ridge's chances of an upset, but the Group 1 Blue Devils limited Old Tappan to three one-run innings the rest of the way with Stephen Crandall and Mike Castellano combing to eat up the six innings on the mound. Crandall pitched better than his final line and Castellano allowed just two hits and one earned run in 3 1/3 innings of relief.
There was just no way back against Kranzler, who retired 13 of the final 14 hitters he faced and he struck out at least one hitter in all seven innings. Michael Sarlo, the senior catcher who will play at the United States Naval Academy next season, beat out an infield single leading off the second inning and also drew a two-out walk in the third. Trey Packen, who pitched Wood-Ridge to this point with his complete game shutout in the opening round, had the Devils' other two hits, a one-out single in the third and a ringing two-out double pulled down the right field line in the fifth.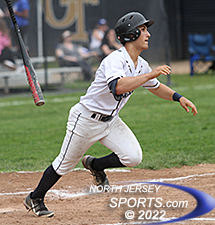 Max Nasjletti was 3-for-3 with two extra base hits, 2 RBI and 2 runs scored for Old Tappan, which will play upset-minded Dwight-Englewood in the quarterfinals.
Old Tappan ran its record to 19-2 with another balanced offensive effort. James Keating stole a base and scored the Golden Knights' first run, Ventura scored twice, stole a base and drove in a run, and Kranzler had a two-hit game. Mosca had the first inning two-run single, Elan Ofeck had a hit, stole a base and scored a run, Yhu was 1-for-2 with 2 RBI and a stolen base and Nasjletti hit the ball hard in all three plate appearances in which he was not hit by a pitch. He was perfect 3-for-3, finishing only a home run short of the cycle, drove in two runs and scored twice.
Next up for Old Tappan in the county tournament is this year's Cinderella, 22nd-seeded Dwight-Englewood which shocked No. 6 Westwood, 1-0, on Saturday. It will be the first time in the quarterfinals for every player on the field next weekend, including Keating, Old Tappan's senior centerfielder and leadoff hitter who spent the first 16 years of his life in Dallas, Texas.
This is, obviously, all new to him.
"There was definitely a different energy today for a county game and we are lucky, we have had a lot of people coming out to support. This is a one-and-done deal, this is a lose-and-you-are out, so we came out with a different energy today and we are excited for the next game," said Keating, who will play at Salve Regina University next year. "I played baseball in Texas before I moved here for my sophomore year and I am just happy to be a part of this. We have great guys that I love playing with and that is what it is all about."
FOR MORE PHOTOS FROM THIS EVENT PLEASE CLICK HERE. TO BUY A COLLECTOR'S PRINT OF THIS STORY PLEASE VISIT 4-FeetGrafix.com.