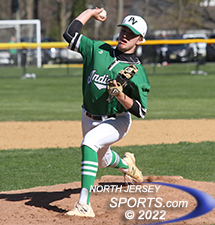 Junior Brandon Flanagan needed just 78 pitches to throw a five inning shutout in a 10-0 win over Tenafly on Wednesday.
HILLSDALE – To steer his program through a transition from highly experienced to this year's version which includes just three returning experienced varsity starters, Pascack Valley head coach Will Lynch turned to a beefy non-conference schedule. It is hard to think of three tougher out of league opponents to line up in the season's first two weeks than Don Bosco Prep, St. Joseph Regional and Bergen Catholic. Throw in Northern Valley/Old Tappan, which is off to a fast start, and upstart Tenafly and there has been some bruising at the start of the season.
"We schedule tough, we always do because the goal is to get better, but now it is time to go," said Lynch, whose team fell to 3-5 after a Monday loss to Tenafly. "I made a lot of changes in the lineup for today's game. We have a lot young kids and I was not just going to continue to send the lineup out there the same way every day. We had one hit after the first inning [against Tenafly] on Monday; we had only four hits (in a win) against Bergenfield when we struck out 11 times, five times looking."
Still looking for the right combinations, Lynch drew what turned out to be a pad hand in the return leg against Tenafly in Hillsdale on Wednesday afternoon. The Panthers, still wearing the jersey inscribed with their former nickname, put together a complete performance in a short amount of time. It took just five innings and one hour and 23 minutes for junior right-hander Brandon Flanagan to throw a two-hit shutout and for the offense to come around with nine hits, including two home runs, in a 10-0 victory that pulls the Panthers back to within one game of .500 at 4-5.
Flanagan, son of the former River Dell head baseball coach and hopeless Tottenham Hotspur fan by the same name, needed just 78 pitches to get through the Tenafly lineup twice plus two batters. He struck out four, walked three and was around the plate all day long.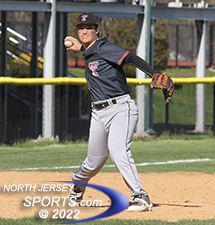 Theo Wasserlauf had one of the two hits for Tenafly, which fell to 4-4 on the season..
"We always say, 'Throw strikes and let them hit it.' That is all I did today. I used my defense and they got us out of here quick," said Flanagan. "It certainly helps when the offense hits the ball like it did in this game. It kind of all came together today."
Tenafly has been a pleasant surprise in the early going and brought a 4-3 record into the game with three of those wins, including the last one over PV in the series opener, coming in starts made by Robert Gansel.
"So far we have been real good when Robert Gansel has pitched. We are 3-0 in his starts, we beat Indian Hills 1-0, he gave up two runs in the first [inning] against PV the other day and then nothing after that. When he pitches it's like the Mets on deGrom Day, always feeling like we have a chance to win," said Tenafly skipper Andy Escala. "We have to find that same confidence when we are playing defense behind someone else."

Tenafly made an error on the first ball put in play and it was a sign of things to come. Although Issac Levinson worked around that in the top of the first inning, Pascack Valley got its first run on an RBI groundout in the bottom of the second by Matt Bell, which came with the added bonus of a free base courtesy of a throwing error.
Another throwing error opened the door to PV's first big inning, the bottom of the third, when Jimmy Shea reached base. After a diving grab of a Michael Criscuolo liner by Tenafly shortstop Jesse Bash, Luke Stephen, batting in the No. 2 hole for the first time this season, kept the line moving with an opposite field single in front of Charlie Saul, who then crushed a three-run homer over the centerfield fence to make it 4-0.
Saul, the Panthers' senior centerfielder and No. 3 hitter, finished 2-for-3 with 4 RBI and a run scored.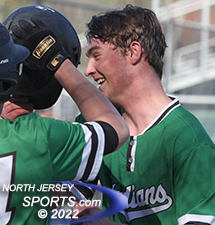 Jimmy Shea had one of Pascack Valley's two homers and drove in three runs out of the No. 9 spot in the order..
"A couple of kids in the lineup have been hot and I feel like today finally everybody else got going. We can be a tough team to beat when we hit like this, especially with the way [Flanagan] was throwing today," said Saul, won of the three returning starters from last year's team that reached the Bergen County Tournament semifinals, won a state sectional title and played right down to the final day of the 2021 season in an extra inning loss in the Group 3 state final. "Everybody just came together today. We got some situational hits, we knocked some runs in and I think we can be a dangerous team going forward if we keep doing that."
Shea (1-for-3, HR, 3 RBI, 2 R) had a big day out of the No. 9 spot in the order. His two-run bomb highlighted a four-run fourth and he drove in another run in the two-run fifth inning that closed the game out.  Matt Bell, Brayden Grier and Dylan Criscuolo drew consecutive walks leading off, Shea drove in a run with a fielder's choice and then Michael Criscuolo (2-for-4, R, RBI) pulled one into rightfield to plate Grier with the game-winner.
In all Pascack Valley pounded out nine hits and eight of its nine hitters reached base at least once. As Lynch continues to tinker, his moves, like sliding catcher Luke Stephan up into the No. 2 slot from where he reached base in all three of his plate appearances, worked on Wednesday and PV is heading in the right direction.
"It's different. The first three pitches I saw today were curveballs and, batting eighth, I would just sit there and eat fastballs, but I am kind of used to it because [second] is where I have hit the last couple of years in club," said Stephan. "I saw a lot more curveballs today, but I am still looking to pick out the fastballs and hit them the other way."
Tenalfy's two hits came from Theo Wasserlauf and Sam Powell as the Tigers fell to an even 4-4 on the season, but with only two seniors in the starting lineup they are a program whose development is accelerating.
"We have to be better and staying in games when we fall behind. We allowed them to keep adding on runs, but if we could stay away from big innings anything can happen in baseball," said Escala. "Too many errors today and we didn't give ourselves a chance. We've had some good games and results, we just need to be more consistent on the day-in/day-out and we are working on it."
FOR MORE PHOTOS FROM THIS EVENT PLEASE CLICK HERE. TO BUY A COLLECTOR'S PRINT OF THIS STORY PLEASE VISIT 4-FeetGrafix.com.