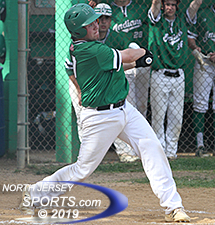 Senior Mike Foti delivered a two-run single in the bottom of the sixth inning to finish off Pascack Valley's 5-2 win over Indian HIlls in the North 1, Group 3 quarterfinals on Friday in Hillsdale.
HILLSDALE – Pascack Valley's Mike Foti has his baseball rituals and never deviates from them.
"It started two years ago in my sophomore year. I used to do the scoreboard when I was a sophomore, so I was always standing in the same spot and whenever we got into a rally I would be superstitious and would have to stay there," said Foti, Pascack Valley's senior catcher. "I would spit at a certain time, I would say numbers or names at a certain time depending on the situation. Baseball-wise, I have [OCD]."
About the only time that Foti is not standing in 'his spot' when his team is on offense is when he is in the on-deck circle or in the batter's box, which is where he did his best work on Friday in the North 1, Group 3 state sectional quarterfinals against Indian Hills.
Pascack Valley, which had left an abundance of runners on base in the first five innings, had finally pushed a run across to take a lead for the first time in the game in the bottom of the sixth inning, and Foti had a chance to give the Indians some separation. And with a poke to the opposite field with the bases loaded, Foti just about finished off another state tournament victory for PV.
Having been to the final last year and having won the bracket in 2017, Pascack has now gotten as far as the North 1, Group 3 state sectional semifinal round for the fourth straight year. Foti knocked in the last two runs in a 5-2 victory that sets up a rematch of last year's championship game against Roxbury, the defending champ and No. 3 seed that walked off No. 6 Ramapo in the quarterfinals on Friday. Second-seeded Pascack Valley will be at home for that one on Tuesday in a 4:00 p.m. start in Hillsdale.
Memorial Day weekend celebrations will now be interspersed with high school baseball related activities.
Frank Greco drove in Indian Hills' first run with a first inning single.
"These guys like being together and obviously they want this season to continue," said Pascack Valley head coach Will Lynch. "I hear a lot of people saying they want to get away get to their summer houses. Not me. My summer house is just my winter house with the windows open so I have time for more baseball."
Indian Hills, the No. 10 seed that upset No. 7 Wayne Valley, the Passaic County champion, in the opening round, carried its momentum right into its first turn at bat. Jason Wehran hit Nate Porter's first pitch of the game into left centerfield for a single and he scored on Frank Greco's RBI single two batters later. Samson Kupferberg added a two-out RBI in the opening frame for the Braves, who had a 2-0 lead just five batters into the game.
Porter (4+ IP, 2 R, 2 ER, 5 H, 3 K, 2 BB), a sophomore right-hander, settled in after that and allowed just two more hits. Porter, who pitched to the first batter of the fifth inning before making way for senior Mike Smolen out of the bullpen, gave his offense the time it needed to finally turn traffic on the basepaths into runs on the scoreboard.
Pascack Valley got an RBI single from Sean Donaldson (1-for-3, RBI) in the bottom of the third that scored Jake Lutz (1-for-2, R) and a leadoff double from Foti (2-for-4, 2 RBI, R) in the bottom of the fourth that turned into the tying run when, with the bases loaded, Indian Hills misfired on the middle throw in a 1-2-3 double play chance. That tied the game at 2, but PV had missed out of plenty of chances as it stranded 12 runners on base through the first five innings and eight of those were in scoring position.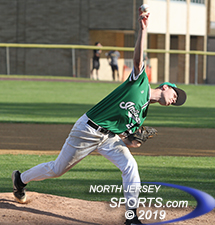 Senior Mike Smolen retired all nine batters he faced and picked up the win for Pascack Valley.
For as inefficient as the offense was, the Indians' pitching and defense was the exact opposite. Pascack Valley played error free in the field and Porter and then Smolen used the defenders to their advantage as only three of Indian Hills' 28 hitters that came to the plate in the game struck out. Smolen (3 IP, 0 R, 0 ER, 0 H, 0 K, 0 BB) could not have been more efficient as he never so much as ran a three-ball count against any of the nine hitters he faced. Smolen retired all of them without recording a strikeout and was the winning pitcher.
"Up until about 20 minutes before the game I had no idea that I would be throwing. When I found out, I just wanted to do everything I could to help my team and leave it all out there," said Smolen, a lanky right-hander with a straight-over-the-top delivery. "I just tried to focus on my mechanics more than anything. My slider was all right today. I only threw it like four or five times tops, I was mostly working with my fastball and painting corners."
Lynch, who has had nine different pitchers record at least one win this season, had all arms on deck behind Smolen, but there was no reason to look any further for a finisher. Smolen got two ground balls to bookend and nice running catch by freshman centerfielder Charlie Saul, retiring the side in order and ending Indian Hills' season.
Kupferberg (2-for-3, RBI) was the only Indian Hills batter to record more than one hit. Greco, Wehran and Joe Masino had the other three hits for the Braves. Jake Williams (2-for-3, R) and Foti had multi-hit games for Pascack Valley is making its now-annual pilgrimage deep into the state tournament.
"I am not planning on playing in college, so I do not want it to end here. We are going to our fourth straight sectional semifinal and I want to keep going and try to get another [championship]," said Foti. "This year we knew that we could hit and we thought that pitching would be our weak point. So far, our pitching has stepped up, they are doing a great job and if we keep hitting and keep fielding the pitchers will keep up in it."
FOR MORE PHOTOS FROM THIS EVENT PLEASE CLICK HERE. TO BUY A COLLECTOR'S PRINT OF THIS STORY PLEASE VISIT 4-FeetGrafix.com.