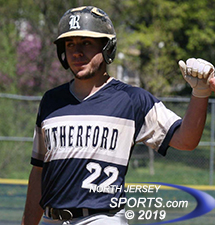 Junior Dom Mauro reached base in all five of his plate appearances and had a career-high six RBIs as Rutherford pulled away for an 18-7, six-inning win over Hawthorne.
HAWTHORNE – In a loaded week chock full of tough games for Rutherford the one that seemed the easiest on paper was the one Rutherford head coach Carmen Spina was dreading the most. After the Bulldogs suffered their first loss of the season against state-ranked Nutley on Tuesday they had to turn around less than 18 hours later to play a hungry Hawthorne team. With games against defending Group 1 state champ Middlesex on Thursday and reigning Bergen County Tournament and Group 2 state champion Pascack Hills on Saturday this had all the makings of the quintessential trap game.
Hawthorne slugged right with the Bulldogs through three innings, but with experienced players like Breylyn Jones and Abellany Mendez sitting this one out it gave a chance for others to shine. Such was the case for junior Dom Mauro. He reached base in all five of his plate appearances, including a trio of two-run singles for a career-high six RBIs as Rutherford pulled away for an 18-7, six-inning win over Hawthorne on Wednesday morning in Hawthorne.
"To be a championship team you've got to step it up every time you take the field," said Mauro. "We had a few guys out today, but everyone picked each other up after a tough loss yesterday."
Coming into Wednesday's game Hawthorne was reeling after losing a seventh-inning lead in a loss to Eastern Christian in the first round of the Passaic County Tournament on Tuesday. The Bears were without their top three pitchers but they showed early that they were not going to lie down.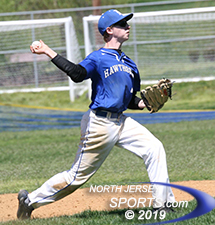 Dan Gurriell went 2-for-3 with two runs scored, an RBI, and a stolen base for Hawthorne.
Trailing in the bottom half of the first, Dan Gurriell led off with a single and came around on a single by Miller, who later scored to put Hawthorne in front, 2-1.
The Bulldogs came alive in the third inning sparked by a leadoff double from Regan Landrigan. CJ Francisco tied the game with a base hit. Two batters later, Mauro put Rutherford in front for good with a texas-leaguer down the right-field line. Gabe Francisco and Kyle Russell also had RBI singles as the Bulldogs put up six runs to take a 7-2 lead.
"Just had to be patient up there and keep it simple, see the ball and hit the ball," added Mauro.
Gurriell had an RBI single and Logan Rivera brought home two more runs on a double down the left-field line as the Bears struck for four runs in the bottom half of the inning to cut the lead to one, 7-6.
It was apparent at that point that the Bulldogs needed to create some separation quickly if they were to avoid a second straight loss. After a bases-loaded walk to Gavin Prince in the top of the fourth, Mauro ripped a single back through the box to plate two more runs followed by an RBI single from Gabe Francisco to bump the lead back up to five, 11-6.
The Bulldogs tacked on two more runs in the fifth and four in the sixth capped by a two-run single from Jay Tobin for the final 18-7 margin.
Kyle Russell and Rutherford will play reigning Group 1 champ Middlesex on Friday and reigning Group 2 champion Pascack Hills on Saturday.
Mauro finished 3-for-3 and walked twice with his career-high six RBI for Rutherford (9-1). CJ Francisco and Prince both scored four runs. Cal Chase settled things down on the mound with two scoreless innings and four K's to close out the game. All nine of the Bulldogs starters had at least one hit.
Gurriell went 2-for-3 with two runs scored, an RBI, and a stolen base for Hawthorne (4-7).
Rutherford will now look ahead to the showdown against an experienced Middlesex squad before a highly anticipated game against Pascack Hills, a potential preview of the Group 2 state semifinals.
"We're in a brutal stretch right now with five games in six days on the road," said Spina. "Gotta tip your cap to Hawthorne, they hit the ball well all game. We were able to get some kids in the lineup and they produced, but if we want to be a state championship team our big guys are going to have to carry us. They're going to have to do it with the sticks, on the mound and in the field. These next few days will give us a pretty good idea of where we stand and what we need to work on for the rest of the season."
FOR MORE PHOTOS FROM THIS EVENT PLEASE CLICK HERE. TO BUY A COLLECTOR'S PRINT OF THIS STORY PLEASE VISIT 4-FeetGrafix.com.