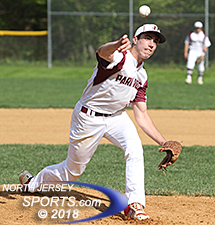 Cole Triano worked six solid innings to pick up the win for Park Ridge, which kept itself in a tie for first place in the NJIC-Patriot Division with a 4-3 win over Waldwick.
PARK RIDGE – The new week dawned on a Park Ridge baseball team standing at the starting line of a regular season-ending gauntlet. Tied atop the NJIC-Patriot Division standings, the Owls were at the start of a stretch in which they will play nine games in 11 days. There are a couple of make-ups mixed in and some independent match-ups that will eat up pitching and test the stamina, but the ones that matter most are the ones like Monday's matchup against Waldwick, a league opponent trailing just behind the three-way scrum atop the division standings.
Park Ridge is going to need every one on the roster to pull this off and against Waldwick on Monday afternoon it was sophomore No. 9 hitter Vincent Pinto that emerged at just the right moment. Pinto was going to be the last hitter that Waldwick ace Spencer McNamara would face one way or the other. Either McNamara, who started the at bat with 108 pitches thrown, was going to get the last out of the bottom of the sixth inning of a tie game or Pinto was going to put the Waldwick bullpen to work. Better still, from a Park Ridge perspective, Pinto could give his team a lead with just three outs left to get.
With runners on first and second, Pinto selected Option 3 as he ripped a double to left center that scored Evan Kinsey with the winning run in a 4-3 victory that keeps the Owls deadlocked atop the league standings with Emerson and Midland Park.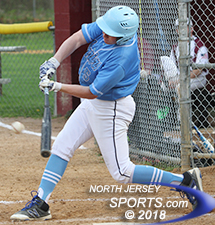 Joe Brunner singled in a run to put Waldwick up 3-2 in the top of the fifth inning.
"In my first at bat I popped up, in my second it was maybe the shortest flyball base hit in the history of baseball so for my third at bat I had to make my adjustments," said Pinto, who first hit of the day was a back-spin pop up that landed safely maybe 30 feet up the third baseline. "I had to catch up to McNamara. He is a great pitcher and he had great stuff today, but I knew if I made my adjustments that I could do my job."
Pinto's RBI and Brendan Hughes' save, which he earned by retiring three of the four batters he faced in the top of the seventh, made a winner of Cole Triano, the right-hander who threw six solid innings against a sizzling Waldwick lineup. The defense played clean behind Triano (6 IP, 3 R, 2 ER, 9 H, 4 K, 3 BB, HBP), who put together two 1-2-3 innings and limited the damage whenever Waldwick was able to mount rallies.
The Warriors, who are coming off a week in which they pulled two Bergen County Tournament upsets on the road to reach the quarterfinals as the No. 24 seed, got right to work in the top of the first inning, loading the bases with two outs. Louis Fabbo gave the Warriors a lead with a single, but it was deep enough to score only one run and catcher Luke Lagnese made a nice play for the third out, pouncing on a short groundball and throwing a strike to first for the final out.
Lagnese singled in a run to tie it in the bottom of the second and Park Ridge got an unearned run in the third to go up 2-1. McNamara picked a runner off of first base, but the Warriors were unable to record the out at second. Zach Lewis advanced into scoring position, went to third on Derek Cho's groundout and scored on a double steal on which pinch runner Chris Hughes drew the throw at second as Lewis raced home.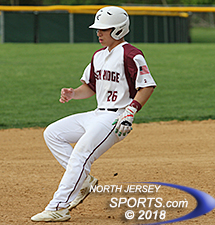 Vincent Pinto doubled in the winning run for Park Ridge, which improved to 10-5.
Triano retired the side in order in the fourth before Waldwick surged back in front in the top of the fifth spurred by Garrett Mironenko, who was a perfect 3-for-3 on the day and singled leading off the inning. Triano then committed Park Ridge's only error of the game by throwing away Matt Rypkema's sacrifice bunt attempt before intentionally walking McNamara (2-for-3) to load the bases. Joe Brunner singled in the tying run and Lucas Mainetti singled in Rypkema to put Waldwick up 3-2, but the rally ended abruptly with centerfielder Tyler Marsh throwing a strike to the plate where Lagnese applied the tag for an 8-2 double play.
The sixth inning, Triano's last, ended with another double play started by Marsh as he caught a fly ball and got it back into the infield where an appeal of a tagging baserunner was granted as it was ruled that he had left too soon.
"After the first inning I realized that I did not have my best stuff, so I knew it was going to be an on-going battle. My teammates really gathered around me and gave the confidence to keep on battling and it ended up working out for us," said Triano, who helped lead Park Ridge all the way to the state sectional final where it lost in a crazy ending against Emerson. "Everyone in here knows the capabilities of this team. We have a lot of good energy in the dugout, there is a good vibe with this team and everybody wants to be around it. We are excited for these next two weeks. We went far in the state tournament last year, unfortunately it ended in the championship game, but we are a big-game kind of team and today was a big game. It is fun to play on the big stage."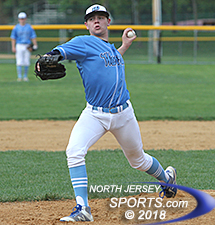 Waldwick starter Spencer McNamara allowed just two earned runs in 5 2/3 innings.
There was no bigger stage than the one Pinto found himself on in the bottom of the sixth and, after the game-winning double, the handshake, the postgame huddle and before being interviewed, he got the Gatorade bath from his teammates.
"I am happy for [Pinto]. He is only a sophomore, he quarterbacked the football team and he started for us as a freshman last year, but he has been struggling a little bit. It was in his head and he was trying to get 10 hits in one at bat," said Park Ridge head coach Pete Crandall. "I have been telling him to forget the numbers. He has the ability and I have told him just to start over again. Hopefully this gets him going because we could really use him."
Park Ridge improved to 10-5 on the season with a quick turnaround to Tuesday's marquee league game against Emerson. Although Waldwick (12-6-1), coming off the upset of eighth-seeded St. Mary in the Round of 16, is still alive in the county tournament with a quarterfinal game against Don Bosco Prep, the team that Waldwick skipper Mark DeMenna used to coach, that is little consolation for a squad that also has its sights set on a league title.
"This was a tough one. It is tough to win a game when you make the errors that we made. We had three kids picked off and instead of turning them into outs, two of those kids scored. Their kid [Triano] did a nice job pitching, he gutted through a lot, so I will give him the credit," said DeMenna. "I am sure that our kids our excited for [the county tournament quarterfinal], but our focus was on today. The first goal at a Group 1 school is always to win a league title and it is not over yet. There is a lot of baseball left even though it is only a week-and-half left of league games and we just have to refocus and let it all play out."
TO BUY A COLLECTOR'S PRINT OF THIS STORY PLEASE VISIT 4-FeetGrafix.com. FOR MORE PHOTOS FROM THIS GAME PLEASE CLICK HERE