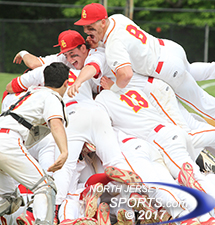 Bergen Catholic celebrated its first Bergen County Baseball Tournament championship since 1999 after a 5-4 win over Don Bosco Prep on Sunday.
DEMAREST - It was a day of fortunate coincidences for Bergen Catholic sophomore Dominic Cancellieri. Having gone 0-for-7 in his two previous Bergen County Tournament games batting in the cleanup spot, he told BC head coach Bob Muggeo before Sunday's county championship game that he would take no offense if the skipper decided to move him out of the No. 4 spot.
"Dominic said to me yesterday, 'Coach, I am oh-for-the-four-spot,'" said Muggeo. "So I said, 'OK, it's the black hole. I will get you out of there.'"
So Cancellieri was moved to the No. 5 spot...problem solved, at least on the offensive side of things.
From a pitching perspective, Cancellieri was brought on to close the game with a one-run lead in the top of the seventh inning. The last thing he wanted to do was to walk Tommy Courtney, Don Bosco Prep's leadoff hitter and fastest baserunner, and keep the line moving long enough to save an at bat for Casey Dana, the Ironmen's No. 3 hitter and one of Bergen County's best line drive hitters.
So what happened? He walked Courtney with one out in the seventh and Dana did bat during Bosco's last licks. It could not have worked out better for Cancellieri and, in turn, the Bergen Catholic baseball program.
It was from the No. 5 spot in the order that Cancellieri lifted the sacrifice fly that capped the three-run sixth inning and gave Bergen Catholic the lead back and from the hill where he struck out the final batter he faced with Courtney, the potential tying run, still anchored at first base.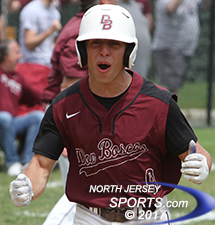 Anthony Petrosino coming across the plate with the run that gave Don Bosco Prep at 3-2 lead in the fourth inning.
"I was just out there trying to throw strikes. If they hit it, they hit it but I am not out there trying to give out free passes and that is exactly what I did against Courtney, their fastest runner," said Cancellieri. "Going into the inning I was hoping that [Dana] wouldn't come up, but he did and I just had to stay focused and do my job."
Cancellieri did and with its 5-4 win at Northern Valley/Demarest High School, Bergen Catholic (21-5) put an end to a couple of streaks that it was happy to shed. Having lost in the final the last two years, and last year in excruciating and controversial fashion, the Crusaders broke that string and also won their first Bergen County championship since 1999, ending an 18-year drought in that regard.
"That was probably the worst feeling in the world last year. It was a very close play with Chris Gerard at first and we have been talking about that play for a year now. It probably comes up every couple of practices," said BC senior David Lamanna, comparing the feeling of last year's loss to this year's postgame celebration. "We have been talking about this dogpile for so long. Me, Coach Muggeo, Vinny [Martin], Andrew [DeRubertis], all the seniors...Ray [Cortez], Cole [Bosch], we have wanted this for so long. Since freshman year we have been talking about this, so I am just really happy that we got the job done."
The game itself was worthy of a county final with obvious changes of momentum, sparkling defensive plays, a couple of key hits in big spots and two bullpens trying to drag their respective teams to the finish line. Bergen struck first with Cancellieri (2-for-2, RBI) singling home Bryan Hallenback in the bottom of the second inning and then doubled its lead in the third when Rob Cappadonna and Gerard each hit doubles bookending a Bosch sacrifice bunt to make it 2-0.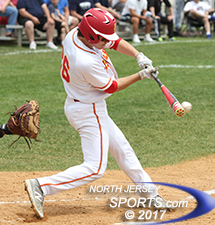 Sophomore Dominic Cancellieri hit the go-ahead sacrifice fly in the bottom of the sixth and then pitched a scoreless seventh to notch the save for BC.
Bergen Catholic starter Mike Roll, a junior right-hander, made it through the first three innings unscathed before Bosco put together a three-run rally in the fourth that could have been much more extensive. Ryan Carr got it started with a leadoff double, an error put runners on the corners with one out and Matt Lengua got the Ironmen on the board with a bloop single to left.
Anthony Petrosino then doubled to tie the game and, with Lengua at third and still just one out, the Crusaders pulled the infield in to try to cut off the go-ahead run. The strategy worked as designed because of a brilliant play by Bosch, the BC shortstop to dove to his right to pick off a chopper then jumped to his feet and cut down the runner at the plate. "It was really hit hard and it was all just reaction. I was just trying to help my pitcher [Jacob Denner] out. He was just brought into the game, that was the first batter he faced and I was just trying to make a play," said Bosch. "That was a big one and I was happy that we were able to get that out."
Courtney followed with an RBI single that scored Petrosino to give Bosco the lead at 3-2, but Rob Cappadonna came up firing from leftfield to nail another runner at the plate. Bosco banged out four hits, got three runs and took the lead in the inning, but it could have been more.
Denner gave Bergen exactly what it needed, 2 1/3 innings of quality relief in the middle of the game. The only mark against his ledger was a solo homer by Conor Buckhout leading off the sixth, but Bergen Catholic was facing another county final disappointment when it came to bat down 4-2 in the bottom of the sixth. Evan Bergman (2-for-3, R, SB) immediately lightened the mood with a leadoff double and went to third on Bosch's one-out single through the left side.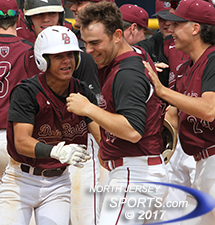 Conor Buckhout (center) getting mobbed at home plate after his solo homer in the sxith gave Bosco a 4-2 lead.
Last year's county final ended on a disputed call on a groundball to the right side hit by Gerard. This season's county final turned on the very same thing. This time, what could have been an inning-ending double play instead resulted in no outs recorded as an error in the middle of the diamond meant that Bergman scored to get BC to within 4-3 and it still had two runners on. Lamanna then singled to tie the game and, two batters later, Cancellieri hit the sacrifice fly from the No. 5 spot in the batting order that gave BC the lead for good.
"It's high school baseball so I tend to give credit as opposed to blame. [Bergen Catholic] did a really good job. I don't think we ever felt comfortable with a one-run lead or a two-run lead even. We knew that their offense was going to keep plugging and scratching because they have a bunch of gamers over there just like we do," said a gracious Mike Rooney, Don Bosco Prep's head coach who has won this tournament three times. "I don't think it was a matter of running out of pitching or a failure on anybody's part on our end, I just give them a lot of credit for chipping away a little bit and having those quality at bats that lead to positive things for an offense."
Cancellieri worked around the one-out walk in the top of the seventh and then got consumed by the dog pile just to the right of the pitcher's mound. It was a celebration 18 years in the making for the Bergen Catholic baseball program.
Lamanna, the Notre Dame-bound catcher, was given the Ted Evans Award as the tournament's Most Valuable Player, while Gerard was honored with the Ennis Award handed out the tournament's best pitcher.
"You can't erase the fact that we were here the last two years and came up short, but this is a different team, different personalities and different players. When I meet with my guys at the beginning of the year, I tell them that whatever happened in the past doesn't matter and that we have to turn the page," said Muggeo. "That is coachspeak. The reality is we were here the last two years and we lost. So I am so proud of my guys the way they fought back. We had the lead, we let it slip and then they extended. Down 4-2 in the sixth is a tough place to be, but the way it finished it was really exciting and I just am really happy for my guys. The one thing I am really happy about is that we had everybody contribute. Gerard and Lamanna are the headliners this weekend, but there are a lot of guys that are responsible for what we accomplished."