Pal Park runs away from Cresskill in key league matchup
Wednesday, February 8, 2006
By Cory K. Doviak
NJS.com Editorial Director
Briant Nixon scored 14 points and added seven steals and five assists as Pal Park ran away from Cresskill and stayed in a tie for first place in the BCSL-Olympic Division with four games to play.
PALISADES PARK – One way or another, Palisades Park's speed in the backcourt is going to play a part in outcome of every game that it plays. Either the Tigers are going to run an opponent out of the gym with their defensive quickness, or they are going to run themselves out of any chance to win a game because they are chasing the ball, committing too many fouls and rushing shot after shot from all over the floor.
"I said to my guys before the game, I want to know what team was going to show up tonight," said Pal Park head coach Joe Galeazza. "I usually never know until the game starts."
Actually, Galeazza got both versions of his team on Tuesday night in key BCSL-Olympic Division matchup against Cresskill. The first half was a little bit of a mess, but the second half was a showcase of what Palisades Park can do when it gets the tempo of the game in its favor.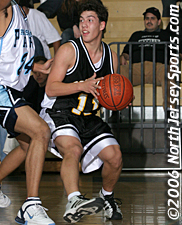 Joe Zimatore hit four three-pointers and led Cresskill with 14 points.
After scoring just 19 points in the first two quarters and seeing Cresskill steal the momentum when Joe Zimatore hit a three-pointer from the corner that just beat the third quarter horn, Pal Park went off. The Tigers' pressure on the ball and its wide open offense spurred a 20-5 spurt to start the fourth quarter and turned a close game into a 61-43 rout.
The win kept Pal Park (12-5, 11-3 BCSL-Olympic), which has not won a league title since 1980, in a first place tie with Leonia with four games remaining and dropped Cresskill (11-6, 10-4), which had won eight in a row, into second place, one game out in the loss column.
"With the three guards that we have, we know that we can press anybody and that we can fastbreak on anybody," said Briant Nixon, Pal Park's point guard who helped break the game open with his non-stop motor on both ends of the floor. "We knew with our speed there was no way they were going to stay with us."
Cresskill's success comes from its ability to turn a game into a halfcourt battle where it can use its size to cause matchup problems for a defense and make every possession important. The Cougars are a big team for a Group 1 school and have Dan Egorow, who has the size to play inside and the shooting touch and ball handling skills to play on the perimeter.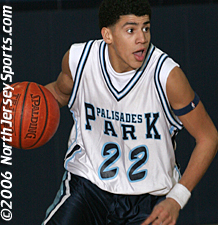 Ulises Centana led all scorers with 17 points, including a step back three-pointer that opend the gates to Pal Park's game-clinching 20-5 fourth quarter run.
Cresskill was able to control the tempo in the first half as the teams were tied at 19 at the break, but the advantage started to tilt in Pal Park's favor early in the second half even if the results had yet to show up on the scoreboard.
After the Zimatore hit a three-pointer to open the third quarter scoring, Egorow was called for his fourth personal foul for setting an illegal screen on Cresskill's next possession and went to the bench just 1:21 into the second half.
Cresskill took its last lead at 27-26 on Phil Mormon's layup off a feed from Victor Fontana, but Nixon erased that with a fastbreak basket that put Pal Park ahead for good with 2:28 left in the third. Nixon scored five straight points and sophomore Anthony Scott hit two free throws to give the Tigers a 33-27 lead before Zimatore hit the last of his four three-pointers to get Cresskill with three heading into the fourth quarter.
But after that, it was all Pal Park. Ulises Centana hit a step-back three-pointer from about 22 feet out to get the Tigers rolling. In the next 12 seconds, Centana made a steal, missed another three-pointer from the corner, made another steal and hit a layup. The next time down the floor, Centana made a no-look pass to Scott inside and his layup gave Pal Park the game's first double-digit lead at
40-30. The 7-0 run to start the final period took just 59 seconds to complete.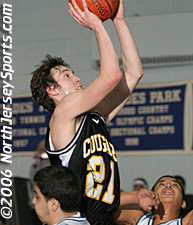 Dan Egorow got Cresskill within single digits for the last time before fouling out with 4:54 to play.
"We just had no control in the backcourt. Pal Park did what they wanted to us and then when we did get the ball over [halfcourt] we still did what they wanted us to do," said Cresskill head coach Marty Rivard. "I don't know if we set up a play in the entire second half and we got totally out of control."
Cresskill got within single digits for the last time when Egorow hit a three-pointer from the corner with a hand in his face, but Nixon answered that with a floater in the lane to put Pal Park up
44-33 with 5:02 left and Egorow fouled out on an over-the-back call with 4:54 to play.
Pal Park kept the pressure on and the lead swelled to 20 points with just over one minute to go when Aladdin Valdez scored on the break off an assist from Nixon. After scoring 33 points through the first three quarters, Pal Park blew up for 28 over the final eight minutes.
"Cresskill is always a great defensive team and even tonight I though they played well defensively, but it was our defense that led to some easy baskets," said Galeazza. "We got some momentum going in the fourth quarter and things just started going our way. I think that is because our kids played so hard and got after them on defense. That created transition and some easy looks, which you don't always get against a team like Cresskill."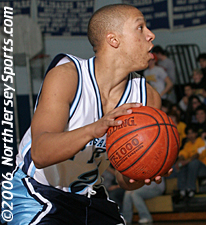 Aladdin Valdez six of his eight points in the fourth quarter as Pal Park pulled away.
Zimatore (14 points) was the only Cougar to finish in double figures, Dan Brody added 9 points and Egorow, who was limited to less than four minutes in the second half by foul woes, ended up with 6, as did Phil Mormon.
Pal Park had a balanced attack led by Centana's 17 points, 14 from Nixon, who also had seven steals and five assists, and 13 from Scott. Valdez scored eight points, center Manny Diaz had 6, and Robert Russo chipped in with a first half three-point play. Galeazza also used Zach Shaw and Gabe Fuentes -- two guards who both played in junior varsity game -- to slow the tempo late in the fourth quarter.
The Cougars now need some help to defend their league title as, with four league games left, they have none remaining against the top teams. They are tied with Bogota and Ridgefield for second place one game behind both Leonia, which Cresskill swept this season, and Pal Park, which swept Cresskill for the first time since at least the early 80's and most likely for the first time ever.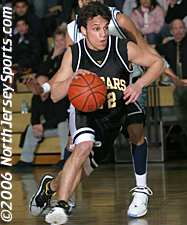 Cresskill point guard Dan Brody scored 9 points against the high pressure of Pal Park's defense.
"I can't remember the last time we beat them, let alone swept them," is how Galeazza put it.
That leaves Pal Park in the driver's seat for at least a share of the league title. The Tigers close out the regular season against Park Ridge, New Milford, which played the Tigers to within a single point earlier this season, Bogota and Bergen Tech. One of Pal Park's three league losses came to Bogota, so the Tigers know that the history they are chasing is far from a done deal.
"We are all well aware of what our goals were coming into the season, but we are just taking it one game at a time," said Galeazza. "Goal No. 1 for us right now is to beat Park Ridge because without that everything else doesn't matter."
FOR MORE PHOTOS OF THIS GAME OR TO BUY A COLLECTOR'S PRINT OF THIS GAME STORY, PLEASE VISIT 4FeetGrafix.com.
---
NorthJerseySports.com Information Box:

| About Us | Contact Us | Home |
Questions? E-mail the editor editor@northjerseysports.com
All contents © copyright 2003-2006 HSSportsWeb.com, Inc. All rights reserved.