Fort Lee marks itself a contender
Wednesday, January 4, 2005
By Cory K. Doviak
NJS.com Editorial Director
Senior Pedro Burgos scored 15 of his game-high 33 points in the fourth quarter as Fort Lee got it first win in Englewood since 1997.
ENGLEWOOD – The 6-0 record that Fort Lee brought into Tuesday night was impressive and the Jack Reilly Holiday Tournament title it won last week was a nice addition to the trophy case. But it is in the gym at Dwight-Morrow High School, and only there, where a visiting team can mark itself as a contender for the BCSL-American Division title.
In his 15 years as the Fort Lee head coach, John Ziemba had won in Englewood just once, that time coming during 1997-98 season when the Bridgemen shared the first of their two straight league titles. But since then, Englewood has won the league title every year since.
"I told our kids before that game that I have been coaching here for the last 15 years and I played here for four years when I played for Garfield and I know first hand that nobody wins here," said Ziemba. "Their winning percentage here has got to be about 95 percent in BCSL games. If they lost five games here in the last 15 years, I'd be shocked."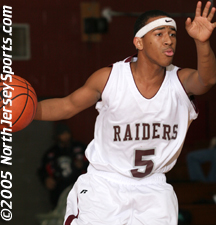 Aaron Dorrell's fastbreak layup and free throw had Englewood within three points, 56-53, with 6:03 to go in the game.
But this time it was different.
Tuesday night also represented Pedro Burgos' last chance to win at Englewood and Fort Lee's senior guard made sure that his team would take advantage of the opportunity. Burgos, whose range begins when he steps over halfcourt, scored 15 of his game-high 33 points in the fourth quarter as Fort Lee posted a 76-68 win and improved to 7-0 for the first time in at least 15 years and maybe since as far back as 1969.
And to get it done, Ziemba decided to try to beat Englewood (3-3) at its own game. Fort Lee pushed the ball up and down the floor and sometimes it worked -- the Bridgemen scored 12 of the game's 15 points -- and at other times in played right into the home team's hands. Joshua Faison's three-pointer with 5:08 to go in the second quarter gave Englewood its first lead of the game at 24-23.
"We wanted to run with them, that was our plan, but sometimes we got going a little too fast and it led to turnovers and easy baskets for them," said Ziemba. "I wanted us to play at about 90 miles an hour, but it seemed like we were going about 120 and we got sloppy. I thought in the second half we did a better job of taking care of the ball."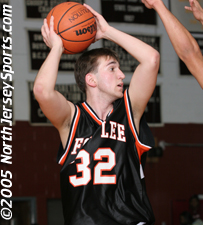 Max Resnick scored 11 of his 18 points after halftime to help Fort Lee seal the deal.
The lead changed hands five more times before the break, which Fort Lee reached with a 34-33 advantage. There were seven more lead changes to go along with one tie in the third quarter before Max Resnick hit a three-pointer to give Fort Lee a two-point edge, 50-48, heading into the final eight minutes.
But after Darnell Carter tied the game for the last time by finishing a pick-and-roll run with James Williams for the first basket of the fourth quarter, Burgos simply took over. He hit three-pointers on consecutive possessions, the second of which was a pull-up job from about 25 feet, to put the Bridgemen up for good at 56-50.
"Pedro is just a great player, he is a marquis player and we couldn't stop him," said Englewood head coach Gerald Akridge, who has just one senior in his starting lineup to go along with four juniors. "It's tough when a kid can pull up and shoot it from 25 or 30 feet. He did not shoot well in the first half and we didn't take advantage of that and he didn't miss in the second half."
Fort Lee pushed the lead to as many as nine points in the fourth quarter when Gerald Soriano, a transfer from Rice High School in New York City who gives the Bridgemen a legitimate post presence, scored inside and Burgos hit a pull-up jumper in the lane for a 64-55 lead with 4:10 to play.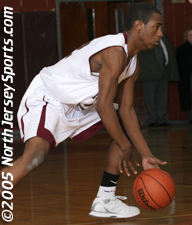 James Williams, one of four juniors in Englewood's starting lineup, scored 19 points.
Englewood got to within three points twice – once on a Williams jumper and the last time on two Chris White free throws with 2:36 left – but Burgos buried the last of his six three-pointers with 2:18 to go to put the game away.
"I just felt it. It was one of those games that everything just went in, where the basket seemed like it was bigger than it normally is," said Burgos, a four-year varsity player who led Bergen County in scoring last season. "We are a deeper team this year. X[avier] McAden has been playing great, Max [Resnick] has been playing great and Gerald [Soriano] can score and rebound. I don't have to shoot all the time, but if we need a big bucket I'll step up."
McAden, Fort Lee's junior point guard, scored seven of his 10 points in the first half, but was a factor the whole way with his ability to drive the ball to the basket and set the offense as well lead the fastbreak. Soriano scored 12 of his 14 in the first half and Resnick was huge in the second half when he scored 11 of his 18, including 4 of 6 from the free throw line in the fourth quarter.
Williams and Faison led Englewood with 19 points each, Aaron Dorrell and Chris White each scored seven and Darnell Carter, who will play football at the University of Virginia next season, finished with six. And even though the Maroon Raiders are now a game back in the loss column in the league standings, there are still 14 league games left to play and Englewood is far from an afterthought.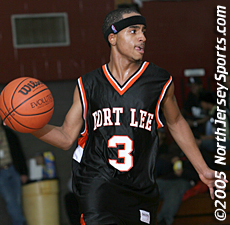 Junior point guard Xavier McAden was effective running Fort Lee's offense both in the halfcourt and on the break.
"We are young and we have a lot to learn, but we have good players on this team," said Akridge. "We just have to go back to work and hopefully it will be different next time [we play Fort Lee]."
Fort Lee is now a front-runner in the BCSL-American, but still have a long way to go. The Bridgemen travel to Westwood on Thursday for a showdown with the Cardinals, also unbeaten in league play and one of Bergen County's best teams.
"That's going to be another big one," said Burgos. "It's still early but this game and the Westwood game are going to mean a lot."
FOR MORE PHOTOS OF THIS GAME OR TO BUY A COLLECTOR'S PRINT OF THIS GAME STORY, PLEASE VISIT 4FeetGrafix.com.
---
NorthJerseySports.com Information Box:

| About Us | Contact Us | Home |
Questions? E-mail the editor editor@northjerseysports.com
All contents © copyright 2003-2006 HSSportsWeb.com, Inc. All rights reserved.