Tuesday, March 4, 2008
By Cory K. Doviak
NJS.com Editorial Director
Colleen Ahearn scored 14 of her game-high 19 points in the fourth quarter to lead Cresskill past top-seeded Belvidere, 59-44, in the North 1, Group 1 state sectional final.
BAYONNE -- Sometimes basketball can be such an easy game or at least it can look that way when a team sticks to the fundamentals. Somewhere in the Basketball 101 hand book, there is a chapter that deals with recognizing a mismatch in its favor and then exploiting that advantage over and over again until the opponent stops it or fouls out trying. Colleen Ahearn provided Cresskill with just such a target and the Cougars hit it over and over again in the fourth quarter of Monday night's North 1, Group 1 state sectional final.
Ahearn, the Cougars' 6-1 center, set up on the low block, Cresskill played a two-man game on her side and Ahearn was unstoppable. Through a combination of passes from Flo Borova, Stephanie Durakis and Carly Cerone, Ahearn scored 14 of her 19 points in the fourth quarter.
Cresskill, which entered the fourth quarter trailing by three points, used Ahearn's scoring and smart decisions by the rest of the team, to pull away for a surprisingly comfortable 59-44 win and its first section title since 2004.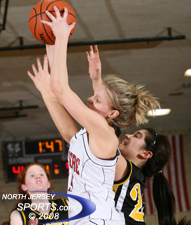 Belvidere suffered just its second loss of the season to finish at 23-2.
Belvidere (23-2) was the top seed in the bracket and suffered just its second loss of the season, while third-seeded Cresskill advanced to Wednesday's Group 1 state semifinal where it will face North 2 champion University Wednesday night at Ramapo High School. University knocked off Secaucus in Monday night's North 2, Group 1 final, 69-45.
"It's crazy. I just tried hard to post up and get position, my teammates kept passing it to me and I just kept going hard to the basket," said Ahearn, who made six of her seven fourth quarter field goal attempts. "We had that fire within us. We wanted to get to the state [section] final and win it and that is what we were able to do."
Cresskill led by a point, 15-14, after one quarter but a rough shooting second quarter combined with turnovers left the Cougars trailing by 25-20 at halftime. Belvidere led by as many as seven points in the third quarter and entered the fourth up 37-34, but then Cresskill found Ahearn inside and did so repeatedly.
"We knew that Colleen's height was an advantage coming in and it was just a matter of making her believe that she could do it down there," said Jennifer Kalish-Rilli, who is having a dream season, her first as Cresskill's head coach. "There was no one out there [for Belvidere] that was 6-foot-1, so if we could just get [Ahearn] to hold on to the ball and go strong we knew we could get it done."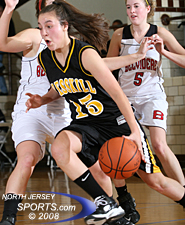 Florina Borova had four second half assists, all of them to Colleen Ahearn, to help Cresskill pull away in the fourth quarter.
Ahearn scored on the low block off an entry pass from Borova on the left wing with 6:22 to go in the game to give Cresskill its first lead of the second half at 40-39. A Belvidere free throw retied the game with 5:57 to go, but Borova fed Ahearn again in what became a cookie-cutter play, an entry pass from right wing. Ahearn finished again and Cresskill went ahead for good with 5:38 left in the game.
That basket also kicked off the 19-3 run that Cresskill put together to close the game and close out the state sectional championship.
"It's an unbelievable feeling. The girls played so hard tonight and they worked so hard all year long to get here. They deserve this, they wanted it and they showed it with the way they finished out the game," said Kalish-Rilli. "Just getting here was a challenge. At the beginning of the season I knew I had talent coming in. We knew we had height, we knew we had an inside-outside presence, it was just a matter of putting it all together and the girls have met every challenge that has been handed to them this year."
Belvidere was led by Marielle Thorsen's 14 points, Dana Drake finished with 12 points, Becky Hayter had 8 and Andrea Dunne (6 points) and Dani Lynn Hineline combined for the County Seaters.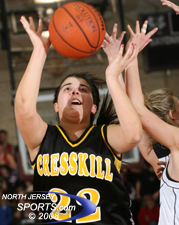 Carly Cerone and Cresskill will play University in Wednesday's Group 1 state semifinal.
Ahearn's 19 points led all scorers while Cresskill got 14 each from Borova and Cerone. Sarah Malmut added nine points for the Cougars while Durakis scored all three of her points from the free throw line.
With a state title now in its back pocket Cresskill can head in the Group 1 state semifinal against University as a team with nothing to lose. University is the defending Tournament of Champions winner and will be the favorite no matter who it plays from here on out.
"I would love to keep moving on [in the tournament] obviously. The longer we get to play basketball the better it is," said Kalish-Rilli. "But just to get this far and to get it done is a huge feat in itself. We have nothing to lose [against University], but we still want to go in there and play our best game and see what happens."
FOR MORE PHOTOS FROM THIS GAME OR TO BUY A COLLECTOR'S PRINT OF THIS GAME STORY, PLEASE VISIT 4FeetGrafix.com.