Monday, March 1, 2010
By Rich Barton
NJS.com Staff Writer
Myles Davis hit a 35-foot, three-pointer at the first-quarter buzzer and St. Peter's Prep never looked back on the way to an 81-65 win over North Bergen in the Hudson County championship game.
JERSEY CITY – When St. Peter's Prep point guard Kevin Walker was just a freshman, he had the assist on the Marauders' game-winning shot, which capped an upset-laden run through the tournament to win the school's first HCIAA-Coviello Division championship. At the time, he thought it was the biggest game he would ever play it and that nothing could ever top it.
But now a junior, Walker is the floor general for one of the state's top programs. As he has grown and matured over the years, so have his teammates and, more importantly, the expectations for the team's success.
"Anytime you're in a tournament, you want to win it, that's what you work hard for," said Walker. "I remember when we had to win on the cutoff day to get into both the county and state tournaments when I was a freshman. "It's amazing how much things have changed with this team. Now we have the bulls' eye on our back and every team is going to come after us with their 'A' game. But with all we've been through the past few seasons and this year, we're mentally prepared for anything."
Expectations have risen so high for St. Peter's that even against a highly-regarded North Bergen team, the Marauders were considered heavy favorites because of their explosive offense. That was on full display in a 30-second spurt at the end of the first quarter that proved to be game-changing.
First, Ronald Roberts scored on a putback dunk. Myles Davis followed with a steal and a 35-foot, three-pointer at the first-quarter buzzer to bump the lead up the eight points. That was all the top-seeded Marauders needed as they cruised to the Hudson County Tournament title, their third championship in a row (the last two crowns came in the HCIAA-Coviello Tournament), with an 81-65 triumph over second-seeded North Bergen in front of 1,500 at the Yanitelli Center on the campus of St. Peter's College in Jersey City.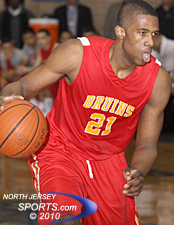 North Bergen's Noel Allen had his second solid game of the season against St. Peter's, finishing with 28 points and 12 rebounds.
St. Peter's Prep has been known as a team that heats up quickly and it happened again on Sunday. Before the Bruins knew what hit them, the Marauders used three-pointers from J.J. Hladik and Davis to race out to a 10-0 lead.
"I think the (10-0) run at the beginning of the game was huge for us and huge for North Bergen mentally," said St. Peter's Prep head coach Mike Kelly. "It took the edge off for us and it showed them that we were going to make them fight an uphill battle. North Bergen is a very hard-nosed team and they have been playing well lately. We did not want to give them any more confidence or any momentum right out of the gate."
North Bergen had a lot of fight in it and closed the gap to a single basket on Justin Glennon's only points of the game, a three-pointer to cap an 8-0 burst and get the Bruins to within 10-8. The Bruins were still within three inside the final minute of the opening stanza when two turnovers proved to be very costly.
The first led to a thunderous two-handed putback dunk from Roberts with 10 seconds to play in the quarter. The Bruins raced down the court hoping to get the final shot, but it was Davis who denied that. He made a steal near midcourt, took two dribbles and let one fly from a few steps inside halfcourt. The shot hit nothing but net to turn the game completely in the Marauders' favor with a 20-12 lead.
"It felt pretty good when it left my hand," said Davis, who is being courted by several major Division 1 universities. "It happened pretty fast. I just wanted to make sure I got the shot off in time. When it went in, I knew we were ready to go on a big run."
Davis hit two more three-pointers in the second quarter as Prep turned what was a close game for the first seven minutes into a comfortable 46-24 halftime lead.
"We knew coming into this game that we had to play mistake-free and we didn't do that," said North Bergen head coach Kevin Bianco. "Once you turn the ball over against them, they are tough to stop. With the states coming up on Tuesday we hope we can learn something from this, because now it's you win or you go home."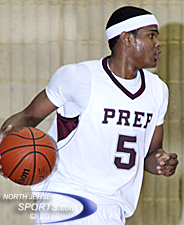 Ronald Roberts finished with 10 points in each half for a team-high 20 for St. Peter's Prep (21-3).
The Bruins tried valiantly to make a run, only to be derailed by one slam dunk after another from Roberts. Three of the St. John's-bound senior's six dunks came in the third quarter as Prep put the game, and its third straight Hudson County title, on ice.
Roberts finished with 10 points in each half for a team-high 20 for St. Peter's Prep (21-3). Davis had 16 of his 18 points in the first half. Walker added 12 points, seven assists, and four steals. Hladik chipped in with nine points.
Noel Allen has put up one great performance after another against top competition and had his second great game of the season against Prep last night. He led all players with 28 points and 12 rebounds. Chris Rodriguez added 14 points and Alejandro Vasquez notched a career-high with 12 points off the bench.
With a three-peat out of the way, the Marauders shift their attention to the state tournament in the Non-Public A North bracket and look to bring home a section title to match their county title. An opportunity Walker and his teammates have no intention of taking for granted.
"The time has come for us to raise our game and that's what we're focused on, getting better every day. If we do that, we're seeing that the championships will come," said Walker. "We've done it on a county level, now we want to show people we can do it in the states, too."
FOR MORE PHOTOS OF THIS EVENT OR TO BUY A COLLECTOR'S PRINT OF THIS GAME STORY, PLEASE VISIT 4FeetGrafix.com.