Wednesday, January 20, 2010
By Cory K. Doviak
NJS.com Editorial Director
Myles Davis took control down the stretch for St. Peter's Prep, which bounced back from a loss to St. Anthony to hand North Bergen its first league loss, 75-61, on Tuesday night.
NORTH BERGEN -- St. Peter's Prep had 'em. The Marauders were one made free throw from pulling off the biggest win in the history of school's boys basketball programs. Prep was leading St. Anthony, probably the most stories program in the nation, on Saturday in the Dan Finn Classic before missing the front end of three one-and-one's and eventually falling in overtime. Needless to say, it was a crushing blow.
"Our kids were crushed from the St. Anthony's game, absolutely crushed. Every kid was in tears," said Prep head coach Mike Kelly. "It probably took 48 hours for them to stop feeling self pity."
Forty-eight hours is about all the Marauders had to get the loss out of their system and it looked like they were well passed it on Tuesday night when they outscored North Bergen, 18-6, in the second quarter and piled up a 17-point halftime lead.
It wouldn't turn out to be that easy as North Bergen ripped off the first 10 points of the fourth quarter to creep within six points with 5:06 to play, but the smooth-playing Myles Davis made sure that Prep let North Bergen get no closer in a 75-61 win.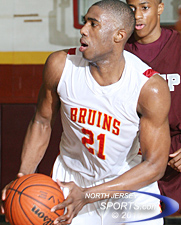 North Bergen's Noel Allen (31 points) topped the 30-point mark for the fifth straight game.
St. Peter's had turned the ball over on four straight trips to start the fourth quarter and North Bergen made it pay for each one. Noel Allen, the Bruins' starting center who scored 22 of his game-high 31 points in the second half, scored six points in the 10-0 run that drew the Bruins to within 59-53, but Davis had seen enough by that point.
The junior guard knew it was time to stop the bleeding and he drove hard to the baseline to give Prep its first points of the fourth quarter 3:32 in and he drove from the elbow to possessions later, completing a three-point play that pushed to the Marauders lead back in to double digits for good, ending North Bergen's spirited comeback.
"I definitely knew that when the crowd started going wild and everything started going crazy that I had to just be a leader and be mature," said Davis. "I've been in these positions a lot of times and once I got that and-one, I knew we were going to be fine."
It looked like Prep was going to be fine a whole lot earlier as it put together a dominating second quarter. After Allen's three-point play to open the period had North Bergen within 19-17, Prep answered with eight straight points, the last six coming on back-to-back three-pointers by Stephon Wyatt and Davis. Not even a North Bergen timeout could stem the tide as right after it, Prep piled up seven of the next nine points, the last coming on Jim Calabrese's layup that put Prep up 33-19 on the way to a 37-20 halftime advantage.
Prep's Ron Roberts had 16 points and three dunks in the third quarter alone.
"Obviously St. Peter's is a very good basketball team and we struggled in the second quarter to make a shot. We had some missed layups, we only made one three in the game where usually we knock down at least five or six," said North Bergen head coach Kevin Bianco, whose team was undefeated against league competition coming in. "There were some jitters coming in and playing for first place. I think our guys were nervous early, so coming into the second half it was go full speed or the game was going to be over in the next two or three minutes.:
The first two or three minutes of the second half were no picnic for North Bergen either as JJ Hladuk hit a three and Ron Roberts two dunks, the second of which he took off from just inside the foul line, to put Prep up 46-20. Roberts had three dunks in the third quarter, but it was Allen who stole the show in the second half as he acquitted himself quite nicely on the offense end against Roberts and Keith Lumpkin, Prep's formidable post players.
Allen scored 12 points, including a fastbreak dunk of his own, in the final four minutes of the third quarter, the last of which got North Bergen to within 13 points before Davis hit a three to give Prep a 59-43 lead heading into the fourth quarter.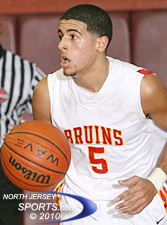 North Bergen's Danny Abreu scored 6 of his 8 points in the second half.
"Noel Allen is tough and you know what makes him difficult? He never leaves the front of the rim," said Kelly. "He doesn't leave the front of the rim and if you don't put a body on him early in the possession, he is going to dominate that possession."
He dominated the first two of the fourth quarter, scoring both times, and Chris Rodriguez and Danny Abreu followed with baskets before Allen scored on a jumper from the corner to get North Bergen almost all the way back at 59-53 with 5:06 to play.
But then Myles righted the ship for Prep, Allen and his 31 points were sent to the bench with his fifth foul with 2:26 to play and North Bergen (8-2) suffered its first loss in league play after four straight wins to start the season while St. Peter's Prep improved to 10-2 and 9-0 in league play.
"They were up by so many that they just needed a bucket or two to close us out and Myles did that for them. He is a great player," said Bianco. "We were not out here looking for moral victories; obviously we want to be up there with the best teams in the county. Obviously we don't have the talent of a St. Peter's Prep and it is a lot easier for them to go out and get it. We take what comes in the door, we work as hard as we can and try to compete with those guys and we put a little scare into them tonight, but not enough."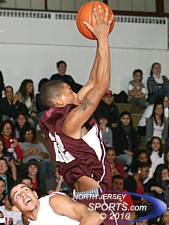 Prep's Chase Fluellen going up high for a rebound.
Allen's 31 points made it five straight games that he has topped the 30-point mark. He was the only Bruin in double figures as Chris Rodriguez scored six in the fourth quarter to finish with 9. Abrue scored 6 of his 8 points in the second half while Justin Glennon and Khalied Saled each had two field goals for the Bruins.
Davis led St. Peter's with 27 points and Roberts, who battled early foul trouble, finished with 16. Prep showed it quality depth as nine different players scored in the game.
With a quality win now between it and the loss to St. Anthony, Prep can now officially look forward to the rest of the season, even if it knows that its chance to knock off the Friars was an opportunity lost, but a lesson gained.
"You can't lose a game like that against that kind of opponent and not get better. I tell our guys that we didn't lose, we learned and hopefully that lesson will carry on," said Kelly. "And that is that you just have to play hard and finish games. St. Anthony's, c'mon! That would have been the biggest win in the history of the school and we didn't close it out."
FOR MORE PHOTOS OF THIS EVENT OR TO BUY A COLLECTOR'S PRINT OF THIS GAME STORY, PLEASE VISIT 4FeetGrafix.com.