Free throws land DePaul in semifinals
Sunday, February 12, 2006
By Rich Barton
NJS.com Staff Writer
Anna Veltri came through at the free throw line in the fourth quarter as DePaul held off West Milford to advance to the Passaic County Tournament semifinals.
WAYNE – DePaul Catholic has had a banner season thus far and the advantage that it has had over most of its opponents is center Kara Otterbine. Virtually no team has had an answer for the 6-1 senior, a strong finisher around the basket who commands double teams from the defense.
In Saturday's Passaic County Tournaments quarterfinal, West Milford made it evident that they were going to make someone else beat them. For nearly three-and-a-half quarters, it worked to perfection. But a bad break and some clutch free-throw shooting by Anna Veltri proved that the Lady Spartans were not just a one-woman team.
Up by just two points with over four minutes to play, DePaul was reeling and in need of points, regardless of where they came from. The break the Lady Spartans were looking for came in an unconventional way when a technical foul was assessed to one of the Highlanders' players and Veltri hit two free throws on the other end. She added four more down the stretch as DePaul as DePaul found some breathing room and moved into the semifinals for the second consecutive year with a 41-32 victory.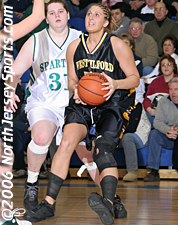 Kelly McCourt McCourt led West Milford with 13 points.
"They match up really well against us and we knew that it was going to be a tough game," said DePaul Catholic head coach Chris Iannarone. "Playing West Milford was just like looking in the mirror. They have athletes and tough defenders. It was a battle right to the end. Veltri really was the difference with her leadership and those big free throws."
West Milford likes to push the ball up the floor and create turnovers. In the first half, the Lady Highlanders were able to do that in the early going, but it did not translate into baskets at the other end. Despite the Spartans shooting just 28-percent (7 of 25) in the opening half, the Highlanders were also unable to get on track.
They shot just 5 of 22 (22.7-percent) from the field and trailed by four in a low-scoring first half, 18-14. Although it scored just 14 points in the first 16 minutes, West Milford head coach Ray LaCroix felt his team did a magnificent job in holding Otterbine to a single field goal and just five points in the half.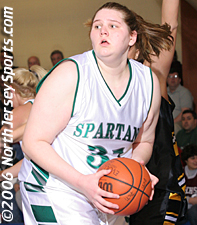 Kara Otterbine recorded another double-double for DePaul with 13 points and a game-high 14 rebounds.
"I thought we played very well against Otterbine, who is a handful in the low post," said LaCroix. "But the tempo for the most part was one that they wanted, not one that we wanted. Even when we did force the tempo, we weren't able to score and that hurt us. Defensively, I thought we did great. We just turned the ball over way too much at crucial times. Because of that, we weren't able to maximize our possessions and we never got over that hump."
Otterbine started to come alive in the third quarter, scoring six points to help widen the Spartans' lead. Teammate Jaci Rahey, a West Milford native, hit a bank shot from the elbow to give DePaul its largest lead with a minute to go in the third period, 27-20.
The Highlanders refused to fold and did allow a single point over the next four-and-a-half minutes. Kelly McCourt's short jumper trimmed the Spartans' lead down to two points, 27-25, with 4:25 to play. The Highlanders had all the momentum and the Lady Spartans on their heels. Within a second, literally, that all changed.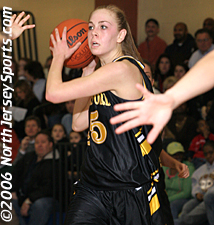 Allison Fontan pulled down a team-high 11 rebounds, to go along with seven points for West Milford.
On the ensuing inbounds play, a touch foul was called followed by a few 'magical words' uttered by one of the Highlanders, which led to the technical foul. Veltri took advantage, nailing both free throws to make it a two-possession game, 29-25.
"It was unfortunate, but that was probably the biggest play in the game," said Iannarone. "We were in some trouble, and Veltri stepped up big. Those free throws gave us a little bit of room to work with there. After that, it just came down to protecting the ball and playing good defense."
West Milford continued to fight, but never got closer than four points the rest of the way. Veltri only turned the ball over once in the fourth quarter and hit all six of her free-throw attempts to keep the Highlanders at bay.
"We work on free throws every day just for situations like this," said Veltri. "Late in the season, a lot of games come down to the wire and are decided by free throws. As the point guard, I knew I was going to have the ball in my hands. I was just relaxed and I felt confident going to the line."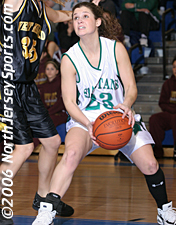 Jacki Rothong finished with seven points for DePaul, which will face four-time defending champion Eastside in next weekend's semifnals.
Otterbine has recorded a double-double in nearly every game this year, with this one being no exception. She scored 13 points and grabbed a game-high 14 rebounds for DePaul (16-2). Veltri also added 13, seven of those coming from the charity stripe. Jacki Rothong and Rahey added seven and six points, respectively.
Despite missing all but four minutes during the first-half with foul trouble, McCourt led West Milford in scoring with 13 points. Allison Fontan pulled down a team-high 11 rebounds, to go along with seven points. Renee Edwards was held well below her double-digit scoring average, but did notch four rebounds, four steals, and three blocks.
It does not get any easier for the Spartans, who will face four-time defending Passaic County champ Paterson Eastside in the next Saturday's semifinal game.
"Paterson Eastside has set the standard of excellence in the county and they have backed it up by winning year after year," said Otterbine. "We're just going to come in and play the best that we can. I've seen Eastside all four years and they are a great team. To be the best, you have to beat the best. You know if you want to be county champs that you're going to have to go through Eastside at some point."
FOR MORE PHOTOS OF THIS GAME OR TO BUY A COLLECTOR'S PRINT OF THIS GAME STORY, PLEASE VISIT 4FeetGrafix.com.
---
NorthJerseySports.com Information Box:

| About Us | Contact Us | Home |
Questions? E-mail the editor editor@northjerseysports.com
All contents © copyright 2003-2006 HSSportsWeb.com, Inc. All rights reserved.