BC triumphs on a 'Reverse of Fortune'
Sunday, November 30, 2003
By Jim McConville
NJS.com Staff Writer
Wolver Jean-Pierre scored with 14 second left in the second quarter to give Bergen Catholic a 21-0 lead at the break before SJR came back.
MONTVALE - For the most part, a 21-0 lead at halftime in a high school football game is an almost certain sign of victory. But when that lead is built in the annual rivalry game between Bergen Catholic and St. Joseph Regional, it really only means that the game is just starting to get interesting.
That is why, as his team was heading for the locker room at the half, BC head coach Fred Stengel could be heard saying, "this is not going to be like last year."
He was right in a sense. In 2002, the Crusaders built a 34-0 lead and let the majority of it slip away before holding on for a 34-28 win. Yesterday, on a windy and cold Saturday afternoon, the 21-0 lead completely evaporated in the third quarter.
That left the game to be decided by the "Reverses of Fortune," two plays which both went the way of Bergen Catholic and enabled the Crusaders to capture a 27-21 win and head into Friday's Parochial 4 state championship game against Don Bosco with a 10-1 record and a proper mental attitude.
"There is no doubt that we needed to win this game," Stengel said afterwards. "We're going up against arguably the best team in a century, and we needed to head into this week on a positive note from a standpoint of momentum and confidence. Going in here and losing a heartbreaker would have been real tough. We have a high enough climb as it is, we didn't need to make the mountain any higher."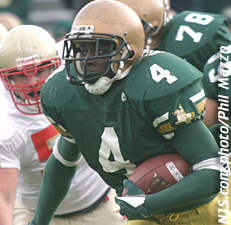 SJR's Ron Girault gained 105 yards on 18 carries.
Thanks to a perfectly-timed play call, BC goes into their second meeting this season with Bosco off a win. On a second and 11 from the Crusader 27, Stengel called for a reverse. He play-actioned Wolfver Jean-Pierre up the middle and had quarterback Chris Allison hand off to Brian Cushing coming from left to right.
"I was a little surprised when I got the ball," Cushing said of the play, of which Stengel said, "it's the first time we've run it all year. We traded the tight end to an unbalanced look, and they were flying to it. We decided we were going to use the reverse off of it and thank God it was there and we had a great athlete to run it."
Cushing got the edge, then made a stutter step at the SJR 45 to avoid a potential tackle by Ron Girault. From there, he outran the Knight defenders to the goal line. The extra point was blocked, leaving the door open for St. Joe's with 9:18 left.
The Crusaders stopped the Knights three and out, with Mike Gadaleta and Mike Bohlin making a third down stop on a screen pass to Girault, but SJR got the ball back when they stuffed Jean-Pierre on a fourth and 1 at the Knight 40-yard line.
"I was kicking myself on that one," Stengel recalled, "because I went to the well one time too often."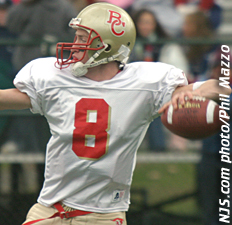 Quarterback Chris Allison and Bergen Catholic will head into the Parochial Group 4 state final against Don Bosco Prep on a seven game winning streak.
That gave St. Joseph (9-2) another chance, one that seemed over when a fourth down pass fell incomplete, but a suspect pass interference penalty gave the Green Knights new life. Girault went around left end for 13 yards to the BC 29 for another first down, and SJR head coach Tony Karcich decided to go with a reverse to Devin Wooten.
Quarterback Brent Weiss handed off to Wooten going left to right, but Chris Higgins sniffed out the play and nailed him for a 10-yard loss. As Higgins spun Wooten to the ground, the ball came out and Jim Dray recovered it for the Crusaders with 1:48 to go. There was question whether the ball actually came out before Wooten hit the ground, but the call went Bergen's way.
"We had them on their heels and we probably should have went downtown," Karcich said of the play call. "We were doing well in the passing game and I just felt the wind was a factor and maybe we could fool them on the reverse. In retrospect, obviously, I would like to change that one."
Through the first half, it seemed as though BC was going to win in a walk. Its defense stifled the Green knights, holding them to 18 yards of total offense, and they were opportunistic on their first two touchdowns.
On each of its first two possessions, SJR went three and out only to see the punt snaps go awry. The first one saw punter Anthony Colantino try to pass the ball, only to have it fall out of his hand and roll into the end zone, where Matt McGuire fell on it for Bergen Catholic.
The second time, Colantino threw a pass to Patrick Carley, who was nailed for an 14-yard loss at the St. Joe's 20. Five plays later, Jean-Pierre went in from nine yards out. John Rapport's second of three extra point kicks made it 14-0 with 3:01 left in the opening period.
"The wind was a factor," Karcich said of his team's first quarter woes, "but we didn't cash in on it in the first quarter. Everything went against us and we didn't take advantage. I don't know if we were too tight. We had two bad snaps on punts and we even had a couple of bad handoffs. No explanation other than we didn't have the right frame of mind."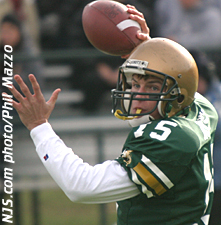 SJR quarterback Brent Weiss hit Jason McCourty with a 64-yard strike to tie the game at 21 with 1:39 left in the third.
The teams traded five punts from that point, the last giving BC the ball with 2:48 to go in the half. The Crusaders converted a third down and a fourth down then, on a third and 20, Jean-Pierre broke off a 26-yard draw play to make it 21-0 with just 14 seconds left in the half.
"I got a great block from Cushing," said Jean-Pierre, junior who had 144 yards rushing on a school-record 36 carries. "He leveled the linebacker (at the 15-yard line) and I just cut off of him."
"We went to the over unbalanced on that play, too," Stengel noted, "and instead of going outside we ran the draw play and they were playing way soft. We just caught 'em. A great play at the right time and a great run."
"I felt that we would come back," Karcich commented, "I never felt like it was over, but that last touchdown before the first half, God, we can't give them that one."
What looked to be a potential rout turned into a nail-biter quickly as the Knights tied the game with three scores in the third quarter. The first one came on a 42-yard run by Girault, his only real big gainer in an 18-carry, 105-yard effort. Andrew Giuliani hit the first of his three PATs to make it 21-7.
After a punt, SJR came right back. With the wind at his back, Weiss (7 of 12, 120 yards passing) hit Wooten for a 44-yard gain and found him again on a nice 16-yard timing pattern in the left corner of the end zone to make it 21-14.
SJR's Devin McCourty made a great stop on a fourth down pass to Isaiah Williams, holding him a yard short, and on the first play Weiss hit Jason McCourty over the middle for a 64-yard touchdown and a tie game with 1:39 left in the third quarter.
"We took a calculated risk in giving them the wind in the third quarter," Stengel said of his strategy entering the second half. "They came out smoking and the wind helped them, but I was hoping we'd play stronger defense in that quarter. All of a sudden, boom, the whole thing fell apart."
Cushing also had nine tackles and Higgins added eight stops and 1.5 sacks in addition to the big forced fumble for Bergen. Andrew Romans had a fine game for the Green Knight defense, recording 16 tackles, and Dean Duchak had 11 and Girault 9.
"You can't come out here and expect to play a half against a good football team like that and win," Karcich lamented. "We have to bounce back, and now we'll see what we're really made of and get ready for Camden Catholic (in the Parochial Group 3 state final)."
For more pictures from this event or to purchase a Collector's Print of this story, visit the NJS.com School Store!
---
NorthJerseySports.com Information Box:

| About Us | Contact Us | Home | Advertise |
Questions? E-mail the editor editor@northjerseysports.com
All contents © copyright 2001-2004 HSSportsWeb.com, Inc. All rights reserved.