Changes afoot for Northern Highlands football
Thursday, June 28, 2007
By Cory K. Doviak
NJS.com Editorial Director
After two years on the staff of longtime Highlands head coach Steve Simonetti, Chris Locurto (above) has taken over as head coach.
ALLENDALE -- For 19 years, Steve Simonetti was the face of the Northern Highlands football program as its head coach. But times change and since Simonetti stepped down after last season, they have done so at a rapid clip in a short period of time.
Chris Locurto, an assistant on Simonetti's staff for two years, was chosen over a number of other candidates to inherit the head coach's head set and he has wasted little time putting his own stamp on the program.
The offensive scheme will be changed from the consistent but predictable ground-based style and in its place will be a more wide open multiple set attack that will emphasize the forward pass. The early incarnation of the new approach showed promise two weeks ago when the Highlanders went 4-0 in 7-on-7 play against Rockland County (NY) opponents and the wheels are in motion for the start of the season, which is still more than two months away.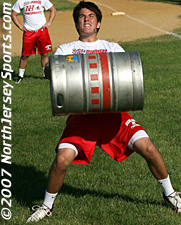 Kevin O'Shea, a senior-to-be, tossing a keg as a part of Highlands summer workout.
"Coach Simonetti is an icon. He was here for 19 years and he was the right coach for this place for a long time. He has a history of being a very structured, very disciplined man with strong convictions and he left a legacy here," said Locurto, standing on the practice field last week. "It is hard to step for a guy who had been around for so many years, especially when you were on staff and the perception is that it is going to be the same type of program. But every coach has to do things his own way, not that one is better than another, but there are some things that we are going to change."
Another of those changes that has already been implemented is the way that Locurto is conducting his offseason workout program. In his first stint as a high school head coach, he is not above ceding authority to someone he trusts and, this summer, Locurto has put some of his team's physical conditioning in the hands of the crew at Good Energy, the fitness center located around the corner from the high school in Allendale.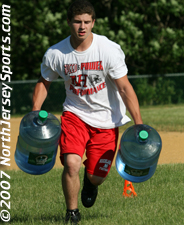 Water ain't just for drinking anymore.
"The game has changed so much in terms of the demands on a coach in the offseason," said Locurto. "To have a guy like [Good Energy owner] Pete [Ohnegian], a local guy who is willing to come in and work with the kids, is invaluable. There is no book that you can open that says if you do this, this and this, then you will become a champion. But what a workout like this does is bring the team together for a common goal and puts us in the best position to be champions, to be successful on game day."
Once a week, the Good Energy team shows up and about 20 Highlanders do the same to run with five gallon water jugs, toss empty (and we stress empty) kegs over their heads, high step through ladders on the ground, hit some sandbags, pull weighted sleds through the grass and break off into teams for an old fashioned tug-of-war.
"We are basically all about one-on-one training, but coach Locurto came into the center knowing that I have a football background to see what we did," said Pete Ohnegian, the owner of Good Energy, who has trained many local athletes that have professional sports aspirations. "We talked and I gave him some exercises to add to his own strength program, and then we figured we would do some team training. It's conditioning with some speed elements added to it."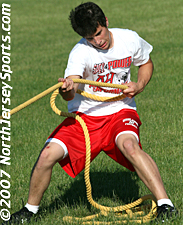 Pulling a weighted sled through the grass is not as easy as it looks and it didn't look that easy.
Ohnegian, who played five years of professional football in the Arena League, also brings with him his team of trainers, all of them current or former Bergen County athletes, which adds to the program as the participants know that those putting them through their paces were once in their same shoes.
Among the staff who are still active as collegiate football players are Dean Duchak (St. Joseph Regional, Georgetown), Sean Welch (Ramsey HS, Bowdoin College), Taylor Ciali (Blair Academy, Hobart College) and Andy Romans, a St. Joe's graduate from Allendale who is a starting linebacker at Lafayette.
And through it all on a hot day, there were smiles mixed with the sweat and lactic acid buildup as the current Highlanders finished off the tug-of-war, the last station of the afternoon, and headed for the ice cream truck that Ohnegian brought in special to cap off the workout.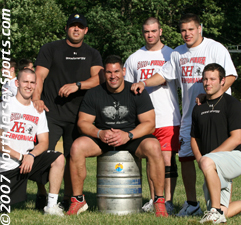 The Good Energy crew.
"It is like a 180 from last year. Everything we did last year was in the weight room – power cleans, squats – and we did it three times a week and that was it," said Kevin O'Shea a senior-to-be, who will play wide receiver and free safety. "If you ask anyone here they'll tell you that this is the hardest workout we have ever done, but it was fun and we couldn't wait to get here today to get started. Everyone here is pumped up.
"We are being trained by guys like Andy Romans, who I saw play growing up in Allendale and every trainer here is playing college football which is what we all aspire to do. We are not going to have one easy game when the season starts and it all starts here. We have to put the work in to get where we want to be in December."
FOR MORE PHOTOS FROM THIS EVENT TO BUY A COLLECTOR'S PRINT OF THIS GAME STORY, PLEASE VISIT 4FeetGrafix.com.
---
NorthJerseySports.com Information Box:

| About Us | Contact Us | Home |
Questions? E-mail the editor editor@northjerseysports.com
All contents © copyright 2004-2007 HSSportsWeb.com, Inc. All rights reserved.